Disclosure: Aussie Hosting is community-run. We sometimes earn a commission when you buy hosting through our links. Learn more.
Best Free Website Builders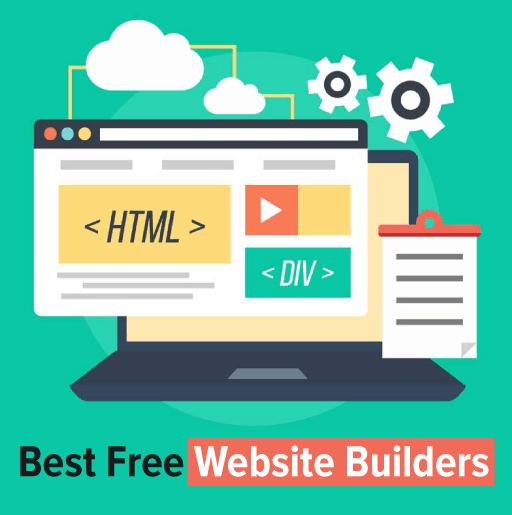 These days, no business can survive without a powerful, functional and aesthetically pleasing website.
This is especially true for new, small businesses, which have a really hard time getting started and even more difficulty staying afloat.
Naturally, entrepreneurs want to put forth the best website that money can buy. The bad news is that some of those websites can cost multiple thousands of dollars. Why do they cost so much?
Usually, these astronomical costs are related to the services of a web designer. Clever, experienced web designers are able to deliver highly customized websites that afford plenty of bells and whistles. Of course, all of that sophistication comes at a price. The average cost to build a basic website is roughly $1840 AUD.
Someday, you may be able to pay for such a website. In fact, the continued success of your business may depend upon the increasing sophistication of your online presence. Alternativelly, you might want to learn how to become a web designer. But that takes time...
Right now, you just need something that works.
The answer may be to use a website builder. What is a website builder, and how can you find the right one for you?
In this review we're going to look at a bunch of free website builders and compare their different features.
See related: Website development cost
Top Picks for Free Website Builders
---
Some free website builders are better than others, but there are hundreds out there. How do you know which one to choose? Fortunately, we've done the hard work for you, sifting through all of the possibilities to arrive at a list of six of the best free website builders that you'll find anywhere.
1. Zyro Website Builder (The Easiest Way to Build a Website)
---
Key Features
AI Tools
Grid-based builder
Dozens of templates
30 day money back guarantee
Cheaper plans have a lot to offer
PROS
Great apps and tools
Quick updates
Zyro is designed as an easy to use but somewhat limited website builder from the ground up. As an example, while they offer dozens of templates (and you can test them without spending a dollar), none of the templates allow you to change their fonts or alter several other traditionally customizable features.
As another example, they use a grid-based website builder layout.
This makes it easy for new users to figure out how to drag-and-drop elements onto their pages, but it doesn't allow you to change the grid orientation.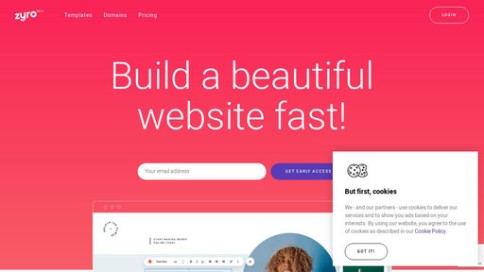 As such, they're a phenomenal choice if you don't have lots of experience using website builders in the first place. But those who have lots of website tinkering time under their belt will likely want to look elsewhere.
If you do use them, you'll benefit from plenty of excellent features, like actually useful AI tools, quality preset templates designed for several themes or businesses, and plug-in functionality for key add-ons like Google Analytics and Facebook Messenger.
Additionally, all Zyro users get free SSL certification and Unsplash integration for free photos: excellent value for money or time.
2. Wix (Most Features, Free Templates and Free Domain)
---
Key Features:
300+ quality templates
Huge knowledge base archive
Fast sign-up and activation
Awesome support
Incredibly easy to use

Visit Wix.com
PROS
Drag-and-Drop Feature
Beginner-Friendly
Fantastic Knowledge Base
CONS
Pricing
Limited SEO capabilities
Wix is widely regarded as the most robust website builder out there today. It's extremely popular, and its intuitive interface makes it incredibly easy for even novices to use. The web store features are fantastic. Plus, you'll find animation for titles and video backgrounds.
With the free version, you don't get a custom URL, and you'll see a Wix advertisement on your web pages. These are small trade-offs for an overall excellent experience that includes access to hundreds of free design templates. Wix actually has far more templates than any other free website builders.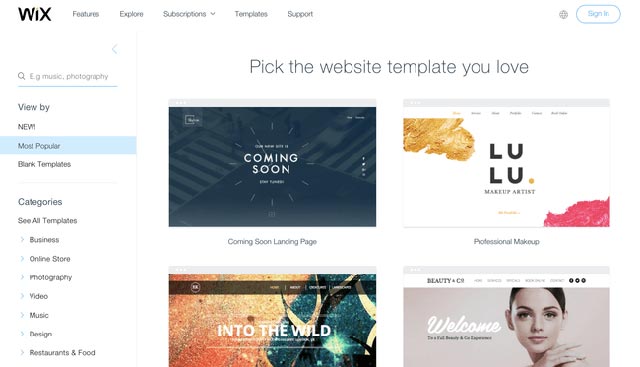 You can add third-party apps and widgets, many of which are available for a small cost. Editing is incredibly easy, as is adding or editing images. Wix has some e-commerce capabilities at the free level, but you'll have to upgrade if you want to take payments online.
You can read our full Wix review here.
3. Squarespace (Easy to Use, Free Templates, No Free Trial
---
Key Features:
40 very modern templates
Great for visual businesses
24/7 live chat and email support
FREE domain and privacy settings

Visit Squarespace.com
PROS
Drag and Drop feature
Beginner friendly
Elegeant templates
CONS
Inability to customize
Limited template capabilities
Squarespace is a stylish choice that has solid capabilities for selling. An SSL certificate is included for free, and the analytics tools are top notch.
However, Squarespace is not as intuitive and user-friendly as Wix. New users may find that they get a slower start because of this. Additionally, this service features far fewer templates than Wix does. The lack of a third-party widget marketplace also is a mark against the service.
Nonetheless, Squarespace is a reliable performer when it comes to creating slick, polished websites. The free domain registration is great too, and Squarespace websites most certainly offer responsive designs.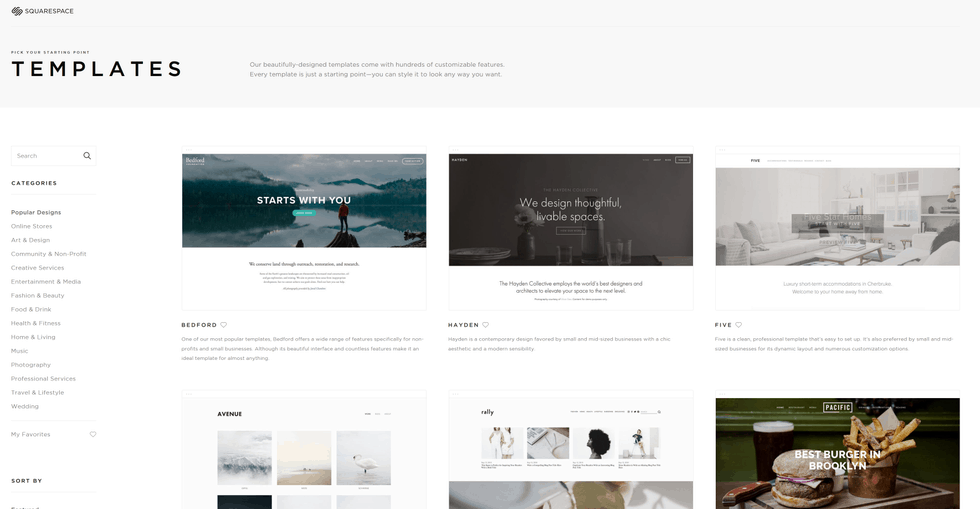 Upgrading to paid plans is easy, and the prices are pretty affordable. Still, other entries on this list, including Wix, have cheaper plans.
You can read our full Squarespace review here.
4. Weebly (Easy to Use But Free Version Very Limited)
---
Key Features
FREE email
Instant signup and activation
Multiple methods of support
Comparatively low cost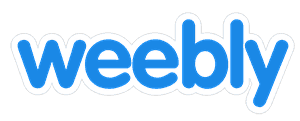 Visit Weebly.com
PROS
Drag and drop feature
Easy to use
FAQ section is quite helpful
CONS
Not enough templates
Limited SEO capabilitites
Weebly's clear, straightforward interface is a boon to new users. It's capable of building websites that look wonderful, and you get site stats included. That's incredibly valuable as you test the success of your website.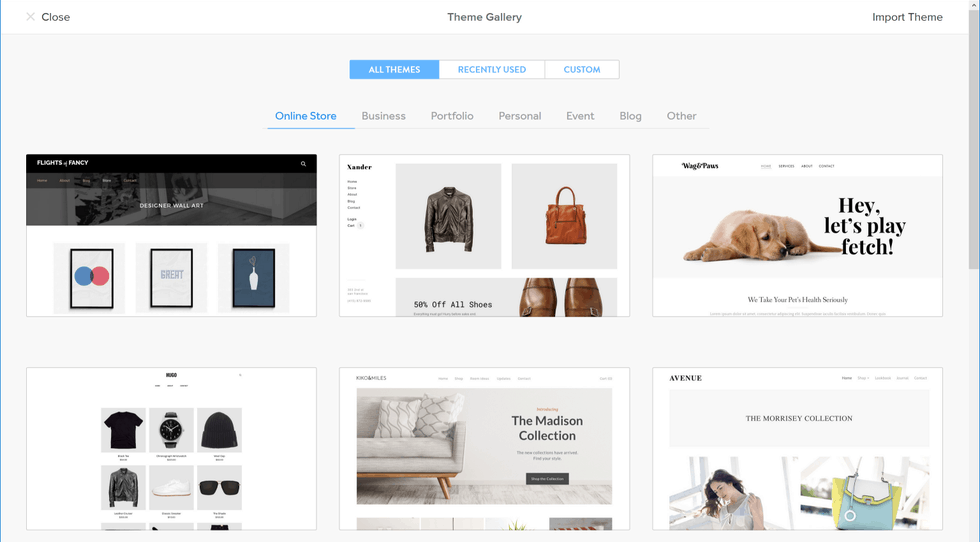 Integrated into Weebly is the ability to create newsletters and e-commerce functionality. However, it's more restrictive when compared to Wix. It also lacks the power to perform a "universal undo" when you make a mistake. Another shortcoming is that Weebly cannot reuse uploaded images.
The free version provides you with 500 MB of storage, and the price you pay is Weebly ads on every page of your website. For a few dollars per month, you can get a custom domain and unlimited storage.
You don't get much in the way of theme customization with Weebly. The ability to change fonts is about the extent of your options.
5. BoldGrid (Good for Blogs But Limited As Well)
---
Key Features
Build ANY type of website
Choose from 3,000 WordPress themes
Very low cost ($4.17/month)

Visit BoldGrid.com
PROS
Click and drop
Limited widget selection
FREE domain, email, eCommerce
CONS
No mobile site customization
This website builder has quite a bit going for it. For the right person, it could be an excellent choice. It's vital to know that BoldGrid has no e-commerce capabilities, so people wanting an online store should look elsewhere. Moreover, this platform has only a limited selection of widgets and offers no customization for mobile viewing.
Nonetheless, BoldGrid does supply excellent site staging and portability. A Media Gallery saves all media that users upload, and several publishing choices are available. The drag-and-drop editing, free theme library and integrated stock images all are included as are automated backups.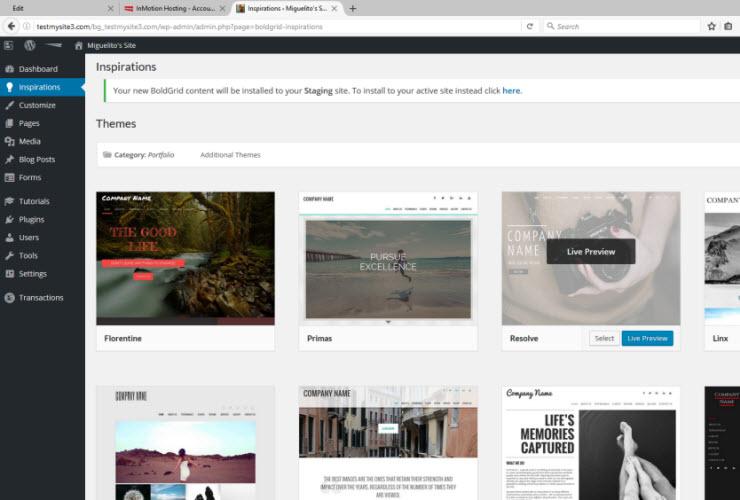 By far BoldGrid's biggest drawback is that you must have a separate WordPress host to run it. Essentially, this service is a package of WordPress plugins. This is in contrast to independent website builders like Wix. If you don't want to use WordPress, this can be a problem.
Key Features
Fast page-loading and uptime
Clean builder interface
Email and eCommerce included
$7.50/month price

Visit Jimdo.com
PROS
SEO Tools
Reliable
Unlimited storage spce with business or higher
CONS
Not everything is drag and drop
Jimdo offers some easy, straightforward drag-and-drop website creation. You get really nice website customization, and if you're in a hurry, you may love the automatic website creator. Additionally, Jimdo provides good mobile support.
Like all website builders, Jimdo has some disadvantages such as its limited e-commerce capabilities and its less-than-friendly interface. You don't get any asset storage, which is a pretty big detriment.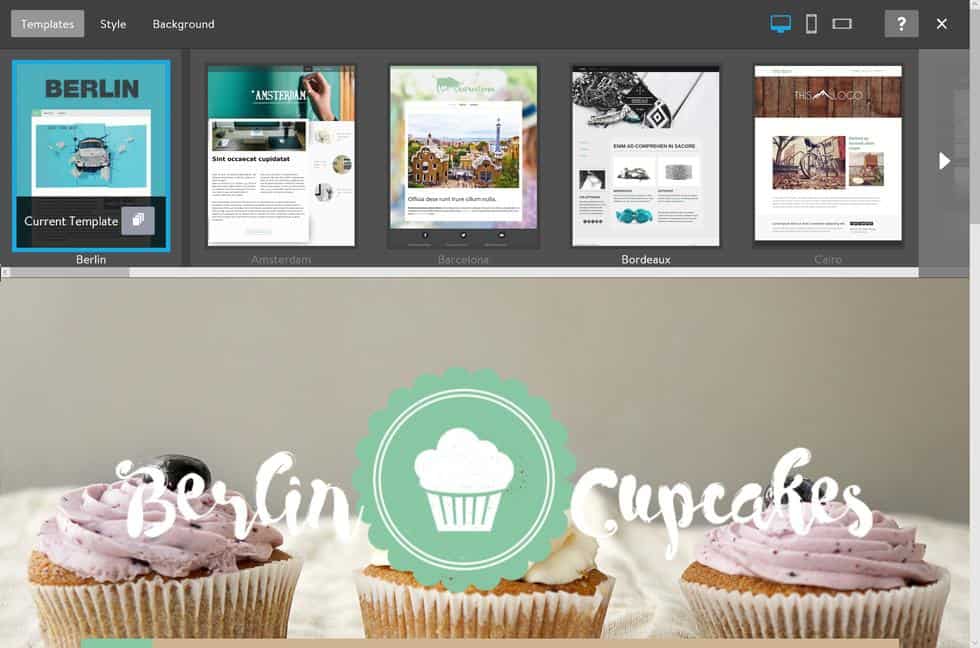 The free version comes with 500 MB of storage and two GB of bandwidth. You can have as many as five website pages, and HTTPS is included.
However, you'll have to put up with ads on every page, and you won't get any statistics. If you want any e-commerce capabilities, you'll have to pay for either the Unlimited or e-Commerce packages.
7. WordPress Gutenberg Editor
---
Key Features:
Easy to use
Makes WordPress well-equipped
Non-developers can use it to create complex layouts
PROS
Block and toolkit building
Gutenberg is sticking around
CONS
Breakages in compatibility
Automatic rather than optional switch of editors
Rather than being a true website builder, WordPress is actually a content management system, or CMS. This means that it generally is more complicated to use. You get the most out of it when you know at least a bit of coding and are willing to put in some extra time.
Now, WordPress has come out with the Gutenberg Editor, a new feature that relies on "blocks" to create websites. This platform is more akin to a website builder with drag-and-drop editing.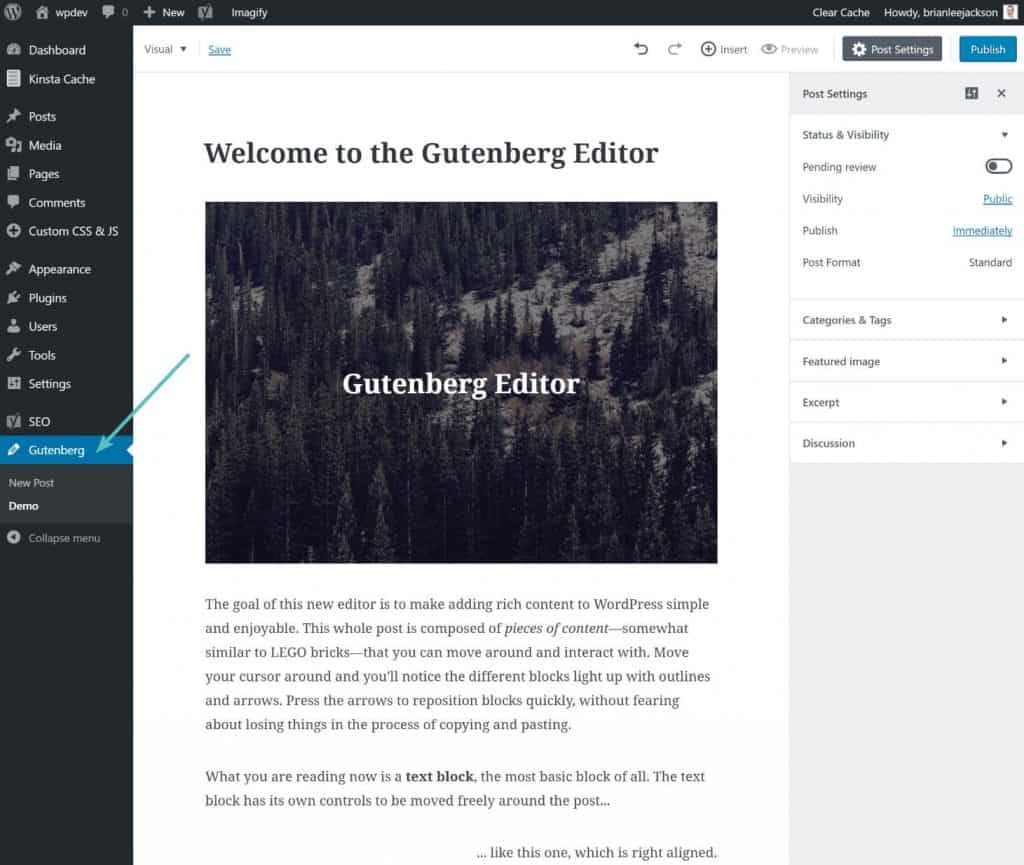 This software started as a WordPress plugin but is being integrated into all of WordPress. Its capabilities give WordPress a more WYSIWYG interface so the design process is streamlined.
However, it doesn't have a user-friendly interface, the ability to edit images is limited and some people think there's too much of an emphasis on blogging websites rather than other kinds of websites.
If you're new to website building and WordPress, Gutenberg may be ok but difficult to learn. Those who are already using WordPress may feel cheated by Gutenberg's more limited flexibility.
What Is a Website Builder?
---
The Components of a Website Builder
How Website Builders Can Save You Money
---
Free vs. Paid Website Builders
Free Website Builder Review - FAQ
---
How Much Does a Website Designer Cost?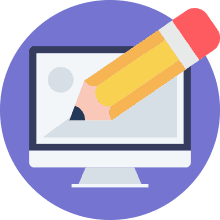 Prices can vary considerably, but a minimalistic website with basic functionality will cost at least $1,500.
If you want enhanced capabilities and more bells and whistles, you could easily spend $10,000.
I'm a Beginner. Which Is the Best Website Builder for Me?
Wix is definitely the strongest free website builder, and it has a really friendly interface. However, Squarespace may be even easier to use, so if you're anxious about creating your first website, it can be a sensible place to start.
Is One of the Website Builders Better Than Others for Blogging?
With its tremendous selection of themes, Wix is the most likely website builder for people who want to start a blog.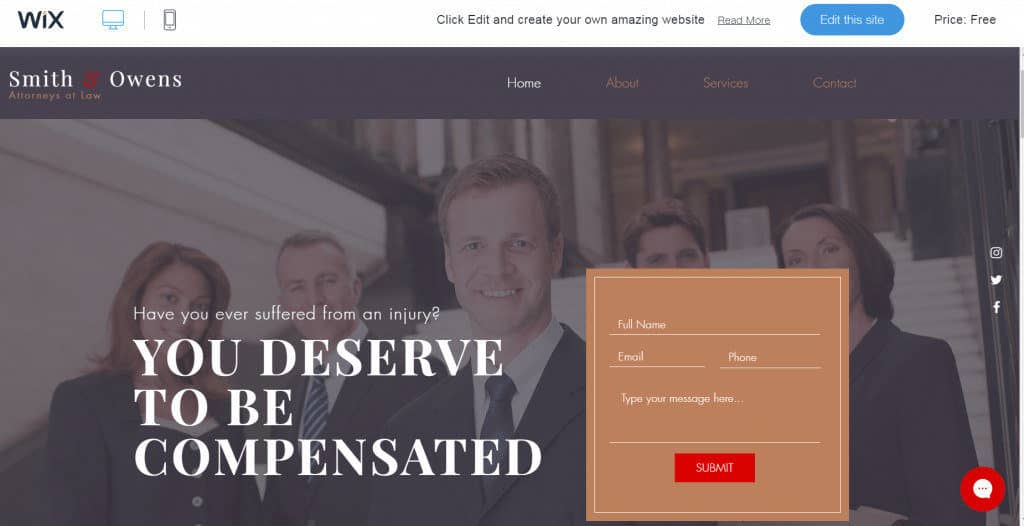 The WordPress Gutenberg Editor is a close second as it certainly does emphasize layouts for blogs. However, it is not as easy to use as Wix. That's fine if you have the time and desire to put into learning Gutenberg. If you're in a hurry or want to avoid WordPress, go with Wix.
If you're just looking to start a blog, I recommend you take a look at our article about the best web hosting.
Which Website Builder Promises the Best SEO Capabilities?
Currently, both Wix and Squarespace offer exceptional SEO when compared with other website builders. Given how critical SEO is to the success of your website, this is one metric that you can't afford to ignore.
If you are ready to move beyond a website builder, then you might want to consider building a website at WordPress, which is widely recognized as having some of the best SEO capabilities anywhere.
Is It True That Wix Is Better Option Than Wordpress?
No. A website builder cannot compete for customization and options with a CMS like WordPress. However, the focus of this article is on people who want to quickly build a website or who have no prior experience with website building. For this category of user, in the clash of Wix vs WordPress, Wix is the smarter choice.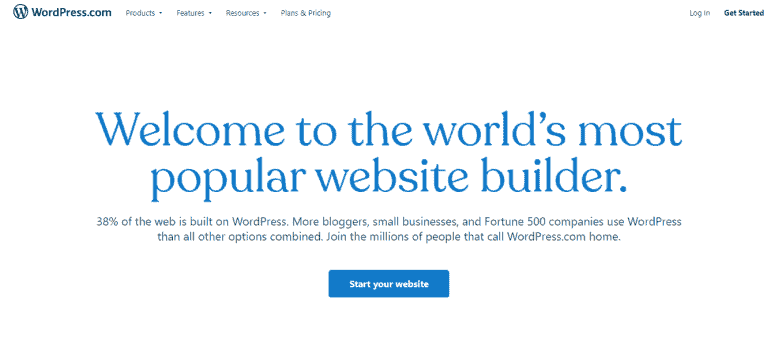 That's because Wix is so user-friendly. Its drag-and-drop editor is easier to learn than WordPress' more complex editor. In order to build a great website on Wix, you don't need to know code.
This makes it an excellent introduction to the world of website creation and maintenance. When your website takes off, you might consider building something more complex at WordPress or another Content Management System.
Learn more about WP in our guide to best wordpress hosts.
How Secure Are Website Builders?
Website security is of paramount concern to all webmasters. Improper security could leave your website vulnerable to all sorts of hacks and brute-force attacks. Moreover, visitors will be less inclined to visit a website that doesn't offer their data adequate security.
Both Wix and Squarespace include SSL certificates in their free packages. This ensures that visitors will have a secure connection, meaning that your website is safe for them to use.
Is There a Relationship Between Square and Squarespace?
Square is a mobile payment company while Squarespace is a website builder. Although the names sound similar, there is no connection between the two companies.
Can I Use My Own Domain Name With Website Builders Like Wix and Squarespace?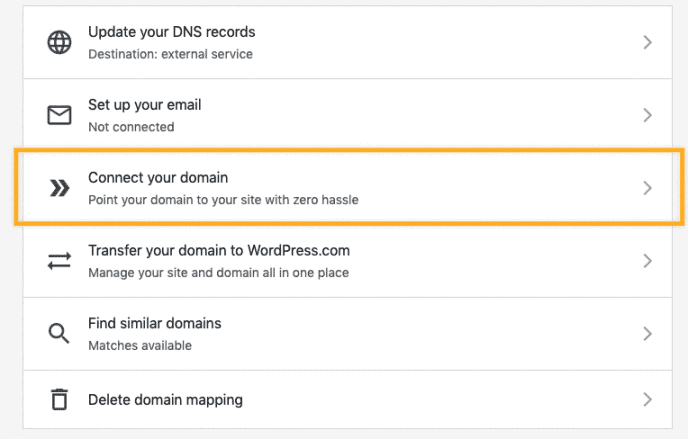 It is possible to work with a third-party provider to buy a domain name that suits your prospective website.
In fact, many people take this step before they even look for a website builder or Content Management System.
Website builders like Wix and Squarespace allow you to use domain mapping to connect your website to your registered domain name.
Most website builders have a great deal of information regarding how to connect with an existing domain name in a knowledge base or a FAQ page. Customer support is another resource that can help you bring together your domain and your website.
How Do I Choose Between Wix and Squarespace?
Both of these website builders are easy to use, and they'll help you to create a fantastic-looking website. However, it's difficult to beat Wix for the diversity of its templates and its options for customization. You simply get a greater level of sophistication with this platform.