Disclosure: Aussie Hosting is community-run. We sometimes earn a commission when you buy hosting through our links. Learn more.
Best Email Marketing Services 2022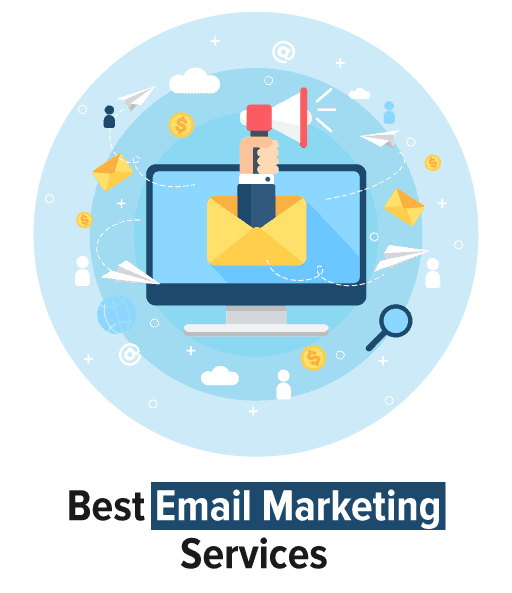 It's a fact: email marketing is the best way to reach your audience and keep them engaged with your product or service.
It also happens to be one of the most cost-effective ways of reaching a wide range of people, and it's easy to set up.
There are many email marketing services out there, but we've rounded up the five best so you can cut to the chase and decide which one is right for you without sifting through a lot of unnecessary information.
Driving traffic to your website can be hard. Before getting into the reviews, we wanted to let you know about the four things to consider when choosing the right email marketing service for your needs:
How much do you have to spend on email marketing? Everyone's budget is different.
It's going to cost you about $20 a month to get started with most plans.
Do you have time to learn how to use a new software program?
Everyone's time is limited. Maybe someone can be in charge of your email marketing campaigns.
What features do you need/want?
You need to be able to send emails, updates, and organize your contacts. A/B testing is optimal.
Is there are support team available to get you out of a jam? You'll want to be able to chat with someone if you have a question. Phone support is optimal.
Truthfully, all of the email marketing services on this list are awesome, but we want to show you what makes them so great, and maybe a few things that you should be aware of before committing to any email marketing service.
---
1. ConstantContact.com
Best Email Marketing Tool
Key Features:
Mobile-Optimization
Automated Email Marketing
60-Day Money-Back Guarantee
Pros
Lots of features

a 60-day free trial

Affordable and scalable with your business

Best for retail and e-commerce businesses
Cons
Might not be suitable for all industries

Has a bit of a learning curve

Doesn't have A/B testing so you can't see what campaigns did better than others
---
2. Runner Up – Mailchimp.com
Best for Growing Businesses
Key Features:
Service & App Integrations
Contact Segmentation
Tagging & Tracking Tools
Pros
Free version instead of free trial

Up to 2000 subscribers

Send up to 12,000 emails a month!

Easy to use

Great dashboard
Cons
No segmentation with free plan
No autoresponder with free plan
No call support
What's excellent about MailChimp is that it offers a free version, so you don't need to worry about a free trial expiring and then getting stuck with a bill for a service you might not like. Many people like Mailchimp for this reason.
There are many resources online to help people get acquainted with MailChimp, and it's considered one of the more accessible services to use.
Great for Inexperienced Users
The free plan offers up to 12,000 emails a month to be sent out. Let's do some quick math to see if that's a good deal: If you had 2000 subscribers (which is the max amount for the free plan), you could send them an email each week without going over your maximum amount.
That's pretty standard in the email marketing industry, so it's a great option for newbies and people looking to get their feet wet with email marketing without spending money.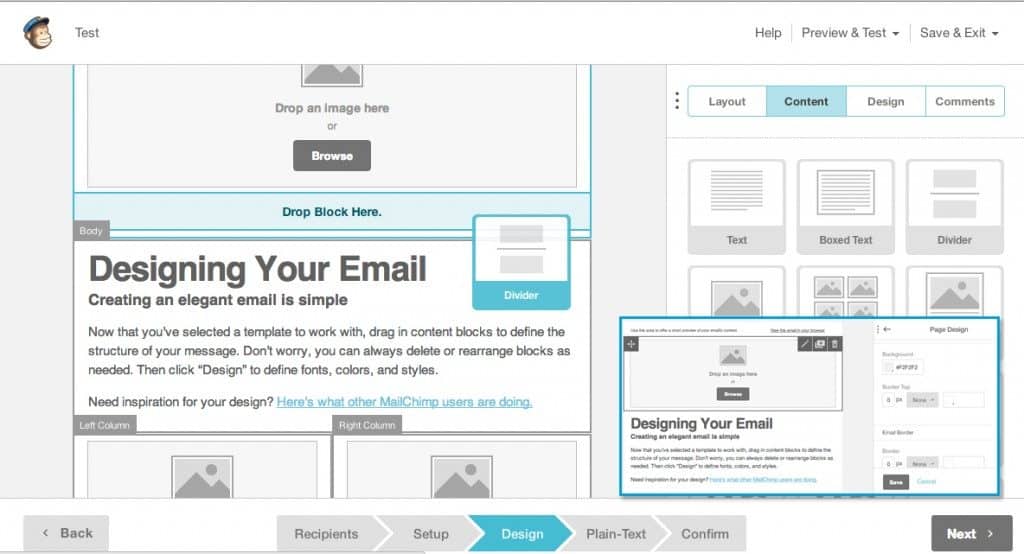 Their paid packages are pretty great too, but the price depends on the number of subscribers you have. There are a couple of drawbacks to Mailchimp including the fact that the free option doesn't allow for auto-responding to emails, which can eat into your production time.
Another feature that's missing from the free choice is segmentation which is vital to target key customers.
They do have a chat and email support for their subscribers, but they don't offer call support. Otherwise, Mailchimp is pretty robust, even with a free option and we think you'll like how easy it is to use.
---
3. Aweber.com
Good Value/ Lower Functionality
Key Features:
30-Day Money-Back Guarantee
Reliabe Customer Support
High Deliverability Rate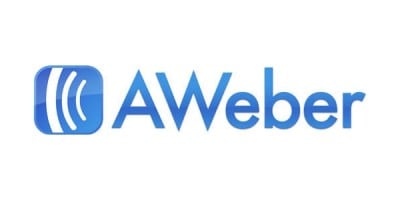 Visit Aweber.com
Pros
One month free trial
A/B campaign testing
Comprehensive customer support
Lots of internet resources to help you get started
Cons
Steep prices
Having to get a quote for more than 25,000 subscribers is time-consuming
You'll get your first month for free when you sign up with Aweber.com. They have a full-service customer support program with telephone support seven days a week during designated hours, and they offer chat and email support for those non-urgent inquiries.
There are some resources on the web to help you get to know Aweber better, and their pricing is about the same as ConstantContact.com.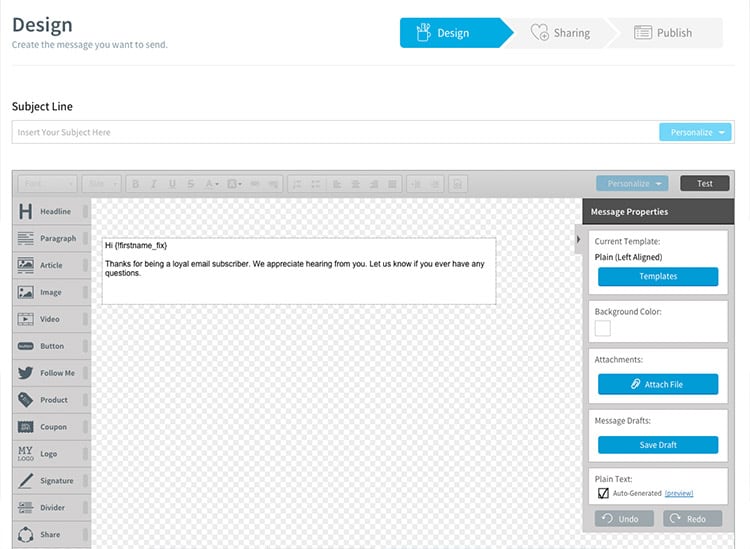 You'll pay about $19 a month for up to 500 subscribers, and pay more as you gain more subscribers. One thing that we don't like is needing to get a quote on pricing if you have more than 25,000 subscribers. That can take time, and many people don't want to wait around for a response from companies.
Aweber is suitable for larger companies though and can scale easier than some other email marketing services out there.
You Get Responsive Templates
It does have A/B testing to help you determine your campaign effectiveness, and it does offer responsive email templates so your subscribers can view them on their mobile devices.
It has an easy-to-use dashboard, but if you are feeling overwhelmed by setting up your email marketing campaigns, there is a lot of information to help you figure it out, and there are frequently webinars hosted by the company to support its subscribers.
The only downfall of this product is that it costs more than some of the other email marketing services and requires you to contact them for larger audiences. Overall, we like that it has lots of features that can grow with your company and the resources are very helpful.
---
4. GetResponse.com
All-in-One Marketing Platform
Key Features:
Drag & Drop Editor & Auto Funnels
A/B Split Testing & Perfect Timing Tool
Create Landing Pages
Pros
Free one month trial
A/B testing for campaign effectiveness
Comprehensive customer support
Timer feature to increase subscriber engagement
Lots of significant resources online to help you learn the ropes
Cons
No event management tools

Can start to cost more as your business grows
You'll get a free trial with GetResponse.com the same as Aweber.com, but the price point of GetResponse.com is a little better than Aweber.com. It costs about $15 a month for 1000 subscribers, and the price goes up based on the number of subscribers you have over time.
The company offers comprehensive customer support through email, chat, and telephone support. GetResponse.com is known as one of the easier email marketing services on the web, and if you aren't sure how to proceed, there are some tutorials and resources online to help get you started with email marketing.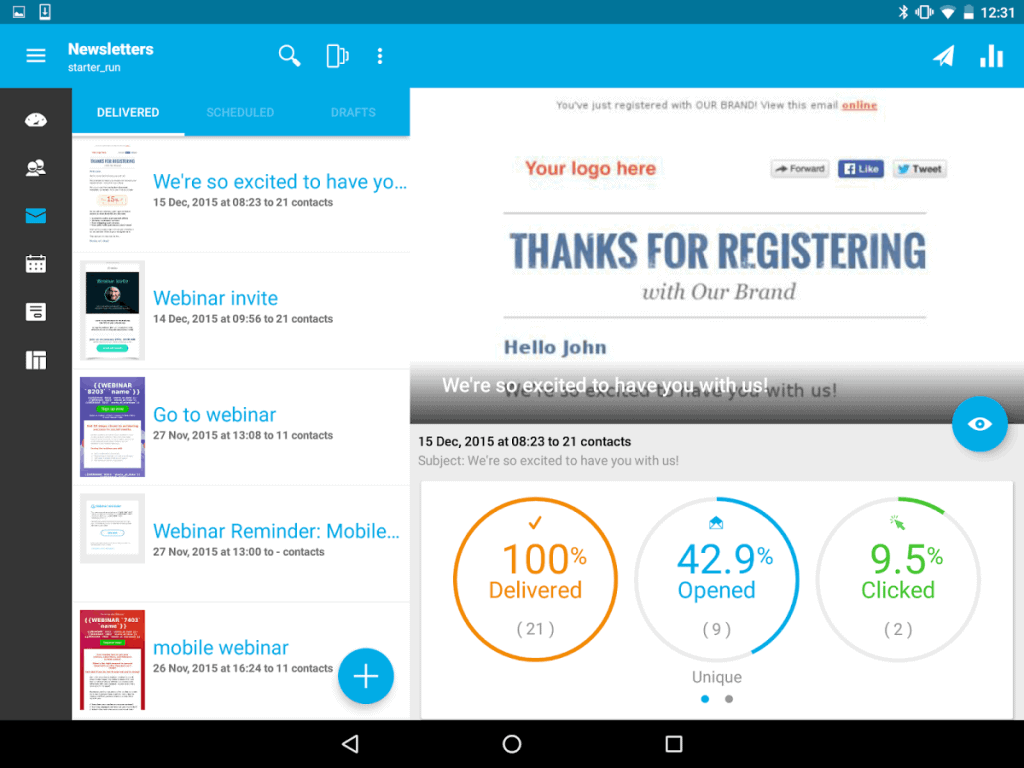 Lets You Know the Best Time to Send an Email
One of the best features about GetResponse.com is that it has a timing feature that will tell you when the best time of day to send your emails is, which saves you lots of lost working hours and effort targeting people at the wrong time.
There is also A/B testing features, which allows you to test up to 5 iterations of a campaign before committing to one. We like this feature because it provides instant feedback to a business owner trying to increase sales and engagement.
One of the only drawbacks of GetResponse.com is that it doesn't have event management tools, so you'll need a separate software for that piece. Otherwise, this is an excellent set of tools for any industry, and it features an easy-to-read dashboard that isn't intimidating to the new user.
---
5. ActiveCampaign.com
Extremely Powerful Automation
Key Features:
14-Day Trial
Impressive Marketing & Sales CRM Features
Easy-To-Embed Customizable Forms
Pros
Low price point
Good service
Date-based campaigns
A/B testing
Ability to meet with or speak with email marketing experts in person or on the phone
Cons
Short free trial period

No survey software

Have to pay for more than 250 email subscribers to survey them
ActiveCampaign.com has one of the shorter free trial periods, which we think should be longer. The free trial is only 14 days, which doesn't seem like enough time for some busy business owners who might not get to sit down and play with the dashboard for at least a week.
Great One-On-One Support
What we do like about this email marketing service is that it seems very tailored to people looking for one-on-one support and advice about growing their business.
They don't offer telephone support, but if you want to talk to an email marketing expert, you can pay about $65 to get a 30-minute session with one of Active Campaign's marketing experts and get all your questions answered. If you've opted for the higher end subscription packages, that $65 fee is waived.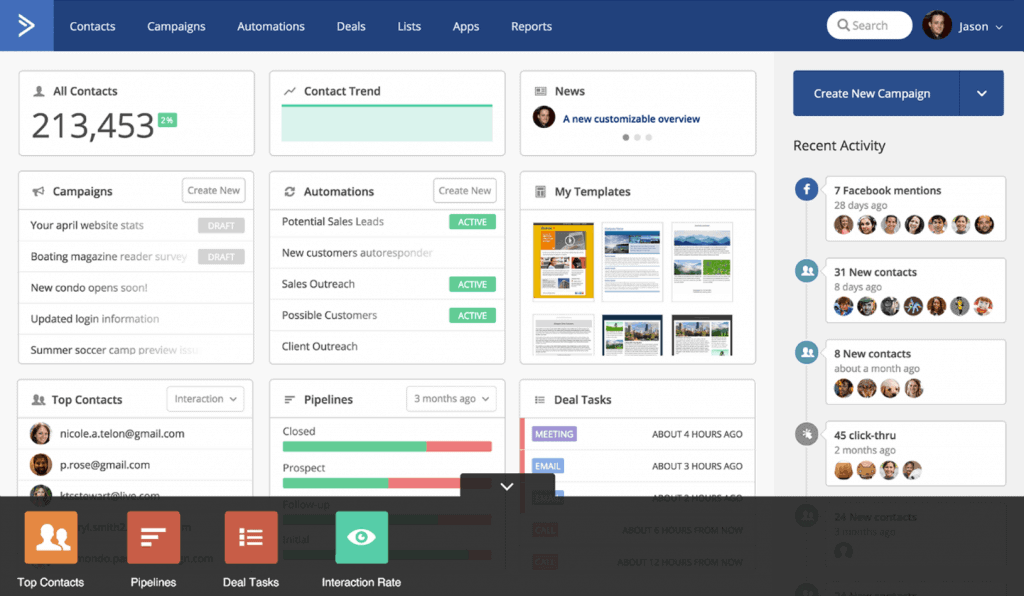 We do like that the service comes in at a reasonable price point: about $9 a month for 500 subscribers. The price goes up with each new level of customer subscribers you obtain. With the tailored support from Active Campaign, it seems like a right place for most beginners to start.
You can even have an in-person meeting with their experts if you are in the Chicago area. It doesn't have a survey tool, but it can be integrated with Survey Monkey. You'll need to pay for more than 250 email subscribers though, so keep that in mind.
A neat feature that Active Campaign has is that you can send date-based emails so you can send out sale notifications, or you can wish your customers a happy birthday.
---
Our Final Thoughts on Email Marketing Plans
Email marketing has come along way over the years, and it is commonplace for every business to use email marketing in some way. Some people simply collect emails to send out sale information, and others use them to drive their entire business 365 days a year
You've probably gotten more than one email from a big box store in one day – that's because the big guys know how often people are checking their phones and emails. That's how you reach your audience these days. Sure, it takes time to set these campaigns up, but they are so compelling that they are worth the effort and time it takes.
Let's be honest: email marketing is pretty affordable. The most expensive starter package on this list is $20 a month. Every business can afford that and should make room in their budget for it. You'll find that one sale a month will pay for the cost of your email marketing campaigns with ease.
To determine the best email marketing system for your business, take advantage of the free trial periods that are offered with these services. Read the resources and do your homework. If you can't figure out how to use the software within a short period, move on. There are more accessible services out there.
We've put together a pros and cons list for each of the five email marketing services on this list, but consider how those pros and cons weigh on your business. What we think is a con, might be just what your business needs, or doesn't need, so there's no bearing on your success.
Most importantly, don't put off getting up to speed on what email marketing can do for your business, and don't put off starting an email marketing campaign. You can set any of these email marketing services up today, and start collecting emails within a few hours. So don't delay.
Related: