Disclosure: Aussie Hosting is community-run. We sometimes earn a commission when you buy hosting through our links. Learn more.
Wix Review Australia 2022
Wix has become incredibly popular in the last few years. If you use YouTube often, there is a good chance you've been repeatedly targeted with their aggressive advertising.
While it's grown hugely in popularity, is Wix worth it or just another hyped up site builder? 
In this Wix review we're going to look at Wix top to bottom to better understand who it's good for and who it isn't. Let's get into it.
---
Wix Review
Wix operates on the idea that everyone should be able to have a slick, functional, professional-looking website.
What's more, everyone should be able to build this website by themselves without having to pay hundreds or thousands of dollars to a website developer or designer.
For the most part, Wix succeeds. You have two options for building a website. The super-easy route is to use Wix Artificial Design Intelligence, a program that asks you a series of questions before generating a new website just for you.
If you're short on time and don't need anything that is intricately customized, then this may be the ideal solution.
Alternatively, you can use the Wix Editor. Incredibly straightforward and intuitive, the editor features drag-and-drop functionality that's a cinch to use.
You could easily have a basic website up and running within just an hour or two even if you're just starting from scratch.
Throughout our Wix review, we realized it's a perfect site builder for someone who wants an incredibly easy to use experience.
You won't get total customization with it or build an amazing ecommerce store but you will be able to build a small website extremely easily.
We should mention, it also doubles up as a decent ecommerce platform second to only Shopify.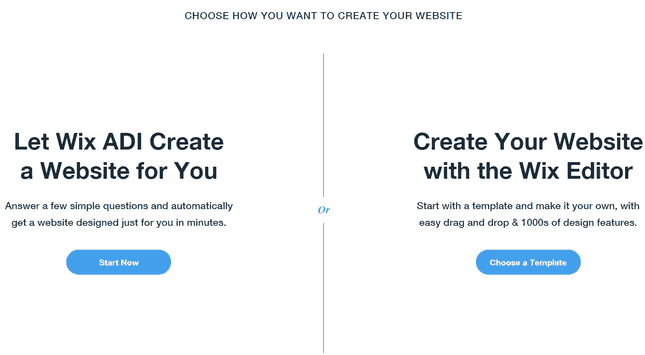 Then, there's Corvid by Wix. This is the option for webmasters who have some coding experience and want their website to be able to do more than what the templates and apps on Wix offer.
It's pretty easy to use, so if you want to practice your coding chops, this is the place to do it.
Wix provides you with more than 500 templates that are ready for you to customize. Available in an astonishingly wide variety of categories, you'll be able to find a template that perfectly suits your personal or e-commerce website.
Some of the features that you'll be able to include are blogs, media galleries and online stores. Plus, all Wix templates are optimized for mobile viewing, which is critical in today's marketplace.
In addition to guiding you through the process of building a website, Wix provides web hosting. If you get the right package, you can have your own domain name too.
With great SEO capabilities, tight security measures that include the ability to password protect your website or individual pages of your website and a customer support department that's known for responsiveness.
---
How to Use Wix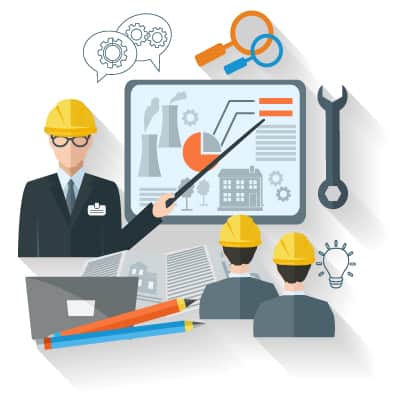 A common misconception is that WordPress is the easiest website builder to use, however in the clash of Wix vs WordPress, Wix is the clear winner.
Using Wix hosting is remarkably easy.
Even people who have never contemplated building a website before will be surprised at how quickly they can produce a great looking and functional website.
If there is a drawback to this stage of the process, it is that a feeling of being overwhelmed by choices may take over. As noted above in this Wix review, Wix has literally hundreds of templates from which to choose.
In addition, the company features more than 200 apps and services that may be added to your website. It's almost too many choices.
For some novices, the fun may quickly wear off to be replaced by a sense of confusion and then frustration.
How Wix Templates Work
The good news is that you are free to take a template for a brief spin to check out all of its features. If you find that you don't like it after you've played with it for a bit, switch it out for another one.
The templates have a preview area where you can see all of the various examples and pages that you could use.
To avoid feeling overwhelmed with this process, try to narrow your template choices initially to just the ones that are targeted toward the type of website that you want to build.
With fewer choices, you're less likely to feel overwhelmed. Overall editing Wix templates is a lot easier than editing those on WordPress sites.
The bad news is that once your website goes live, you're stuck with that template. Switching to a different template means having to start from scratch all over again.
That's why it's critical that you are certain that the template you choose is the right one before you start customizing it.
Try not to make a snap decision regarding which template you want to use so that you don't lose a ton of work. Alternatively, just go with Wix Artificial Design Intelligence and let an algorithm make many of the choices for you.
Not everyone will experience a feeling of being overwhelmed as they get started with Wix. In fact, many people never experience it or it ends up being a fleeting sensation.
Most people who design a website with Wix actually report that it is a fun, creative and rewarding experience. With a sense of accomplishment, building a Wix website can be a reassuring first step toward opening a business.
---
Who Should Use Wix?
Unless you're running a multi-national corporation, it's difficult to believe that Wix wouldn't be able to offer you plenty in the way of power, versatility and functionality for your company website.
While some people occasionally question whether or not Wix is scalable enough to meet the needs of a growing business, it's safe to assume that this website builder is more than capable unless your company is comparable in size to Amazon.
That said, you'll find all sorts of packages on Wix that are designed for just about anyone who might need a website.
People who want to manage a fashion blog or build a website for their wedding will find numerous options. If you're running a restaurant or hotel, Wix has templates for you.
Musicians, photographers, graphic artists, dancers, actors and performance artists similarly are accommodated. You'll even discover templates that are just right for a lawyer or a CPA adjacent to layouts that are ideal for yoga studios and life coaches.
Anyone who is considering building an online store similarly may want to look at what Wix has to offer.
Numerous e-commerce templates are available, and with plenty of business-minded add-ons, it's easy to craft a website where your products can be sold 24/7.
Essentially, Wix is so flexible that it can be an ideal platform for almost anyone who wants to build a website. Since we're focused on the land down under on this website, it's worth noting that Wix Australia is incredibly popular.
Wix is often compared to Weebly, which is also a great website builder, so if you are interested in the comparison of the two, check out our article Wix vs Weebly.
---
Is Wix Scalable?
Over time, your website may enjoy increasing success. This means that you need more web pages, more storage, greater bandwidth and the enhanced ability to sell. The good news is that your Wix website is prepared to grow.
All you have to do is visit the App Market to find more than 200 apps that make your Wix website more functional and powerful than ever.
If you need more options than what you can get with an app, then take a look at some of the larger packages that Wix offers. With enhanced storage, unlimited bandwidth and all sorts of extras, this may be precisely what you need to scale up your website.
If your website gets even bigger, then consider an "Enterprise" package, which is discussed below.
Designed for mid-size businesses, this package is robust, powerful and flexible. With the right apps, it easily could serve your purposes for years.
---
Customization
The templates created by Wix look great right out of the box. You can do some really light customization in just a few minutes and still end up with a website that looks like you spent hundreds, if not thousands, of dollars on it.
Of course, if you really want your website to stand out from the crowd, you've got to customize it. Wix makes this task not only simple but also a pleasure.
The templates are preloaded with dummy text that you'll obviously want to replace. Just click in the text, and start typing. It's that easy. If you want the text to be larger or smaller, drag the handy slider.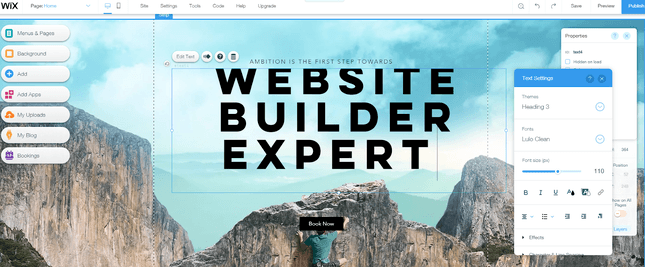 If you'd rather not enter your text directly into Wix, then feel free to copy and paste from a word processing program. Uploading content from Instagram or Facebook is just as straightforward.
To make your website really come alive, use a feature like the animation button to make certain text fade out, zoom or exhibit other eye-catching behaviors.
Feel free to upload a video background, include an interactive slideshow or add a contact form. Wix makes it all possible.
Recognizing that images can be critically important to engaging visitors on a website, Wix features a library of stock images and graphics.
To add them to your template, all you have to do is drag and drop. Alternatively, upload your own photographs to give your website a custom touch.
---
Templates
One of the things that makes Wix such a pleasure to use is the tools that it provides. While its SEO capabilities used to be lacking.
Wix has made tremendous strides toward ensuring that your website gets noticed by Google and other search engines.
The platform's SEO tools make it possible for you to customize URLs, edit meta descriptions and add alt text to images among many other functions.
Wix also is able to integrate your social media accounts with your website, thereby multiplying the chances for your customers being able to interact with you. These capabilities include being able to add likes, feeds, shares and social media buttons.
Wix gets high marks for security too. SSL certificates are built into every Wix website. Accordingly, everyone who visits your website will know that their connection is secure thanks to the padlock icon adjacent to the URL.
Another critical tool is the autosave feature. If you are one of those people who frequently forget to save your work, then this is the feature you can't live without.
Because Wix is periodically and automatically saving your work, retrieving the latest saved copy of your website is no big deal.
Wix further is extraordinarily helpful thanks to the myriad question-mark icons that are scattered across the website, including your template.
Click on the question mark to reveal interesting and helpful tips and hints, most of which come directly from Wix's help center. Even more impressive are the question marks that have video tutorials attached. It's so convenient not to have to search elsewhere when you just need a quick answer.
Large App Market
One of Wix's strongest features is its App Market. Loaded with more than 200 apps, some of which are free, the market is your one-stop-shop for everything you need to enhance your website.
There's the Wix Pro Gallery so that you can showcase your photographs and the Site Booster which is used to help your website get found on search engines.
Other worthwhile apps include Wix Forms, which makes it possible to create an incredible variety of forms, and Wix Events for creating and managing your events online.
Wix Music makes it possible to stream and sell your own musical compositions, and other apps enable online appointment booking, handle invoicing and accounting and facilitate online payments.
When it comes to optimizing your website for e-commerce, you'll find numerous options, and you'll be able to connect with all of your social media feeds, your Etsy store and your eBay marketplace.
Speaking of marketing, Ascend by Wix essentially is an all-in-one package of marketing solutions for the busy professional. Choose from three Ascend plans depending upon the size of your business and where you are in its development.
Ascend includes helpful tools for managing contacts and for responding to website visitors via live chat or messenger.
Ascend also makes it possible to create automated processes like new member signups.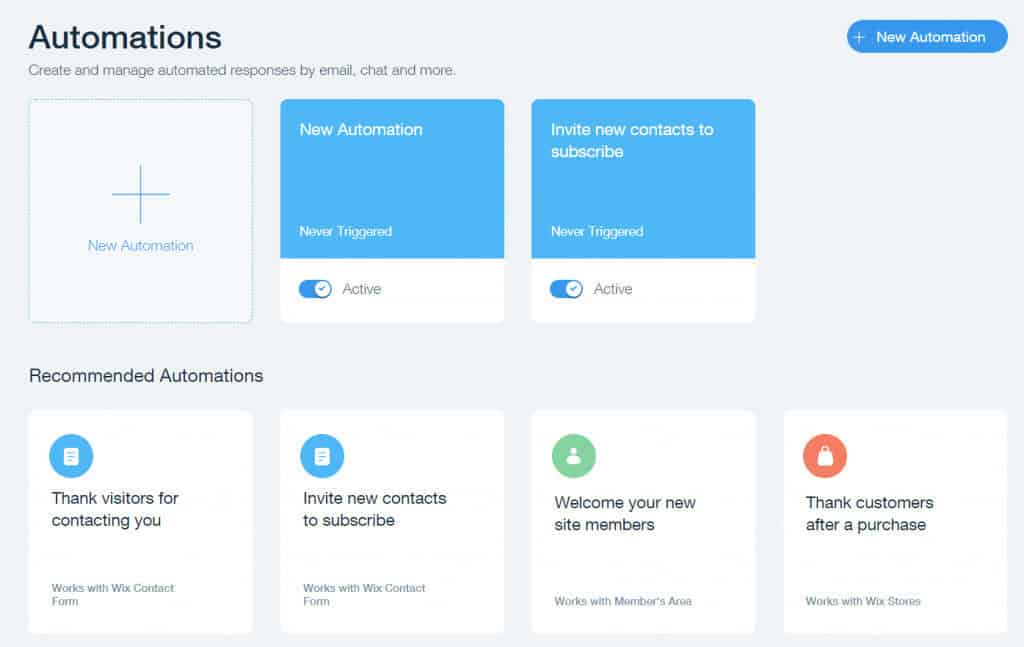 Also included is the ability to create and send invoices to customers.
Further included in the package are things like SEO Wiz to help webmasters improve the SEO game and email marketing tools. Social Post creation also is available.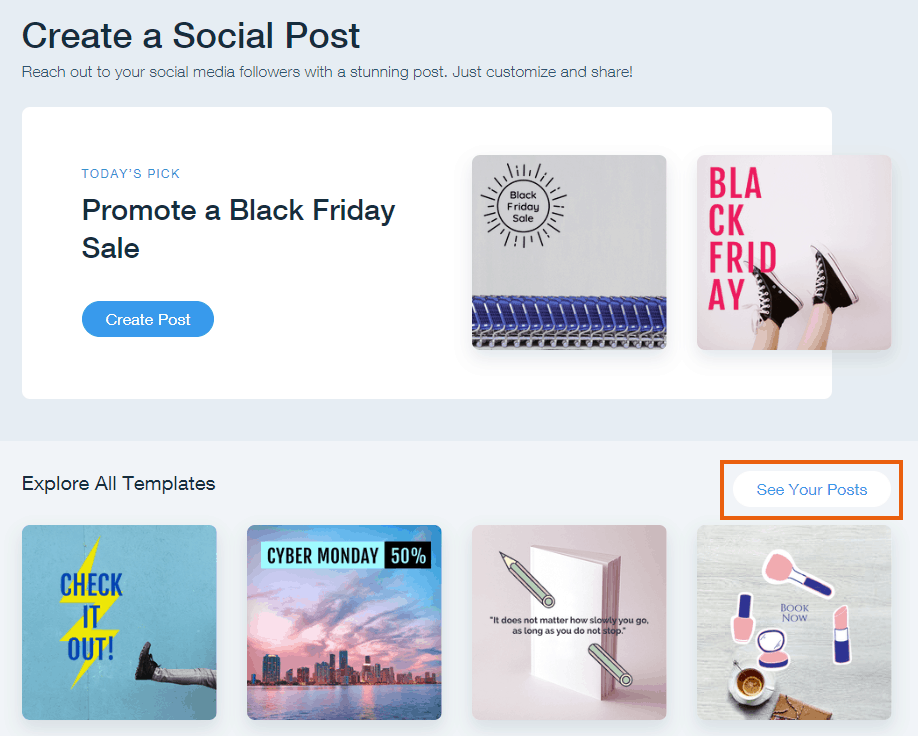 We uncovered in our Wix review that the company features hundreds of gorgeous templates. There's truly something for everyone.
They are grouped into a variety of categories such as Business, Online Store, Photography, Video, Music, Restaurants & Food, Travel & Tourism, Health & Wellness, Fashion & Beauty, Community & Education and more.
If you need to build a website for an event, there are templates for that. Need a portfolio or resume website?
Those are available too. If you want to start a blog, you'll find numerous ready-made options. The point is that you are likely to find a gorgeous template at Wix that is perfect for whatever your needs may be.
Here's an example of a travel blog: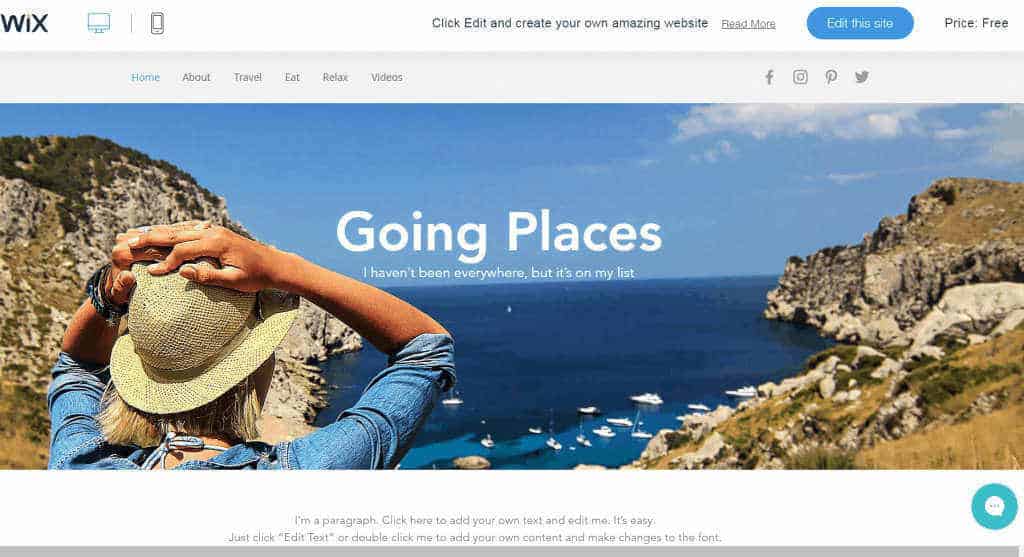 This one is for a business: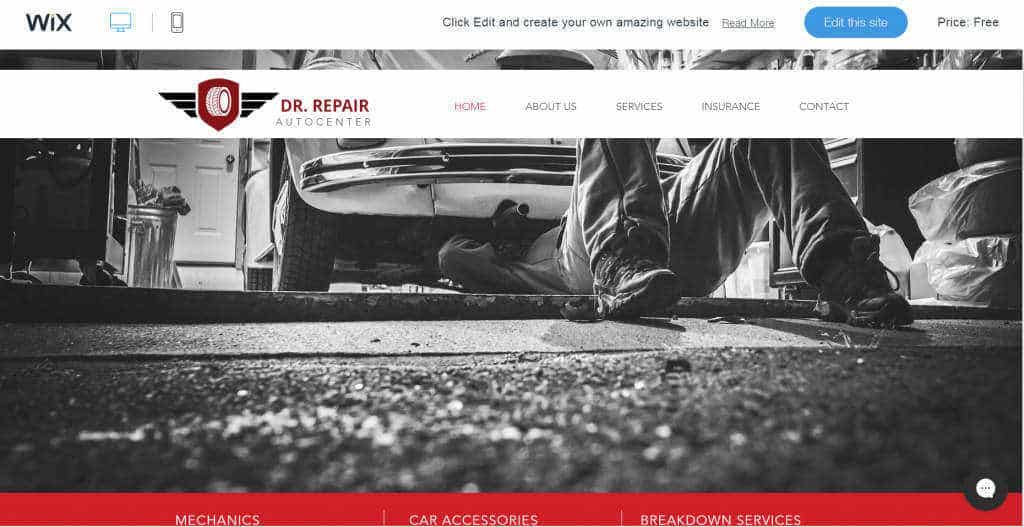 A law firm may gravitate toward this template: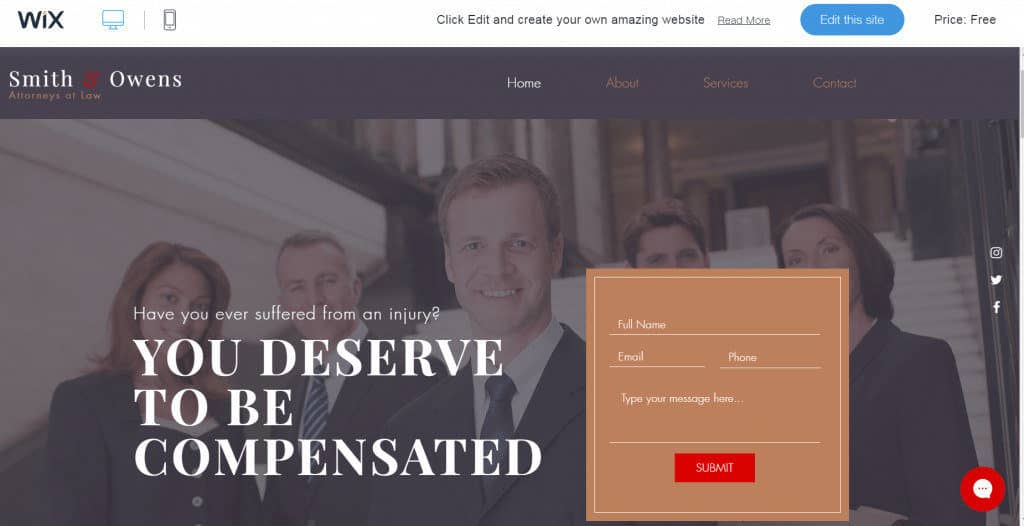 A photographer might fall in love with a gallery layout like this one: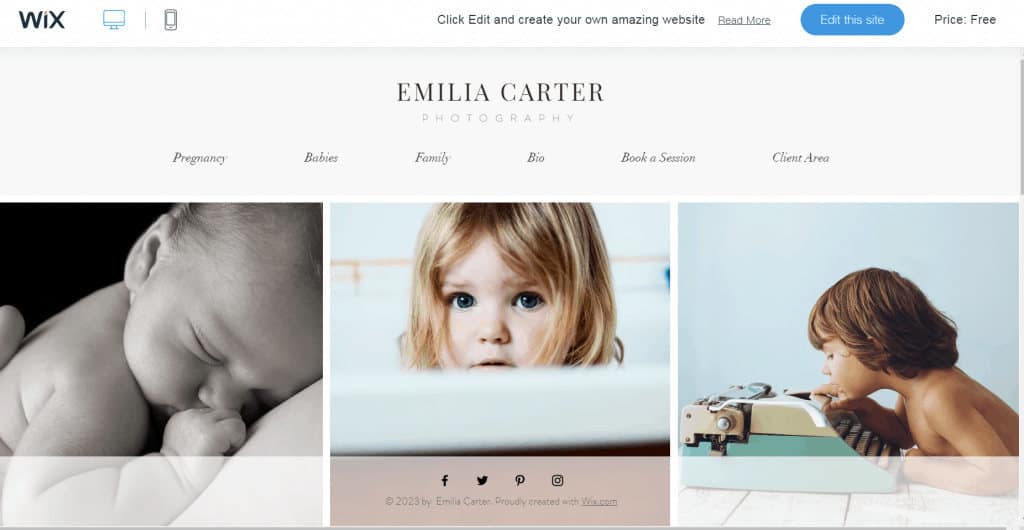 Whether you are a performance artist or require a conservative website for your CPA firm, Wix should be able to accommodate you.
Their selection of templates is virtually unbeatable, and you'll likely be impressed by all of the features and options that are included in each one.
---
Wix Pricing
Wix pricing features two broad tiers of packages: Website and Business & eCommerce. People looking to build a personal website can pay just $13 per month with the "Combo" plan.
For the price, they get two GB of bandwidth, 3 GB of storage, the ability to be ad-free, 30 video minutes and a free domain for one year.
The next step in packages is marketed toward entrepreneurs and freelancers. Costing $17 per month, this package is known as "Unlimited."
Accordingly, people with this plan receive unlimited bandwidth and 10 GB of storage. In addition to the features in the Combo plan, subscribers get one video hour, $300 in advertisement vouchers, the Site Booster app and the Visitor Analytics app.
Wix says that their next package, which they call "Pro," is their best value at $22 per month.
It includes everything in the two lower tier packages in addition to 20 GB of storage, two video hours, an events calendar, a professional logo and social media logo files.
The largest package is called "VIP." It costs $39 per month and comes with everything that's included in the three smaller packages.
Additionally, subscribers receive priority response and VIP Support, which means that their calls go to the front of the line when they have a question or a problem.
Plans and Packages
Anyone who wants to be able to accept payments via their website must sign up for one of the Business & eCommerce plans, all of which are commission free through Wix ecommerce pricing.
This includes the "Business Basic," which costs just $23 per month. In addition to being able to accept online payments, this package includes unlimited bandwidth, 20 GB of storage, no Wix ads, five video hours.
Google Analytics, a free domain for one year, $300 in advertisement vouchers, the Site Booster app and the Visitor Analytics app.
The next largest Business & eCommerce package is "Business Unlimited," and it runs $27 per month. It includes everything in the Basic package, except that it also features 35 GB of storages, 10 video hours, a professional logo and social media logo files.
With the "Business VIP" package, customers pay $49 per month to receive all of the features of the two less expensive plans plus 50 GB of storage, Priority Response and VIP support.
If none of these packages is quite what you're looking for, then consider opting for a fully customizable "Enterprise" package that costs $500 per month.
Designed for growing businesses that need a larger and more powerful website, this is a scalable package that is meant to help you keep up with the demands of your customers.
If you're looking for cheaper options, take a peep at our best cheap hosts.
---
Customer Support
When it comes to customer support, Wix is outstanding.
Just visit their website to discover the Wix Help Center where you can find ready answers by typing in a question or browsing through specific topics.
With all sorts of articles, it's relatively easy to get immediate help with common questions and concerns without having to contact a customer support representative.
The Wix Blog is yet another useful resource that covers a broad range of topics that include the basic how-tos of building a website and even the more advanced subjects that you'll need to approach as your website matures.
If you don't want to build your own website, then visit the Wix Arena.
This is where you can find and connect with hundreds of Wix web designers who will be happy to create a custom website just for you. Browse the galleries to quickly find a designer whose style appeals to you.
If you need assistance, you can contact a customer service representative via email or telephone. These professionals generally are prompt, efficient and helpful.
If you're worried about having to wait too long to get answers when you need them fast, simply sign up for one of the packages that offers Priority Response and VIP Support. These features always put you at the front of the line.
---
Final Thoughts
Wix may be the best website builder available today. It has hundreds of templates in addition to more than 200 apps.
With all of these choices and capabilities, you should be able to build a dream website.
Nonetheless, some people do have a hard time getting started with Wix simply because they are presented with so many choices.
It's advisable for new customers to try to narrow down their template choices as much as possible in the beginning to potentially avoid this problem. Then, apps can be added over time as the webmaster discovers what's necessary and helpful.
If you want to build a beautiful website that won't break the bank, it's hard to go wrong with Wix. We thought it was incredibly fun and easy to use throughout our Wix review, and we think you'll agree!
Related articles: