Disclosure: Aussie Hosting is community run. We sometimes earn a commission when you buy hosting through our links. Learn more.
Best Cheap Australian Web Hosting
---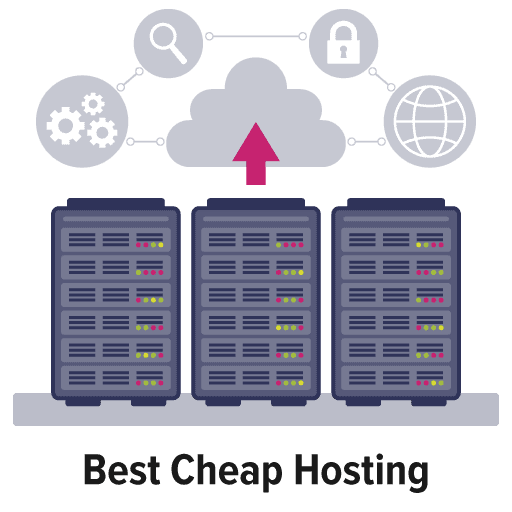 Back when I started my first website I remember paying almost $40 dollars for standard shared hosting. The hosting industry has come a long way since then.
When we talk about hosting what we're really talking about are datacenters.
If you're unsure of what a datacenter actually is think of your favorite Sci-Fi movie with rows upon rows of computers. Sort of like this image on the right.
Companies like Amazon have launched Amazon Web Services which dominate the global cloud computing market. The result is massive economies of scale for hosting companies that can now rent server space for a fraction of what they used to pay.
Modern cheap web hosting provides the speed, performance and features that expensive legacy hosting plans used to offer for a fraction of the price.
When it comes to cheap web hosting in Australia, the rule is the more server resources the cheaper your plan will be. For this reason if you're looking to save money going with the bigger hosts over local companies is the way to go.
Pro Tip - That legacy hosting plan you might already be paying $20-40/month for can be purchased for less than a dollar. If you're buying from a local Australian hosting company you're almost certainly overpaying.
Best Cheap Hosting in Australia
In this review we only recommend four companies. The first pick is the best value for money with great uptime, special focus on security and blazing speeds. We believe that for this price this is the best offer on the market.
The second pick falls within the "cheap" category. The other two are premium choices for those looking for a little bit more flexibility and performance.
If you're curious about how we test uptime, please look at our live site tracking here. Needless to say, all of the hosting companies below have been personally tested by Nathan and his team members from Melbourne, Brisbane, Adelaide, Perth, Sydney, and other cities/regions we managed to visit.
---
1. Hostinger
Extremely Affordable Quality Hosting
Key Features
Cheapest Host Hands Down
Great Speed
Easy to Use Interface
24/7/365 Support
30 Day Return Policy

Visit Hostinger.com
Pros
Fast load times
One of the highest uptimes
Long promo contracts
Cons
No free domain and SSL at lowest tier
Alright, you're looking for the cheapest website hosting in Australia. Well, you found it. You're probably thinking that you have to give up a whole bunch to use a hosting service that is cheaper than two dollars. That's where you're wrong.
We were slightly skeptical when we first stumbled upon Hostinger. At the time their pricing was at $0.80. It was easy to write them off as another sub-dollar hosting service. Then we tested them. The speeds they posted blew almost every other service out of the water and their uptimes are super close to 100%.
How was this possible?! Let's look at some of their features.
Speed and Uptimes 🚄
Let's look at some metrics.
Anything under 2000Ms is a good load time. That means that a webpage takes two seconds to load.
Hostinger posted a 389Ms load time. That means that their web pages load pretty quick. Hostinger prioritizes their server speeds more than most and it really shows.
The uptimes for Hostinger are just as ridiculously good. Any uptime over 98% is considered good. At 99.90%, Hostinger clocks in with one of the highest uptimes in the industry.
Pricing 🔖
Cheap web hosting pricing practices are honestly a problem. They lure you in with a super cheap promotional price and then when your promotional stint with them is over they double or triple the price.
Honestly, Hostinger is no different. However, you can lock in the promotional price for four years. Yes, four years. That could be seen as a negative for some people but for others knowing you'll have cheap and reliable hosting for that long is a plus.
There are problems at the lowest tier. You don't receive a free domain and you don't receive a free SSL. You can upgrade to a slightly more expensive plan at $3.95 per month (not exactly expensive) and receive the domain, SSL, as well as free daily backups.
Buyer beware, the markup after the promotional pricing for Hostinger is steeper than a lot of other places. You can lock in the $1.45 per month for four years but after that, you will be looking at $7.99 per month.
The $2.95 per month plan would go up to $11.95 per month and the $3.95 per month plan would reach $15.95. Hostinger isn't playing around with those prices.
Just like any other hosting service in this price range, Hostinger likes to start you off low and then raise the price. They do give super long promotional contracts which means this practice can be taken advantage of by the customer (i.e. you).
Free Website Builder - Zyro 🆓
Hostinger's website builder is called Zyro and it recently got completely overhauled. Thanks to a plethora of new features it received, now it goes toe to toe with the best website builders out there.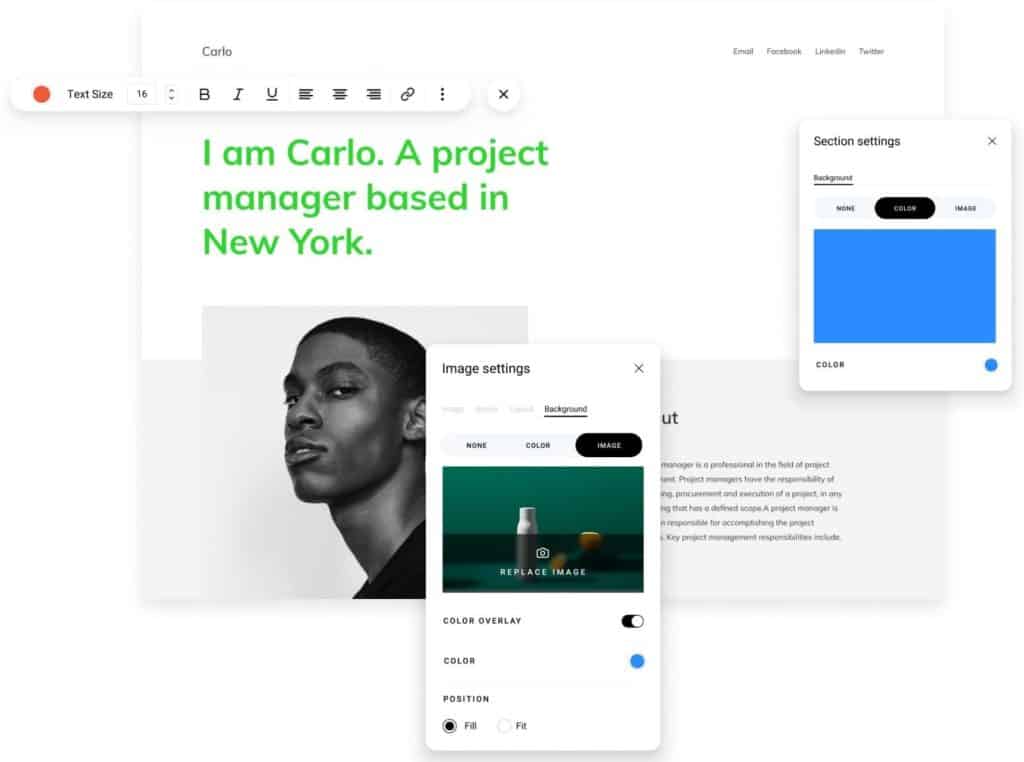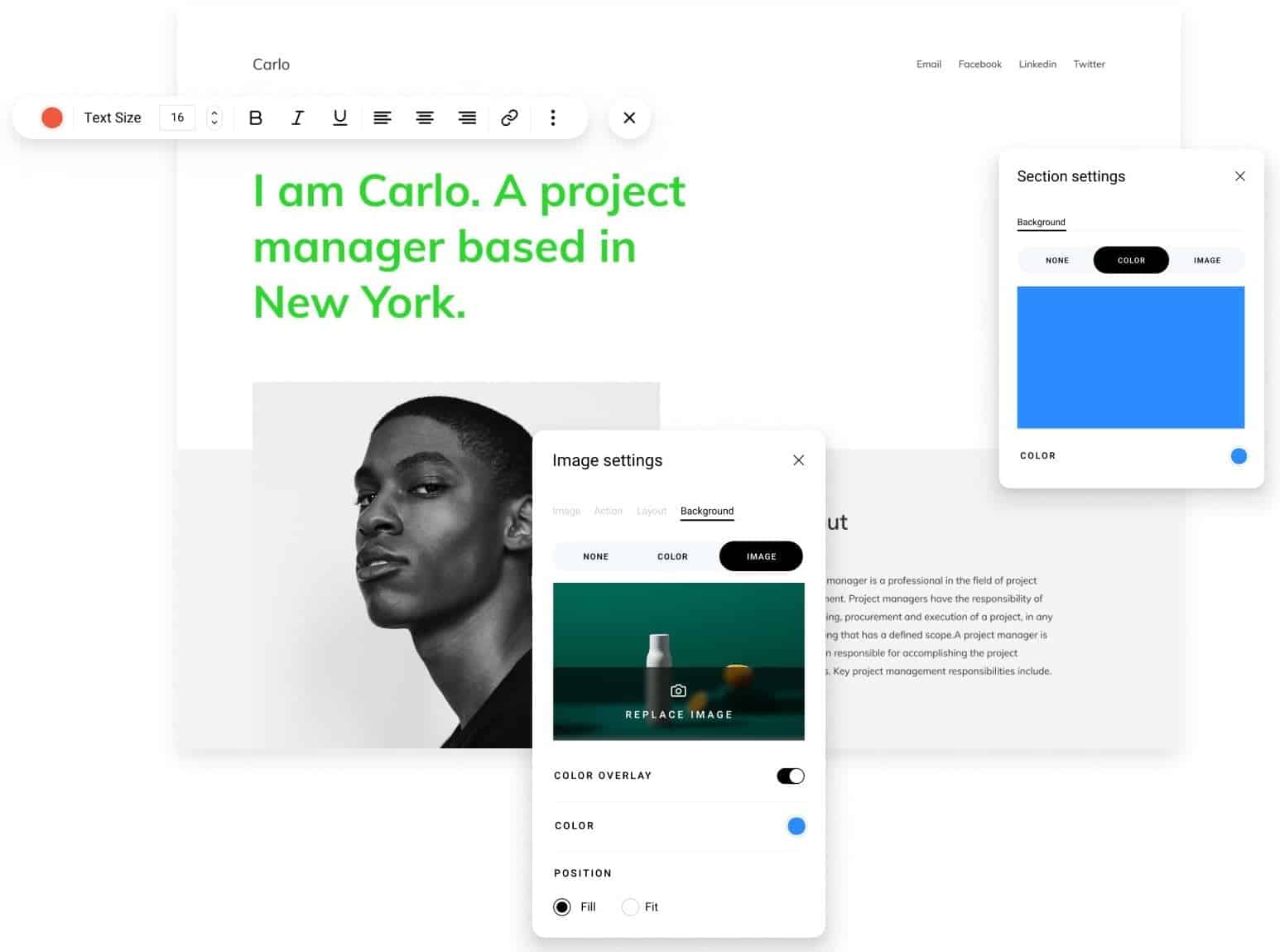 Zyro comes with a friendly UI and quite a bit of features like Free SSL certificate to authenticate your domain, unlimited SSD storage and unlimited bandwidth
One more feature we found quite useful was an enormous library of free images that you can use to design your website any way you see fit.
If you have a need to design your logo or improve it, you can do that here as well. Zyro's Logo Maker makes your brand more accessible to the public. You can design your logo in no time without anyone's help.
A big bonus for both the builder and logo maker is that it is not required to have any designing or coding experience.
Guarantees 📝
We love guarantees here at Best Web Hosting Australia. They show us that a company is confident in their offerings. Hostinger offers a 30-day money back guarantee as well as a 99.99% uptime guarantee. If uptime goes below that you have the opportunity to get a little bit of money back.
Downside 👎
We touched on a few of the downsides in the pricing section. No free SSL is a bummer. However, you can work around it. Using a free SSL can be really easy, especially when using WordPress. Here are two SSL options when using the lowest tier of Hostinger.
Let's Encrypt – Available via all cPanels. It's a free SSL cert for any website. Yay!
Really Simple SSL – This is a great plugin that forces SSL on your site. It also comes with a ton of features to customize.
Another downside is no phone support but most hosting services don't offer it anyways. If you're attached to the cPanel interface you will also be bummed to find out that Hostinger uses its own panel. It is intuitive to use but website veterans will find that they'll be missing what they're used to.
Read our full Hostinger review here.
---
2. Cloudways
Most Complete Hosting Service
Key Features
Powerful security and advanced features

Easy one-click deployment

Great eCommerce and collaboration tools

Near 100% uptime

24/7 support from experts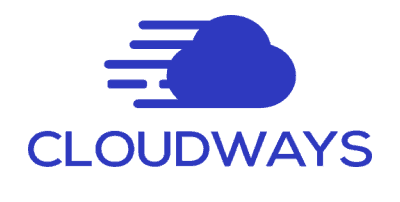 Visit Cloudways.com
Pros
Pay-as-you-go pricing (cancel anytime)
Comprehensive hosting plans that are affordable
3-day trial without credit card
Cons
Managed hosting does not provide root access
Cloudways isn't the cheapest option, but it is definitely our top choice when it comes to value when prioritizing reliability, high performance, security, and a quality set of features. Their most basic package doesn't compromise, offering 25 GB cloud server for storage, 1 GB of RAM,  and 1 TB of bandwidth for $10 a month.

Let's dive in to what makes Cloudways the best choice for scaling your online presence.
Great eCommerce and Collaboration Features
Their packages make it easy for beginners to start their eCommerce business while allowing them to scale when the time comes. Collaboration tools make building your eCommerce business more efficient and effective, like testing new features using the staging environment. As the team grows, users can look to features like GIT integration, SSH and SFTP Access, application and server cloning, and the ability to automate regular backups as needed to keep operations smooth.
Easy Migration and Deployment
If you already have a site and are looking to change hosts, Cloudways offers a free migration service. Their expert team will help you through the steps to make sure nothing breaks during the migration and that you are ready to go with your new Cloudways setup.
Deploying a new site on your server has never been easier, especially when coming from some of the most popular platforms like WordPress, WooCommerce, and Joomla. Cloudways has also facilitated the process for various CMS and PHP frameworks including Symfony, Laravel, and CakePHP.
Strong Security and Monitoring
Security is another strong suite for Cloudways who provide dedicated OS-level firewalls to filter out malicious traffic, a free built-in SSL, IP whitelisting, Bot protection, two-factor authentication (2FA) and an auto-healing feature that identifies and resolves issues automatically to help reduce the risk of your site crashing.
Cloudways also offers a fantastic server monitoring service where they track key website performance metrics like incoming traffic, idle CPU, and reads per second, helping you determine changes in performance needs. They also regularly perform security patching on your server to reduce the chances of future vulnerabilities.
As your online presences grows and you're ready to scale, opting for their Cloudflare Enterprise add-on will additionally provide you with Cloudflare's Web Application Firewall and advanced DDoS Protection, critical for large operations.
Expert Support Team
Whether you require minor assistance or the support of Senior Engineers to sub-in as part of your in-house team, Cloudflare offers it all with 24/7 support. If you require more advanced technical support, they offer their Advanced Support add-on to get one-on-one personalized website assistance.
If you are looking for something more off-hands, their Premium Support add-on unlocks the support of their Senior Engineers to jump in, key for letting you focus on what you want and let them optimize the technology.
---
3. HostPapa
Premium Hosting Option (Special Discount Included)
Key Features
Free Cloudflare CDN

Initial site creator (2 pages)

CloudLinux servers

30-day warranty

Free web transfer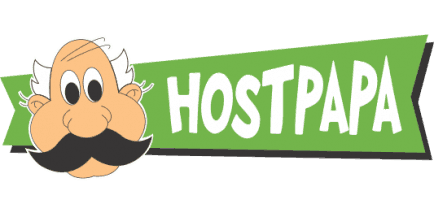 Visit HostPapa
Pros
Free Let's Encrypt SSL certificate
High server uptime
24/7 customer support
Cons
No free domain and SSL at lowest tier
While we didn't crown it as the best cheap hosting provider in Australia, HostPapa is one of the most affordable options on the market.
As with Hostinger, we were fairly doubtful when we came across HostPapa given just how affordable its plans are. But when we tested the service for ourselves, we were blown away at just how well HostPapa performs.
Speed and Uptimes 💨
With 99.97% uptime and fast load speeds, HostPapa is a fantastic choice for those looking for an affordable web hosting provider that won't let you down. While it isn't the 99.9% uptime that HostPapa guarantees with all of its packages, it's an acceptable uptime, especially for the price.
When it comes to site load time, HostPapa has an average load time of around 450 ms, meaning you won't be slowed down by sluggish web pages.
Pricing 💰
In terms of pricing, HostPapa offers three basic plans that range from $7.99 to an affordable $12.95 per month. Even the most basic package allows you to host two websites and receive free domain registration, unmeasured bandwidth and 100 GB SSD storage.
Hostpapa is running their Black Friday deal now for our readers! Get 1-year of hosting for just $0.95/month. Offer ends soon!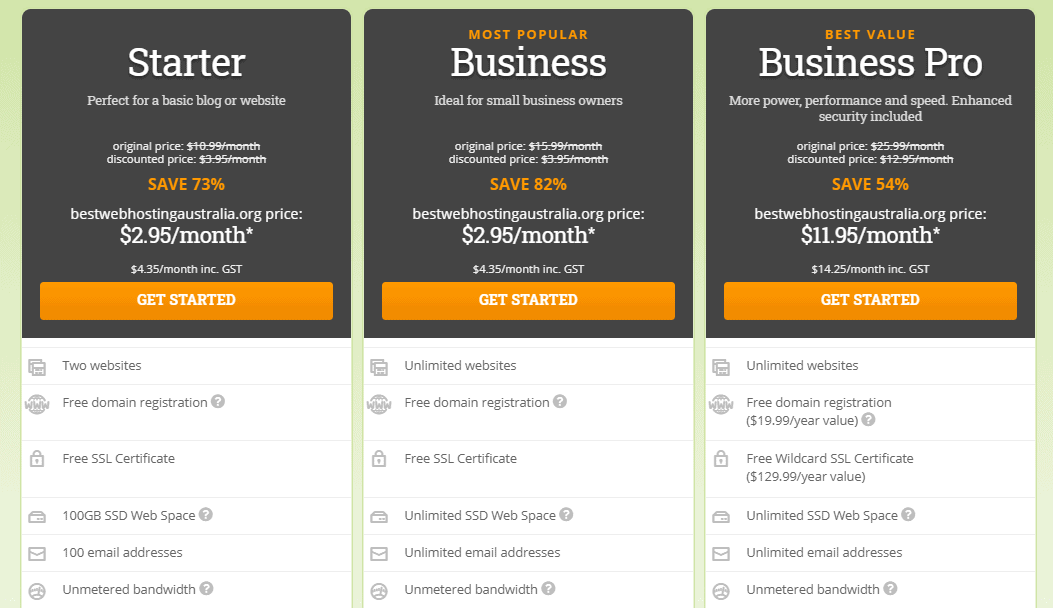 You will also get all of the "essential features" including free web transfer, CPanel control panel and 24/7 support. Here's a quick breakdown of all the plans HostPapa currently offers:
☑️ Starter: $0.95/month with a special 89% Black Friday discount for Aussie Hosting readers (originally $8.99/month)
☑️ Plus: $2.95/month with a special 73% off discount for Aussie Hosting readers (originally $8.99/month)
☑️ Pro (Most Popular): $2.95/month with Aussie Hosting 73% discount (originally $12.99/month)
☑️ Ultra: $14.25/month ($8.95/month with promotion).
Features 🔨
HostPapa isn't lying when it says that it has "everything you need to be successful." In addition to excellent performance at a low price, its packages come with vital features that you'd usually have to fork out big bucks for.
This includes 24/7 customer support, free individual training, Softaculous with 400+ free apps and a free Let's Encrypt SSL. Even the most basic plan features free SSL, so you won't have to worry about paying a pretty penny for an SSL certificate.
Downsides 😲
One of the main downsides to using HostPapa is that it may not be suitable for larger businesses with high traffic websites. This has to do with the fact that when hosting your site with HostPapa, you will be hosting with other businesses on its shared servers.
Be that as it may, HostPapa is a suitable option for small businesses with low to medium traffic websites looking for an affordable web hosting plan with great uptime and fast speeds.
Read our full HostPapa review here.
---
4. HostArmada
Reliable, Fast, and Budget-Friendly (Summer Deal - 75% Off!)
Key Features
Free domain name and  SSL certificates

Free website migration

Minimum 15 GB storage and 2 GB RAM

7 daily backups

Malware support

45-day money-back guarantee

Visit HostArmada
Pros
Custom cPanel dashboard
99.9% uptime with server monitoring
24/7 customer support
HostArmada stands out as a top choice for budget-friendly hosting options in Australia. The variety of plans, impressive performance, user-friendly platform, robust security features, and unparalleled customer support make it an excellent choice for website owners.
Affordable Hosting Plans for Every Need
HostArmada offers a range of budget-friendly hosting plans, including Cloud Shared Hosting, Cloud WordPress Hosting, Cloud Reseller Hosting, Cloud VPS Hosting, Dedicated CPU Server Hosting, Opensource Hosting, and Development Hosting. These plans cater to a variety of website owners, from beginners to high-traffic businesses, with varying storage, domain, and bandwidth options.
HostArmada's Summer Promotion gets you 75% off all WordPress and Shared hosting, 25% off Reseller Hosting, and 30% off all VPS and Dedicated CPU hosting options.
Impressive Performance and Uptime
HostArmada ensures reliable hosting with a 99.9% uptime guarantee, backed by 24/7/365 server monitoring. Their servers are optimized for fast speeds, delivering a quality user experience and quick page load times. Australian users can also benefit from HostArmada's local data centre.
User-Friendly and Feature-Rich Platform
The custom cPanel control panel offers an intuitive and easy-to-use interface for website owners. Softaculous one-click application installation simplifies the addition of new applications and tools.
Robust Security Features
HostArmada's hosting plans come with essential security features such as SSL certificates, network and WAF firewalls, daily website backups, malware protection services, and live server monitoring.
Unparalleled Customer Support
Customers can expect responsive 24/7/365 customer support through phone, email, live chat, and ticketing systems. HostArmada also offers a wealth of educational resources in their knowledge base, including articles, guides, and tutorials.
---
5. SiteGround
Overall Best Affordable Hosting Choice
Key Features
Lightning Fast
Lots of Free Features
Host Multiple Sites
24/7/365 Support
Free SSL
Out-of-the-box caching
Enhanced security
Pros
Top-notch customer support
Fantastic uptime
Free CDN, SSL, E-mail
Automated Daily Backups and Restore
Special Focus on security
Cons
Price goes a bit higher after the initial promo period
In terms of hosting you can't really beat SiteGround unless you jump into the upper echelons of hosting, which will cost you a pretty penny.
We have a ton of client sites running on SiteGround's servers and will see that number growing in the future. Siteground offers the best customer service, great uptime, quick load speeds, and added features.
Blazing Fast Loading Speed 🔥
SiteGround has migrated its servers over to Google's most powerful processors about 2 years ago.
Since then they have implemented the latest technologies to develop further their SuperCacher and front-end optimization plugin to make sure their clients' sites have all levels of caching activated on all plans and have all the tools to be fully optimised.
But their developers did not stop there and introduced the unique Ultrafast PHP setup which can give another 30% speed boost. 
Enhanced Security 🔒
When talking about Security, SiteGround is definitely a host to consider.
Besides the all-inclusive Security plugin they introduced a few months ago, you could rest assured that their 24/7 security team is there to patch any vulnerabilities that arise and they have even gone an extra mile, by implementing AI to monitor their servers every 0,5 sec. and mitigate brute force attacks.
To be honest, we have not seen any other host put that much effort in keeping the sites of their clients' secure. Also, the security plugin and these added features are usually charged extra, but with SiteGround this is all included in the price with each plan. 
Free SSL 📜
Free SSL should be standard with any web hosting service. Any site selling digital or physical products online needs an SSL certificate. Any SEO-centric website needs one as well if you want it to show up in Google searches. If a hosting service does not offer SSL for free then walk the other way.
Fantastic Customer Support 📞
Hostinger and HostGator have pretty awesome customer support. Most hosting services customer support is literal garbage covered in vegemite. Some of you might be thinking that sounds good. It also has bird poop all over it - sorry.
SiteGround has the best customer support. It's kind of creepy how fast they respond to messages.

The customer support agents at SiteGround are all knowledgeable and are ready to help fix any issue. This includes technical issues and general troubleshooting. As I said, SiteGround has the best customer support on this list - It's kind of like hiring another employee to fix things for you with how much they want to help.
SiteGround support is available via chat, phone and tickets 24/7 in English, Spanish and Italian.
Great Uptime 🟢
Imagining a high-impact visitor going to your website and finding it won't load should give you cold sweats. You'll rarely have a website that goes down with SiteGround. Over 99.9% uptime with very little downtime. Anything over 98% is considered good. Clearly, being close to 100% means you're in the upper echelon of uptimes.
Free CDN 🔵
One of the best features included on SiteGround is the free CDN. Cloud Distribution Networks (CDNs) spread your website files over a bunch of different locations globally so being far from a server is not an issue for a website visitor.
This means that at SiteGround no matter where a user is accessing your content they will receive comparable speeds to someone across the world. Yes, even here in Australia.
Free Website Transfers 🚧
SiteGround has developed their own Migrator plugin, which makes the transferring of WordPress sites over to SiteGround hosting platform easy.
In case of any issues you could always contact their support team or ask for a professional transfer, which will cost you USD 30 per site.
Downside of SiteGround 👇
Just like with anything else in this world, SiteGround does have a downside. When time for renewal comes their plans can get costly, because they have many added features and their renewal prices reflect that.
They bring you in a $5.99 per month but after your first plan is up they charge you more money.
However, this is a normal practice in the hosting industry and you usually renew at a higher price no matter which provider you will decide to go with.
Read our full SiteGround review here.
---
6. HostGator
High Speeds & Great Uptime
Key features
Website Builder
Great Performance
99.9% Uptime
24/7/365 Support
45-Day Money-Back Guarantee

Visit HostGator.com
Pros
Consistent uptimes
Customer support 24/7
Straightforward pricing
My personal favorite thing about HostGator is their Instagram advertisements. For some reason, the picture on them is a super up close picture of their mascot. It's kind of terrifying.
I see you!
Okay, besides the fact that their ads are a little too close up, HostGator is a top-notch hosting service. They have a stellar reputation and are a fantastic choice for the cheapest Australian web hosting.
Speed and Uptimes ⏩
The best thing about HostGator's speed and uptimes is the consistency of them. They aren't the fastest, and they don't have the best uptime, but they will consistently be in the upper tier of both of those categories.
Anything over 98% is considered a good uptime and HostGator always sits squarely above that mark.
While being right under 2000 Ms isn't blowing anyone out of the water, we haven't seen much variation from that number no matter where the speed was tested in the world. That speaks to HostGator's number of servers and commitment to consistency.
Pricing 💸
The pricing layout of HostGator is straightforward. They have promotional pricing sitting at $2.75 per month, $3.50 per month, and $5.25 per month - among the cheapest web hosting in Australia available. These promotional prices each basically double when the periods are over but you can lock those prices in for three years.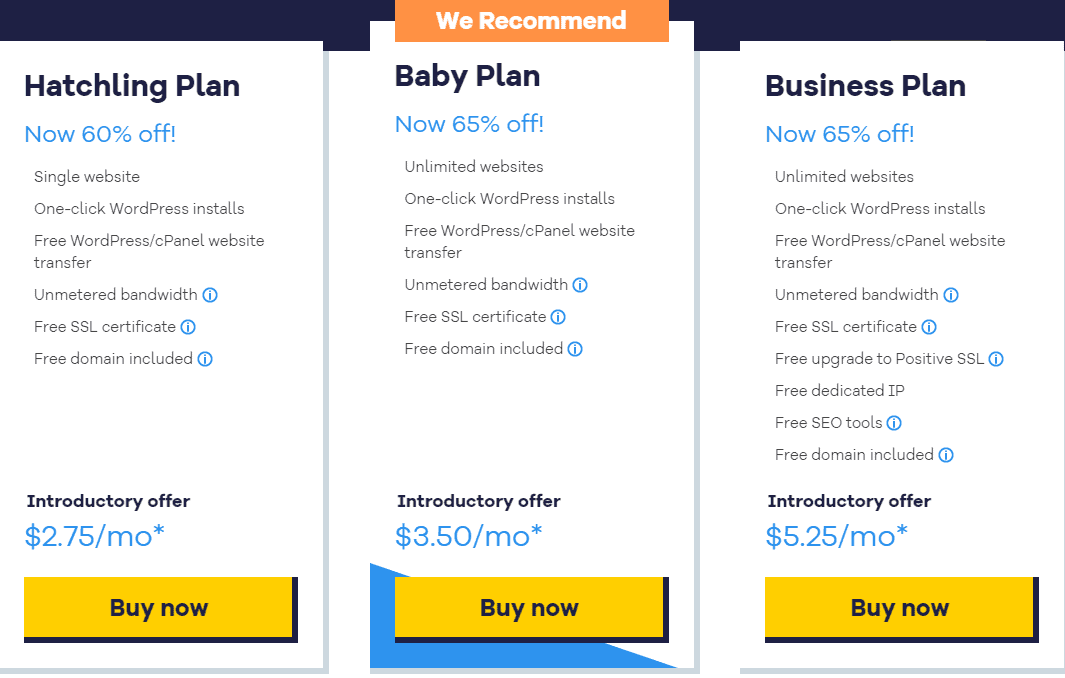 As you can see the upgrades basically allow you to have more domains and unlock a few more tools. The great thing about HostGator is that it gives you access to all the basics with their hatchling plan.
Features 🧰
One thing that has to be mentioned is that HostGator has phone support. They also have 24/7 customer support in general.
Unmetered bandwidth and disk space to go along with their free SSL makes HostGator's bare features stand out. Every hosting service should offer a free SSL and HostGator makes good on their reputation by stepping up in this regard.
Another wonderful add-in with HostGator plans are that they also offer a $100 credit for Google AdWords. If you plan on selling anything with your hosting plan or just want more traffic sent to your blog then this is a great way to get started for free.
Downsides ⬇️
The biggest downsides to using HostGator are the fact that it isn't as cheap as Hostinger and it doesn't offer the same upside as SiteGround. It is the best middle ground though.
Read our full HostGator review here.
---
Why We Don't Like Free Hosts
Let's go over why most half dollar per month hosts suck.
☑️Unsafe
☑️ Bad IP Neighborhood
☑️ Google Will Hate You
☑️ Terribly Downtime
☑️ Bad Support
There are a couple of reasons for avoiding this kind of cheap web hosts under a dollar.
These options commonly use shared IP which is extremely easy to hack and has a high likelihood of being otherwise compromised.
Your website will be hosted on the same servers with many spam blogs that Google generally looks down upon.
While these might be cheap they will be slow with long downtimes and poor customer support.
A lot of cheap web hosts will have terrible uptime and atrocious downtime - often being out of commission for a few minutes or even hours at a time.
If reliability, quality, and uptime are things that are important to your business or personal blog (spoiler: they are) then I would definitely urge you to stay away from any kind of ultra-cheap web hosting.
Let's take a look at some of the different types of web posting and what they provide.
---
Different Kinds of Value Hosting
There is no one size fits all approach when it comes to cheap web hosting in Australia. If you're looking for cheap web posting for a personal blog or project you'll be looking for different criteria than cheap while posting for a small business.
Shared Hosting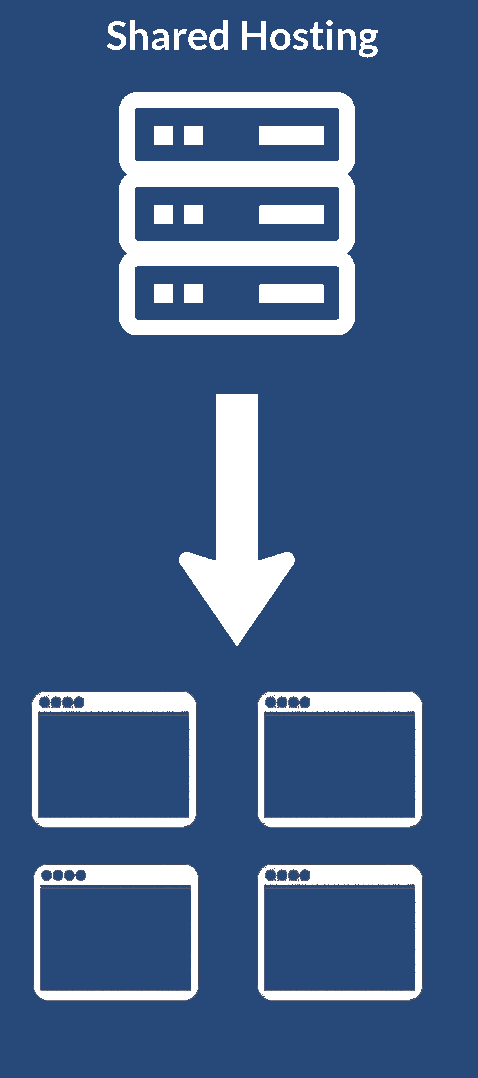 Think about shared hosting like living in an apartment with a lot of different people. By apartment, I actually mean IP which means Internet Protocol.
A shared host uses a shared IP address. This means that many different websites are posted on the same IP.
The logic behind shared cheap website hosting is that no small business requires the resources of an entire server by themselves, especially if they are using a fairly undemanding CMS like a WordPress website.
By using a communal group of resources multiple businesses can share one dedicated IP or server to meet their traffic needs. However, the solution presents a significant problem.
You have no access to the other sites hosted on that particular IP. Shared hosting is definitely the cheapest form of hosting and the majority of businesses online actually utilize shared hosting.
Shared hosts differ in quality of service and more importantly - in their pricing. While it is possible to find extremely cheap shared hosting for under a dollar this is commonly referred to as SEO hosting.
SEO hosting is built to house and maintain multiple spam websites for the purposes of SEO or link building. These services often operate on a turn and burn principle that allows these hosts to generate revenue and then simply abandon their customers.
Dedicated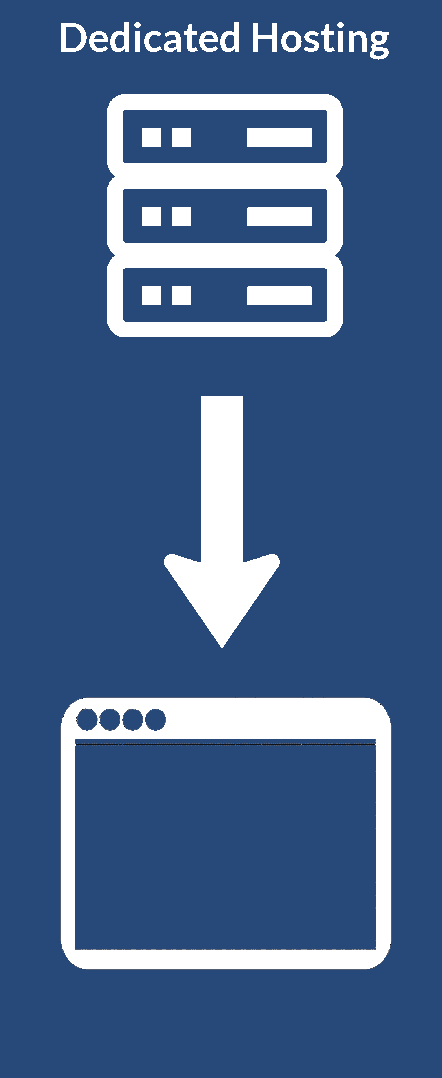 Dedicated hosting is the opposite of shared hosting. On a dedicated host, there is one IP that is assigned to your particular website.
A dedicated host is actually the same as renting out physical space on a server located on a data center.
Dedicated hosting is definitely the most expensive option and is not a cheap choice for most websites. I would only recommend dedicated hosting for small businesses or anyone who wants extremely reliable hosting at all times.
Dedicated hosting is definitely the most expensive option and is not a cheap choice for most websites. I would only recommend dedicated hosting for small businesses or anyone who wants extremely reliable hosting at all times.
VPS Hosting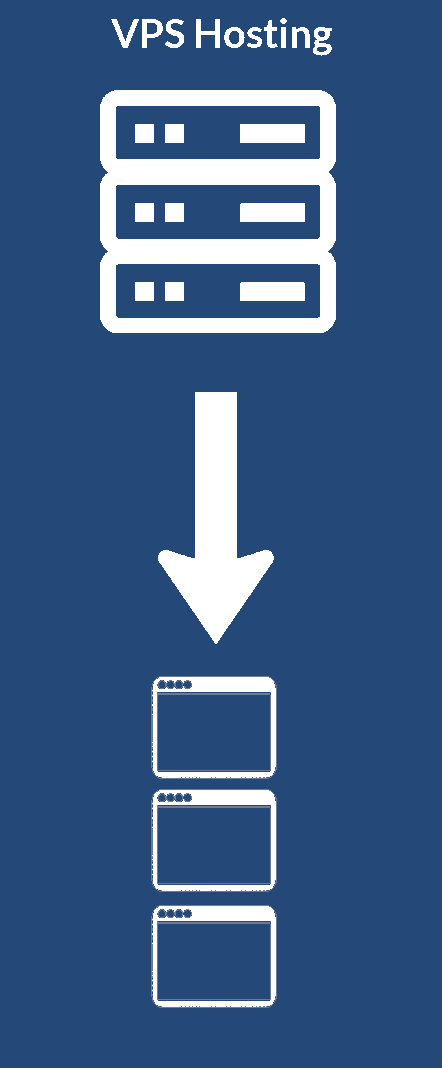 VPS hosting or Virtual Private Server hosting is a mix between dedicated hosting and shared hosting. On a VPS you rent a portion of their server or IP that allows you to operate a dedicated server on the cloud.
This allows for much more robust features and a lot more bandwidth. VPS servers use droplets to create a singular IP on a cloud computer.
VPS servers are great options for anyone who is looking to host web tools or other JavaScript based programs on their website. A CDN or a Content Distribution Network works by forwarding your websites IP to their own unique IP, which in turn is used by thousands of different websites.
Since this IP is used by so many sites it's trusted by Google.
A CDN also allows you to distribute your content all over the Internet and avoid making multiple requests on the server-side for information. CDN's are free and easy to install.
If you're looking to use a CDN, I would suggest first getting a simple shared hosting plan and then adding cloud flair onto it. This will allow for greater security speed and also anonymity.
Who is VPS for?
VPS servers are great options for anyone who is looking to host web tools or other JavaScript-based programs on their website.
A CDN or a Content Distribution Network works by forwarding your website's IP to their own unique IP, which in turn is used by thousands of different websites. Since this IP is used by so many sites it's trusted by Google.
A CDN also allows you to distribute your content all over the Internet and avoid making multiple requests on the server-side for information. CDN's are free and easy to install.
If you're looking to use a CDN, I would suggest first getting a simple shared hosting plan and then adding cloud flair onto it. This will allow for greater security speed and also anonymity.
---
Cheap Hosting Buying Guide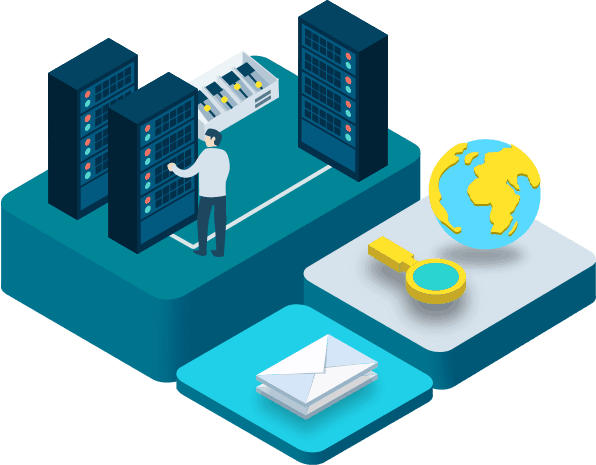 If you're a blogger looking to build your own simple website then I would suggest shared cheap website hosting. Shared hosting allows you to save money and scale up as your blog increases in traffic and sales.
There is no need to commit to a more expensive dedicated server when the resources on a shared host are more than adequate.
Small businesses also have some of the same requirements as bloggers.
The majority of small businesses don't actually receive a high amount of web visitors. These websites are built more for reference and their specific users.
Shared Hosting Plans
For these reasons, shared plans are more than enough for any small business. If you're a small business feel free to check out our small business guide to hosting.
If your site is getting anywhere less than 3,000 to 4,000 visitors per month, any quality shared hosting plan will fit your needs. Again, as your site scales up in traffic and sales you should move from a shared plan over to a dedicated plan.
One thing you need to be aware of is that some hosts will charge you to migrate sites or will charge an arm and a leg for features like SSL or backups. Picking the right host can save you a lot of money in the future. One of the most common mistakes is picking the absolute cheapest host.
What happens is you save money initially but in the future, as you try to add different features to your site or move it over to another host those same service providers charge you multiple service fees and add extra paid features.
By the time you're done paying for all of these together will actually end up spending 3 to 4 times the price of the original quality shared hosting plan.
So the moral of the story is don't cheap out on web hosting and try to go for the lowest priced plan. If you spend more than a couple of dollars a month you'll be getting something that's much higher in quality.
Recommended Cheap Hosting for eCommerce
If you're an eCommerce site looking to start a new website, stay away from shared hosting and opt for a dedicated plan. eCommerce sites are heavy on graphics, media, videos, and other interactive features.
These require more resources and up-time than shared plans are able to provide. While you might save a few bucks a month on hosting, you'll definitely lose a lot more than that on potential sales and revenue. If you want to know more, read our eCommerce guide.
People are spoiled. Any load time longer than 12 seconds is going to cause people to leave your site almost immediately. Importance of SSL
Importance of SSL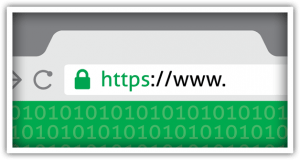 Another important feature to consider for eCommerce is SSL protection.
SSL or Secure Socket Layer protection creates an encrypted tunnel from your user's computer to the web servers.
This protects their information from hackers and other malicious forces.
It has become a requirement for any financial transaction online as well as any payment processor worth using. These processors will flat out reject any websites that don't have SSL. The problem with cheap posts is that they often charge upwards of $60 for installing SSL on a yearly basis.
While their base plan may be only one to two dollars you're going to spend upwards of $50-$60 just for your SSL.
At this point, the message is clear. Yes, you can get cheap web hosting in Australia. However, if you try to get too cheap with your hosting you will end up spending more money in the future. The thing about starting a website is that you don't know where it will go and how it will grow.
---
Discount Hosting FAQ
What Is the Best Free Website Hosting?
There are no free website hosting services worth using. You can technically host for free on Wix, WordPress.com, and Weebly. However, you will not be able to use a domain name.
Can I Host My Website for Free?
Yes, you can make your own website for free, but you will receive much worse service than if you pay a few dollars per month for hosting.
Is GoDaddy a Good Website Builder?

GoDaddy's website builder is not very good. Other website builders such as WordPress, Wix, and Squarespace are better.
Is WordPress a Good Website Builder?

WordPress is the best website builder but it has a large learning curve and you have to pay for hosting.
What Is the Best Free Website Builder?
Using WordPress while hosting your website on third-party hosting is the best way to build a website. You can build a website for free on Wix but you will not have a domain name.
---
Wrapping it Up
With everything said, you can't go wrong with any of the three options outlined here. Hostinger provides absurd value at $0.80 per month and is the best option if you're truly trying to save money.
Hostgator and SiteGround also provide fantastic value but you will find yourself paying a little bit more money.
Well, thats it.
If you have any questions or comments don't be shy and leave one below we'll answer it as fast as we can.