Disclosure: Aussie Hosting is community run. We sometimes earn a commission when you buy hosting through our links. Learn more.
If you know anything about eCommerce at all then you know that Shopify is one of the best solutions for getting your store up and running. Which I think is an important aspect of eCommerce in general.
What's even the point of selling things in person anymore? If I have to have human contact to buy something it might just not be worth it. The outside world is scary.

Visit Shopify.com
Almost 94% of all retail sales still occur in brick and mortar stores. That may come as a surprise but all of the growth lends itself to online shopping beating out retail sales at some point in the not so distant future.
This is where Shopify comes in. As the de facto leader in the eCommerce platform space, they have you covered when it comes to building and growing your fledgling eCommerce empire.
Our Quick Take
If every single person on the planet that wanted an online store asked me which eCommerce platform they should use, I would tell 95% of them to use Shopify.
Now with their FREE 3-day trial (no credit card needed) and then $1/month for 3 months on any plan promo, you can jump right in and see for yourself if it's right for you.
It has the best capabilities, functionality, features, and apps weighed against how easy it is to use. Yes, you can have something with more functionality and yes you can have something that is easier to use. No, you can't have both combined unless you use Shopify.
The other 5% would be people who value simplicity over everything else, people who have a lot of website development experience, people who value SEO over all else, and people who have crazy money to throw in a web developers face.
Additionally if you're looking to sell on Amazon, Etsy or other third party marketplaces you can do that with Shopify.This is probably the biggest selling point of their software.
If you fall in any of those categories there are better options. It is pretty rare for someone to fit those criteria. Most of you should just go with Shopify.
---
How it Works
Okay, let's say that you decided to use Shopify. Now what?
Great question. The first step is to log in.
Jumping into the backend of Shopify may be a little overwhelming for people with zero website development experience. Luckily - it isn't difficult after you spent a little time in there.
Below you can see what the dashboard looks like. As you can see there are a lot of places your eyes can get fixed on. Let's break down what is happening here.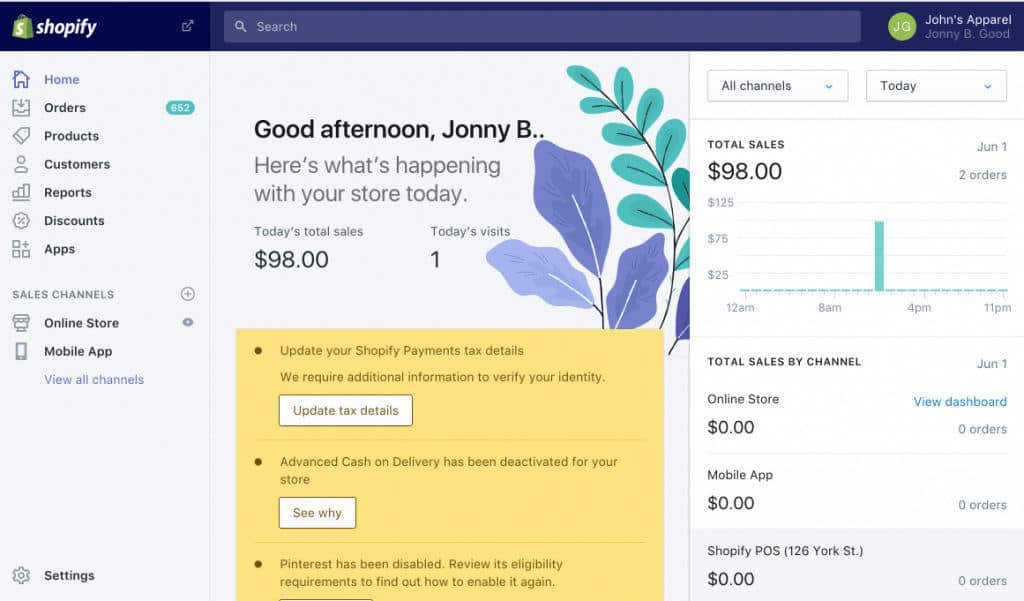 The left side of the screen is where a lot of the magic is going to happen so let's leave that for farther down.
On the right side of the dashboard, you can cycle through your different sales channels. Next to the sales channels you have the ability to change the period of time sales are illustrated. Below it also shows total sales by channel.
In the middle of the screen, Shopify will show you exactly what is happening the day you are checking it. Below that, a bunch of different helpful stuff will appear. First, anything on your store that needs attention will have an alert in yellow.
Shopify also shows other useful things - like your most viewed products.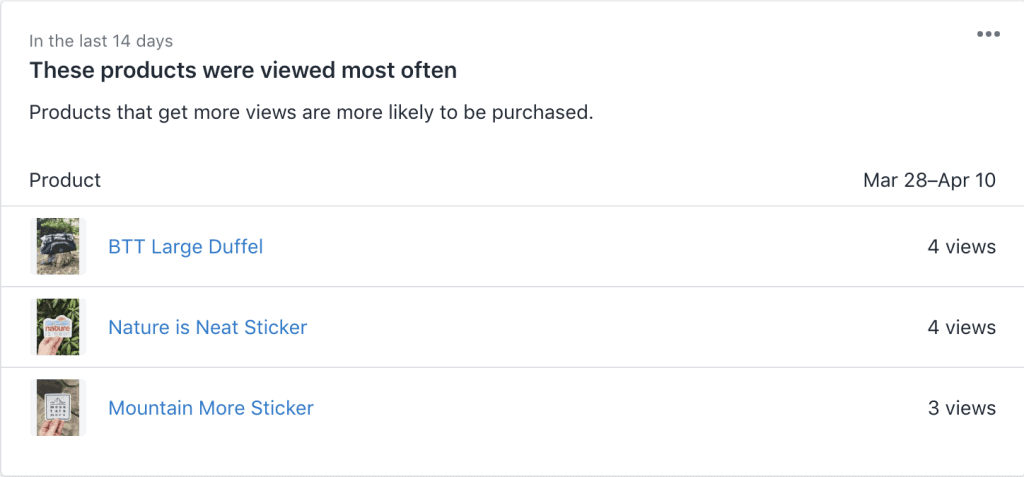 This area will also update you on various statistics about your website. There can be over 20 different types of statistics shown. One example is below.

On the left side of the screen in the dashboard, you have everything else. A closer view of a store with more sales channels is below.
This is where you will check everything on your store. Each section is relatively self-explanatory. Clicking on the online store section allows you to edit your actual store. The way to edit your storefront will be detailed in the theme section further down.
Take a look at our Shopify dropshipping guide if you are looking for extra knowledge!
The settings gear icon also shows opens up a large area where every small setting that can be thought of is found.
---
Shopify Features Explained
All features on Shopify were created with
eCommerce
in mind. We're going to take a look at each part and compare the features, freebies and tools you'll get with each package.
Inventory Management
It goes without saying that inventory management is one of the most important aspects of an eCommerce platform. When adding a product on Shopify, you can organize them within collections, making it easy to keep track of everything.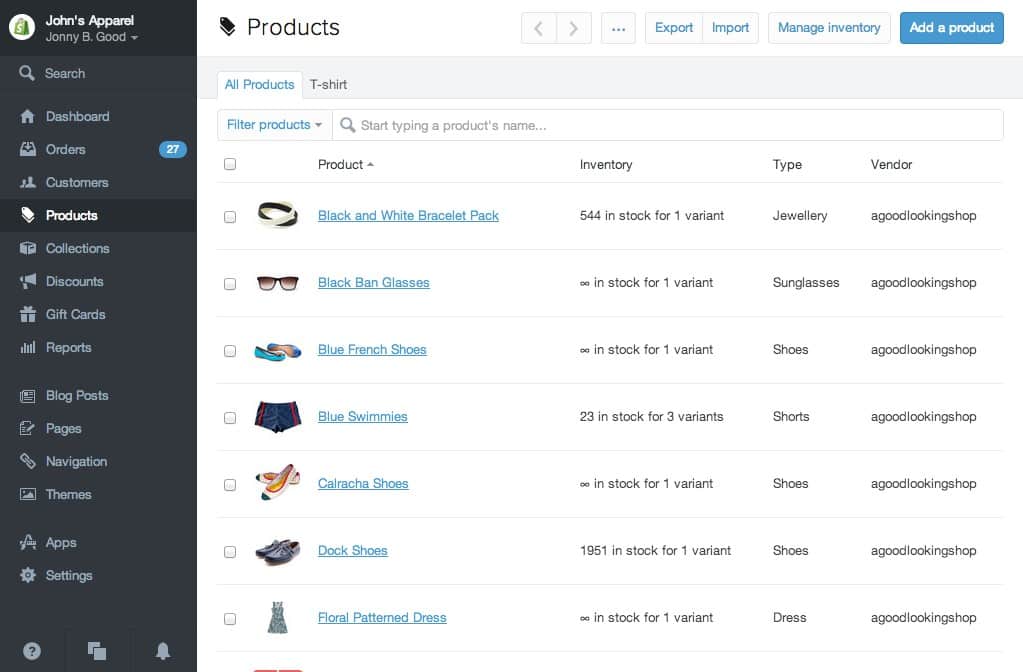 Here are the various aspects of creating a product on Shopify step by step:
Title and Description - This is relatively self-explanatory but the description box does offer quite a bit of functionality. Videos and images can be added in the description. This is where you would add something that has to do with your product but isn't just showing your product.
Product Availability - If you have multiple sales channels this is where you can decide if the product is available in a specific one. You can also schedule when these products are going to be published. This makes it easy to hype up a product release and automate the publishing of the product.
Images - You can either drag images into the image area, use a URL, or add images manually from your files.
Organization - As mentioned before, collections play an important part in inventory management. This is where you specify the product type, which collection it belongs to, and add any tags that are necessary. Another aspect of this section is if you have various vendors this is where you can specify which vendor the product is from.
Inventory - One of the most important aspects of organizing your product catalog. This is where you would add a SKU, barcode, tracking protocol, and quantity. There is also an option to allow customers to purchase the product when it is out of stock.
Shipping - Shopify does have some shipping functionality to specify the weight of your product and country of origin. Most shipping settings will be done elsewhere on the platform. If you do have products fulfilled by a third party this will be specified here.
Variants - Add variants if the product comes in multiple versions. This is where you would add sizes and colors if you have a clothing store.
Search Engine Listing Preview - SEO is so important for an eCommerce store. Most store owners just throw a product up on their website and hope people see it. The SEO preview offered by Shopify will show you exactly how your product appears on Google and other search engines.
Reports
The reports offered on the home page of your back-end dashboard are nice. You can go deeper though!
There is a reports section where you can change various variables such as sales, conversion rates, visits, order value, repeat customer rate, and orders in general. All of this can be manipulated by different time periods.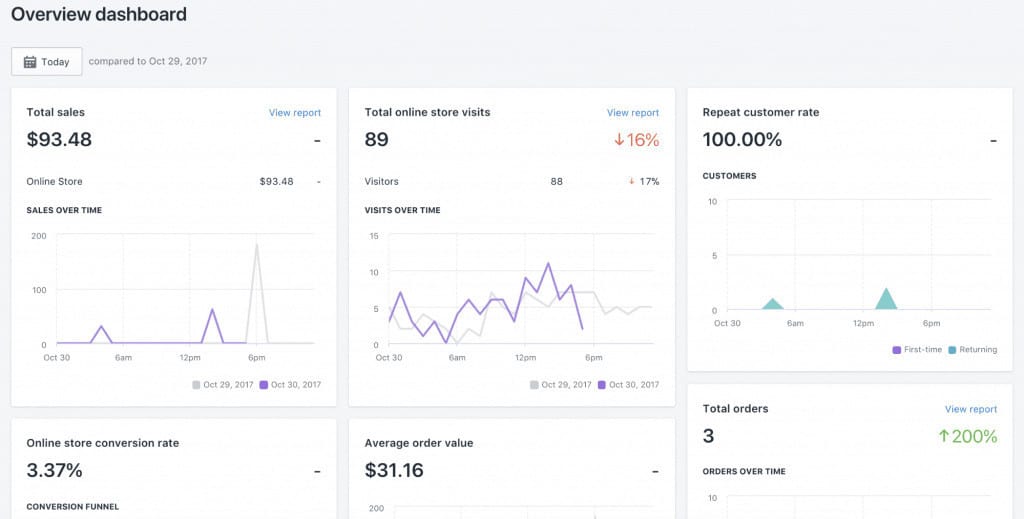 This will also tell you where people are visiting your site from. This is invaluable from a marketing perspective.
Multiple Channels (The Best Part)
48% of people start to search for a product on marketplaces. That means that half the people out there are turning to Amazon, eBay, or Etsy for products.
The great thing about Shopify, even though it is an eCommerce website platform, it also helps you sell on Amazon, eBay, Etsy, and other places. Selling on social media becomes much easier once you can integrate it with your store.
Mobile Optimization
It is likely that seven out of 10 of your clients are going to view your e-commerce store using a mobile device.
Here are two fun eCommerce website statistics for you:
Poor mobile design alone is enough for 57% of internet users not to recommend your business to their peers.
Almost 80% of consumers will stop engaging with your website if the mobile website displays inconveniently.
The themes on Shopify are all mobile optimized. This means that you won't have to create two versions of your website to stay technologically advanced.
Shopify App Store
Shopify really tries to offer a fix for every eCommerce problem that presents itself.
Sadly, having too many features on any software bogs down the usability of it and makes the UI a wreck. The great thing is - they have an app store.
Any eCommerce solution Shopify doesn't want to deal with or hasn't gotten around to dealing with can usually be found in the app store - either for free or for a price.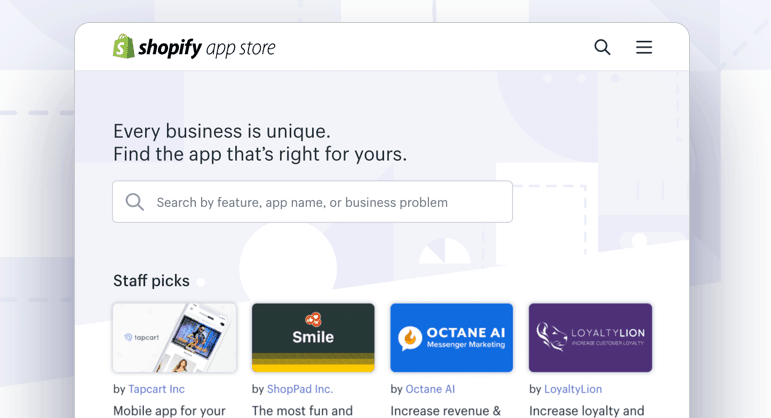 There are apps to accomplish almost anything - some better than others. If you need help with social media, there are apps for that. If you want to dropship, there are apps for that.
If you want to make a massive menu that scares your website visitors, there are apps for that. If you want to step your customer support game up, there are apps for that.
Perusing through the app list is kind of fun - just seeing the issues people have run into that required a solution is interesting. A lot of them have monthly recurring fees so that is another option that might be better once you make a few sales.
Scaling
What happens when your store actually does well? What happens when it does really well? Hopefully, a lot of things happen. The one thing you don't want to happen is for your growth to be hamstrung by the eCommerce platform you have chosen to use.
In my humble opinion, Shopify scales better than any other option on the market. Shopify can grow with you. With the higher tiered pricing, you receive the help that only enterprise level businesses had access to in the past.
Shopify Themes (w/ 100 Free Themes)
Shopify works relatively similar to the way WordPress works in terms of actually building your website.
The process is simple - all you have to do is select a theme. Each theme will have a drag-and-drop interface that will allow you to customize the aesthetics. Uploading pictures and other media is also simple. It can be done right in the drag-and-drop interface.
Shopify does offer free and paid themes. You can also buy a theme from a third-party theme developer if any of the Shopify themes aren't what you're looking for.
The free ones are minimalist and simple. Our favorite free one to use is Brooklyn as it seems to fit any type of store but it is marketed as a medium-sized apparel store theme. Each theme is said to specialize for a specific type of store but each one is so minimal that they'd work for any type of store.
Since the free themes are relatively basic and don't offer a whole lot of customization - it isn't a bad idea to buy one.
Obviously, Shopify already costs a good chunk of change. Rationalizing spending more money on a theme can be difficult. A good idea is to start with a free theme. Once a handful of sales are made you can then take some of the profits and reinvest into a premium theme.
Besides the large number of themes available to purchase on Shopify, there are a whole bunch of third-party developers that create themes.
These developers create themes for hosting services like Shopify, WordPress, and BigCommerce. The best ones come with great knowledge bases and large communities themselves to help you along on your designs.
---
Shopify Customer Support
The best part about the support at Shopify is the same thing that WordPress is known for - and it has nothing to do with the company.
The community is massive at Shopify and the forums are always active. If you have any question, the answer is usually a quick search away. If it isn't - all you have to do is post something to the forums. At this point, it would be tough to have a question that hasn't been answered yet.
However!
If there is, and you don't have time to post something on a forum, Shopify's customer support is fantastic. Shopify does offer phone support - which is a game changer when you need help fast. Just like going outside, talking to people is terrifying.
Luckily, Shopify also has chat support and email support. The agents on there are just as helpful as agents over the phone.
Shopify has a knowledge base full of helpful information in text form. There are also videos covering everything that will teach you whatever you want to know about Shopify. They also host webinars if you want to ask any questions there.
---
Shopify Pricing Explained
Shopify is admittedly a tad pricey. Have you ever heard the old phrase, you have to spend money to make money?
Spending 30 bucks a month to have a fully formed eCommerce store seems worth it to me if you are actually looking to build a real business. If your eCommerce store is more of a hobby then it makes sense to look for a cheaper option.
One of the best aspects of Shopify is that is scales with you, you can be making over a million dollars in revenue and still be paying $29 per month. We don't recommend doing that, as the higher tiered pricing offers a whole bunch of benefits for a large business.
Each tier of pricing includes unlimited products, 24/7 support, the ability to sell in other sales channels, manual order creation, discount codes, SSL certificate, abandoned cart recovery, Shopify payments with fraud analysis, POS app, physical hardware, and robust app selection.
| Shopify Pricing | Basic Shopify | Shopify | Advanced Shopify |
| --- | --- | --- | --- |
| Monthly Price | $29 | $79 | $299 |
| Features | Two staff accounts and discounted shipping | Five staff accounts, better discounted shipping, gift cards, professional reports, USPS Priority Mail Cubic pricing, and lower payment fees | Fifteen staff accounts, better discounted shipping, gift cards, professional reports, advanced report builder, third-party calculated shipping rates, USPS Priority Mail Cubic pricing, and lower payment fees |
---
FAQ
Which eCommerce Platform is Best for Small Business?
Shopify is the best platform for eCommerce. It's designed for business owners who want everything at their fingertips with a thriving online community. If you're looking for more for your startup check out our best hosting for small business article.
Is Shopify or BigCommerce Better?
Shopify grades out better in most categories. BigCommerce is useful in a few situations but in general, Shopify is better.
What Framework is Best for eCommerce Websites?
The best framework is Shopify. The software has everything that enables you to grow an eCommerce website to the greatest heights possible as well as just run a small boutique shop.
I wouldn't recommend using a free website builder if you're serious about your new venture either.
Which is the Best eCommerce Website Builder?
The easiest eCommerce website builder to actually build a website on is Squarespace. However, with that initial easiness comes long term sacrifices with eCommerce functionality. The best mix of easiness and functionality is Shopify.
Is Blogging on Shopify Any Good?
Blogging on Shopify is basic but it works just as well as other website building platforms. The only huge step up would be hosting your eCommerce store on WordPress. To learn more about WP read our guide to the best WordPress hosts.
How Much Does it Cost to Sell on Shopify?
Plans on Shopify start at $29 per month.
---
Shopify in a Nutshell
Shopify was built to serve eCommerce hopefuls. The founders tried to create an online store back in the day and found out that it was super difficult to do so.
Fast forward to now and it is easy to see that their vision of creating an easy to use eCommerce platform that actually offers everything an entrepreneur could want is fully realized.

Visit Shopify.com
It's definitely worth checking out other options out there in the eCommerce space to see if any of them speak to you. If you want a proven method for building and growing an online store then just use Shopify.
If you're still looking for more hosting solutions check our guide for best Australian web hosting.
Related articles: