Disclosure: Aussie Hosting is community run. We sometimes earn a commission when you buy hosting through our links. Learn more.
Hostinger Review in Australia 2022
Hostinger is a web hosting company that is owned by its employees. According to our Hostinger review, we discovered it was founded in 2004 and originally had the name Hosting Media.
However, in 2011, once the company reached the milestone of having a million users, its name was changed to Hostinger. In 2007, Hostinger was a subsidiary of 000webhost.
The goal was to provide free web hosting around the world. Today, Hostinger has more than 25 million users worldwide, with subsidiaries that are in more than 178 countries. It serves as the parent company of 000webhost, Weblink, and Niagahoster.
It is estimated that 20,000 new clients sign up for this service each day. Hostinger boasts that they are able to allow their clients to create a website with complete freedom.

In this Hostinger review, we are going to look at some of those claims with the goal of seeing if this European host is any good.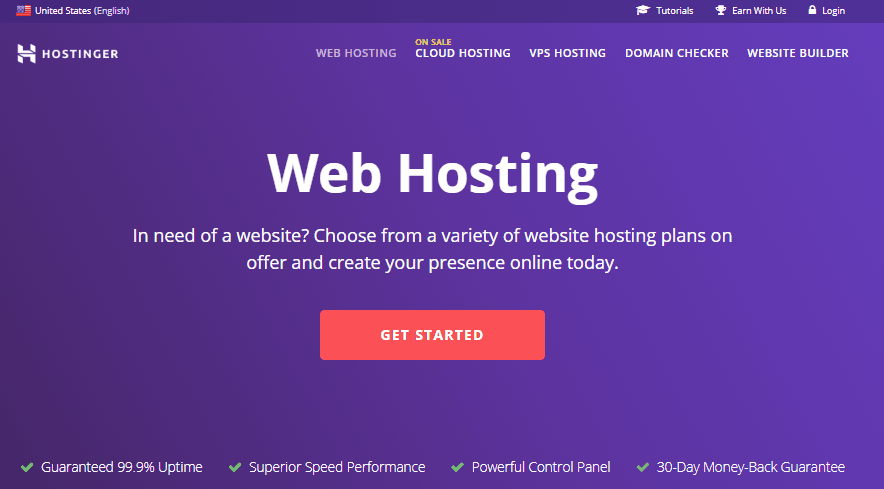 ---
What Is Hostinger Known For?
When talking about itself, Hostinger is direct and to the point. They don't use glossy terms to describe their service. Instead, they say that they are all about cheap web hosting.
Let's start with their pricing and hosting plans.
Hostinger offers three basic plans:
Single Shared hosting with discounts run around $1.45 a month
Premium Shared hosting with discounts run around $2.15 a month
Business Shared hosting with discounts run around $3.45 a month
Currently, they are running a deal that brings the price of their Single Shared hosting plan down to $.80 per month.
With their Business and Premium web hosting plans, personal free domains are included. Let's take a closer look at each of their basic packages.
---
Single Shared Hosting (Best For Newbies)
This is the least expensive plan available. You pay $0.99 each month for the first four years.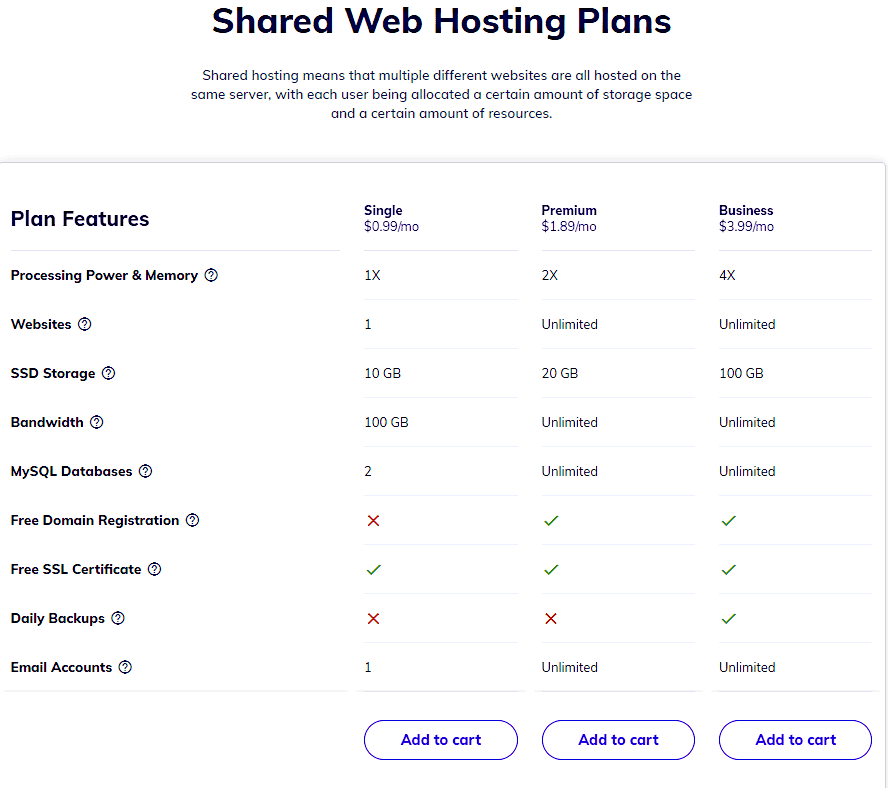 If you continue to use the service after the first four years, the price of the service jumps to $7.99 per month.
This plan gives you:
100 GB bandwidth
One email account
An auto installer
10 GB disc space
Easy website builder
One MySQL Database
One Website
This is Hostinger's entry-level plan.
It is not designed to have all of the features you will see in some of the other plans we are going to look at in this Hostinger review.
However, when you are paying just $1.45 each month or even less with discounts, you really cannot complain about the features being offered.
The plan only allows you to host one website. This is reflected in the resources that are allocated to you. Ten GB of disc space and 100 GB of bandwidth are enough to create an impressive sight.
The overall package is relatively bare-bones. But if you just have one website and you are looking to run the site without too many bells and whistles, this is a nice option.
One issue that some of had with this package is that it just offers one email. It's not unusual for a small businesses to have just one website, but they usually have a couple of email addresses that they use. If this is a kicker for you, check out the Premium Shared Hosting Plan.
---
Premium Shared Hosting
This is the mid-tier plan. For the first 48 months, you are going to pay $1.89 per month. After that, the price increases to $11.95 a month.
This plan offers:
Unlimited number of websites
Unlimited FTP users
Unlimited SSD disc space
Unlimited email accounts
Free domain name
Unlimited MySQL database
Easy website builder
With this plan, you are basically paying two times what you would pay with the previous plan. However, you are looking at a completely different package. This plan gives you access to just about all of the functionality and the power that Hostinger offers.
This has been made for people who have multiple sites and who are concerned about speed.
With this package, you can have as many websites as you want, use as much disc space as you need, and chew up an unlimited amount of bandwidth.
There is no limitation on the number of MySQL databases that you can have, and you are able to create an endless number of FTP accounts if you choose to.
The nice thing about this plan is that it has been optimized for WordPress.
As a result, if you use the Premium plan for your WordPress site, you are going to get three times the speed as those who are stuck with the basic plan.
With this packet, you will also get a domain name included. There is no annual renewal fee. You also get a free SSL certificate. This helps to protect individuals who visit your site from man in the middle attacks. It create an overall safer browsing experience.
---
Business Web Hosting
This is the top-of-the-line plan that they offer. For the first 48 months, you will spend $3.99 per month. After that, the price increases to $15.95 per month.
This plan offers all of the perks of premium hosting plus:
5X WordPress optimized speed
Daily backups
2X processing power and memory
Free SSL certificate
Deluxe life support
For just a couple dollars more, you can enjoy the benefits of the Business Shared hosting package. This is the most comprehensive service that they offer. Everything that we reviewed in the Premium plan is included in the Business plan.
The major difference you are going to see is the RAM and CPU allocation. Both of these are doubled in the Business plan. This is going to have a major impact on the performance of your site. The Premium plan is already quick.
By doubling the speed with the Business plan, your service is so fast you cannot help but be amazed.
If you are running your site on WordPress, then things get more interesting. Instead of a 3X speed boost, you get a 5X speed boosts. This means that unless your site is getting thousands of visitors every day, it is always going to run fast.
Something else that we like about the Business plan is that it includes automated backup functionality.
You likely know that manually backing things up is a boring, long, and repetitive process. This is where a lot of people quit doing it after a while and then regret it later.
An additional perk of the Business plan is that you are given priority access to Hostinger's tech support team.
That means that when you connect to tech support, you jump ahead of everyone who is not using the Business plan. When your site is having problems, this feature alone makes the small increase in price worth it.
---
VPS Hosting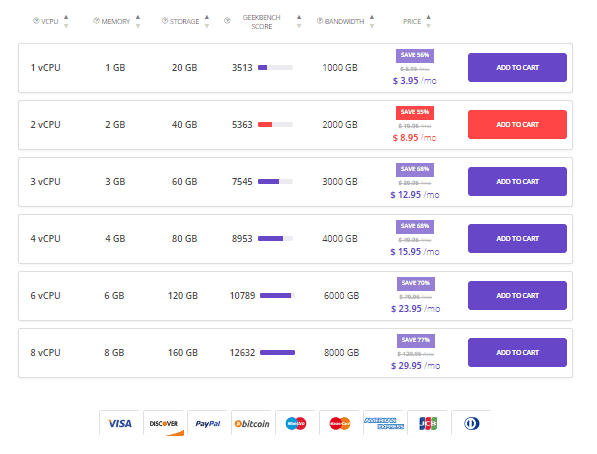 We want to briefly discuss the VPS hosting packages Hostinger offers. Hostinger's VPS plan make it possible for a webmaster to get good speeds, reliability, and a reasonable price.
Their VPS plans start at around $4.95 a month and goes up to $75 a month.
The specifications for each plan vary, but they offer between one GB and eight GB of RAM. The CPU range is between 2.4 GHz and 14 GHz.
They are generous with the storage space. The lowest VPS plan has 20 GB of SSD storage.
The highest level plan offers 160 GB of SSD space. Bandwidth for the lowest package is around 1,000 GB and goes up to 6,000 GB for the most expensive plan.
When we took an objective look at Hostinger's pricing plans and what they offer for the price, we walked away with the impression of this being a cheap hosting company that offers a premium service.
However, it is one thing to offer services at an inexpensive price. But how good is the service that they offer?
---
Uptime and Load Time
Very few things can get the blood boiling like trying to access a website and waiting patiently for it to load.
Although the site's load time is probably just a couple of seconds, in this world where we are accustomed to getting near instant response times when we surf the web, waiting one or two seconds for a page to load can seem like an eternity.
In most cases, the hosting company is to blame if the speed is slow.
We've been tracking Hostinger for the last year. You can see our live tracking here.
How does Hostinger stand up?
385ms Load Time
Hostinger has servers in the United States, Asia, and Europe. All of their servers are connected to a 1,000 Mbps connection line.
These insure maximum performance as well as stability. When you look at an average of Hostinger's load times over 10 months, starting in December 2017 and ending in September 2018, it averages out to 385 ms.
To put that in perspective, that is roughly the amount of time it takes your eyes to blink.
Uptime Score
Uptime is another factor to consider when determining whether or not a web host is worth the money. A web host could offer their services for five cents a month. But if their service is constantly down, you are paying for absolutely nothing.
Think about it this way, how many times would you revisit a new website if the first three times you attempted the site was down? You would probably never go back because a site that's constantly down says a lot of negative things about the site's owner.
When we looked at Hostinger over the course of 10 months, we saw that they performed admirably. Still, there's a lot of room for improvement.
Over the course of 10 months, they had an uptime of 99.88 percent. That boils down to around one hour of downtime during the course of a month.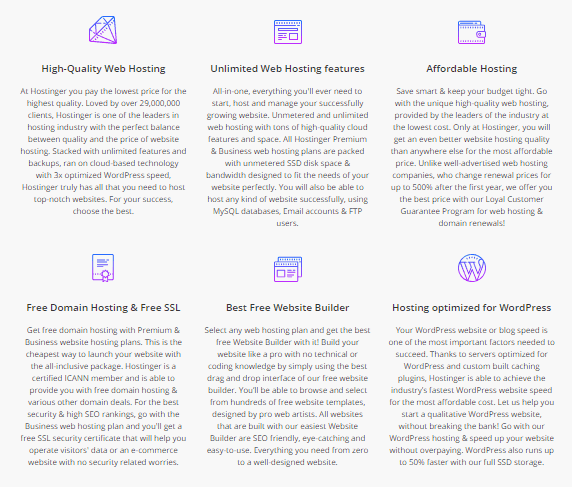 That is not great. Amazon had one hour of downtime during Amazon Prime Day in 2018.
In just one hour, they may have lost more than $100 million in sales. Sure, your business is not Amazon.
Still, losing one hour every month could have a negative impact on your bottom line.
Does this mean that we are not recommending Hostinger because of their downtime?
No not at all.
We just want to give an objective opinion. Even with 99.88 percent uptime, Hostinger is still faster, almost 80 percent faster, than the industry average, which is around 890 ms.
Let's take a few minutes and delve into some other features that Hostinger offers its clients.
---
Hostinger's Features
One of Hostinger's key selling points is the abundance of features it offers users. Whether or not all of these features are going to be useful for you will depend on what you intend to do with the service.
Free Website Builder and Free Domain Name
If you're read our best website builder review you'll know were big fans of site builders. For Australians looking for a great free website builder, Hostinger Australia is an excellent option.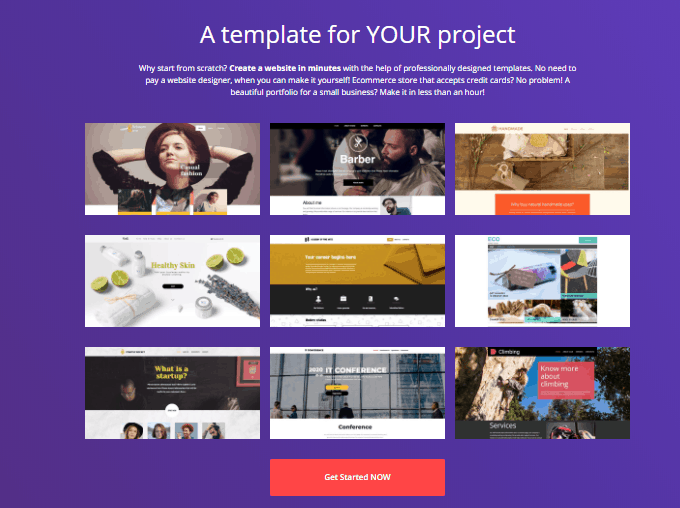 Hostinger comes with a free website builder, called Zyro. The website builder has a lot of nice features.
It comes with a number of popular templates that allow you to get your website up and running very quickly.
If you are looking for a website builder with a lot of key features like a free SSL certificate, unlimited SSD storage, and bandwidth, this is the right place.
You will also find features like Zyro AI Content Generator and Logo Maker, both of which are quite innovative and will allow you to focus on growing your business.
To be honest, the website builder has a lot of functionality, but it does not come close to some of the more popular website builders that are available.
After you select your template, you are able to customize your entire web page right from Hostinger. You also get a free domain name when you purchase the Premium or Business web hosting package.
There is no annual renewal fee. All of this is bundled in the price you pay for the monthly service. If you want to have more than one domain name, you will need to pay a little extra.
Free Web Hosting
As we mentioned at the outset, 000Webhost is owned by Hostinger. 000Webhost offers a super basic free web hosting plan. However, we want to emphasize that you get what you pay for. The hosting plan is free, but it is also slow and unreliable.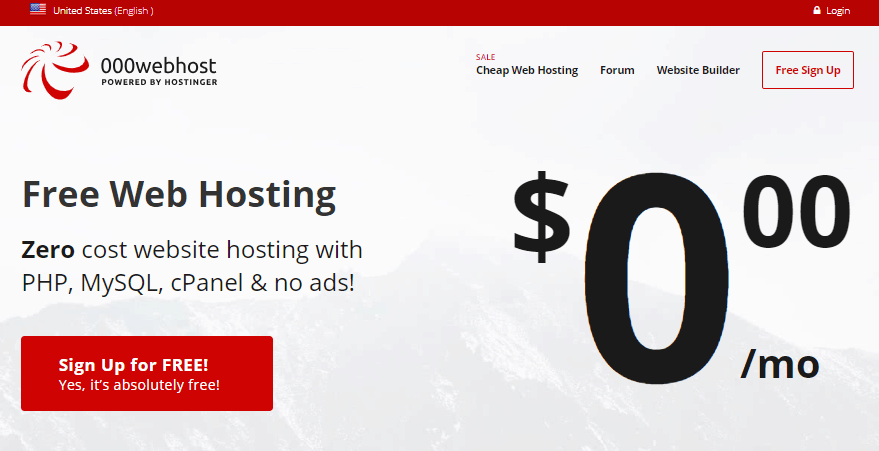 If the project that you are working on is important to you, then this feature is not something that you will want. However, if you just want to mess around for a little bit, the free option is nice.
Upfront About Its Pricing
It is standard practice in the industry for hosting companies to use a few pricing tricks. Hostinger is no different, but they are honest about what they are doing. For example, their basic package for shared hosting is $1.45 a month.
However, in order to get that price, you need to sign up for four years. Once those four years have transpired, you will need to pay $7.99 a month.
If you have no problem using the same hosting company for four years, then this is great. If not, you might find it a bit disappointing.
Ease of Use
Hostinger's user interface has been designed to be easy to use. You should be able to find everything that you need in just one location. This means that you can do things like:
Update billing info
Manage domains
Monitor emails
Hostinger does not use traditional cPanel. However, it has easy to understand icons that make it clear where you can find what you need. For those who are accustomed to cPanel, not using it may take some getting used to.
However, if you are a beginner, the control panel that Hostinger offers is more than enough to keep your site up and running.
Support

Having good customer support is a must with a web host.
If your site is down and you cannot get in touch with the individuals responsible for customer support immediately, you could lose out on a bunch of money.
Customer support with a service like Hostinger is even more important.
As we have discussed, in order to get their cheaper prices, you need to get locked in to a four-year deal.
We are pleased to say that in this area Hostinger does an amazing job. They hit all of the bases when it comes to customer support.
They have a live chat and an integrated intercom. You can email them and get responses to your questions right way.
Something else that is unique about Hostinger is that they offer their customer support in a number of languages.
You will find yourself waiting around one minute to connect to a chat support agent. Depending on the difficulty of the issue you are addressing, you should expect a fast reply.
In addition to interacting directly with a tech support agent, you can use their huge knowledge base and tutorials to help you. You will find guides and information that will help you answer a lot of the questions you have on your own.
If there was anything we would want to improve about the customer service aspect, it would be the fact that they do not offer over the phone assistance.
---
Hostinger Review: In Conclusion
We have tried to present an unbiased view of Hostinger. As with all hosting companies, there are a few things that we would like to see them improve.
However, from what we have seen, their overall service is quite good, especially for the price that they offer. In the past, it has been our experience that when you deal with hosting companies that focus on offering a cheap service, you get junk.
However, Hostinger offers a premium service at an inexpensive price.
We are not going to tell you that Hostinger has the fastest service out there. As we mentioned in our review, they don't. We are not going to tell you that Hostinger has the best uptime record because they don't.
However, the load speeds they offer and their uptime record puts them on par with a number of web hosting companies that charge a lot more.
Couple that with the space and bandwidth that's available on their Premium and Business plans and Hostinger becomes a company that is worth your consideration.
If you are looking for an effective and cheap web host, this is the company for you. They offer a premium service that does not sacrifice quality for price.
Have you used Hostinger in the past? Are you currently using them? Let us know about your experience in the comments section below.