Disclosure: Aussie Hosting is community-run. We sometimes earn a commission when you buy hosting through our links. Learn more.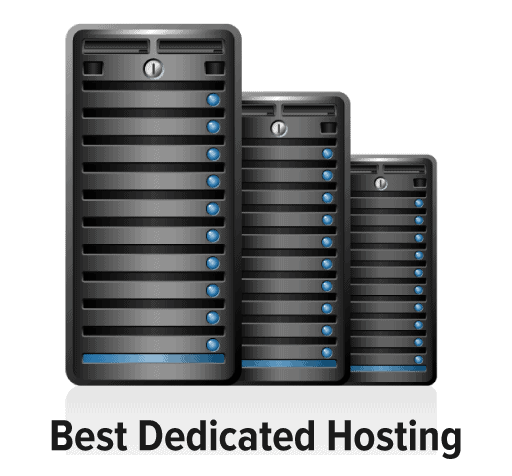 Dedicated hosting is for people who care about performance and security. Shared hosting just won't cut it when you're trying to bootstrap a new business site or handle aggressive traffic growth.
Regardless of what a lot of shared hosting companies tell you, a shared host can't reliably large amounts of traffic effectively. Shared hosting plans that can handle 100,000 visits a month?
Moving to dedicated hosting gives you an entire server for housing your website and way faster loading times, more server resources and security. There are a lot of dedicating hosting companies but how do you know they aren't just resellers masquerading behind rented VPS servers?
In this guide we're going to recommend a few of our top dedicated hosts that we've used to host our own businesses or our clients. We haven't included any resellers on this list and have tried all of the services.
Let's get into it.
---
What We Looked For in the Best Dedicated Host
Alright guys here is a list of things I look for when it comes to dedicated hosting. All of the services we reviewed have these features.
Here they are in no order whatsoever:
Resources and More Resources - the more you get the better your server will function. Plain and simple.
Security - DNS protection, malware scaning and host-side monitors are all hallmarks of a quality service
Auto Backups - having your site backed up several times a day is a must have with dedicated hosting
Support - 24/7 native English support for your servers is great when adding features
Free Upgrades - Free SSL, Cloudflare, Security upgrades and free migrations are what we look for
Pricing - we know what dedicated hosting costs and don't want to pay an arm and a leg for it
Datacenters - We like to deploy on near to customer locations. Are the servers leveraging AWS or Google Cloud?
With those in mind let's jump into our top picks. If you'd like to see any of these hosts live performance please look at our main best web hosting review or check our 24/7 live host tracking here.
---
Top Picks for Dedicated Hosting
Our exhaustive review of dozens of hosts resulted in the following list of four of the best dedicated web hosts. Admittedly, this is a selective list, but we think that each one is worthy of your consideration.
---
1. Kinsta - Premium Service (Google Cloud Servers)
Key Features:
Google Cloud Platform
Free Site Migration
24/7 Customer Support
Powerful Dashboard
Automated Website Backups
Staging Site
Free SSL
PROS
Top-notch security
Intuitive site management interface
Kinsta is hands-down our number-one choice for dedicated web hosting. It is particularly recommended for serious entrepreneurs who are looking to ensure that their website has as close to 100 percent uptime as is possible.
While Kinsta generally is more expensive than other web hosts on our list, we firmly believe that the cost for this service is justified. Kinsta really is that good.
Works Best With Wordpress
Of course, it helps to know that Kinsta is wholly geared toward WordPress hosting. Given that so many websites are built on WordPress these days, that's not actually much of a disadvantage.
More specifically, Kinsta is a fully managed platform for hosting WordPress websites. This means that you don't have to have any detailed technical knowledge to use Kinsta because they have all of that covered for you.
Kinsta operates on the Google Cloud Platform, which is widely regarded as one of the best website infrastructures in the world. You can even choose your data center in order to guarantee the lowest latency numbers.
If you already have a website that you want to move to a new host, you're in luck with Kinsta. The service provides free website migration that is a snap to use. This means that your website will be up and running quickly with minimal or no downtime.
The basic package at Kinsta involves things like five GB of SSD storage and 50 GB of server bandwidth. You're allowed unlimited visitors and page views, and Kinsta performs 1,440 uptime checks on every website every day.
Kinsta's customers also get all sorts of security-related tools like an SSL Certificate, Force HTTPS and Clear Site Cache.
Automated Daily Backups
Users love the staging site, which lets them experiment with changes before going live with them. Kinsta even has automated daily backup to ensure the safety of your data. Just as helpful, their customer support system is quick, responsive and genuinely helpful.
All of these features make it hard to go wrong with Kinsta. Granted, their most basic package costs $30 per month, which may be too much for some. Business customers will appreciate the wide range of packages that are available ranging in price from $100 to $1,500 per month for users with multiple websites.
The $100 package is probably too small for most businesses, which means that you are likely to pay $200 per month or above.
Read our full Kinsta review here.
---
2. HostGator - Great Speed/Support/Extra Features
Key Features
Extremely Fast
Tons of Free Upgrades
Host Multiple Sites
24/7/365 Support
Free SSL
PROS
Monthly and annual plans

Excellent customer service
Good uptime in testing
CONS
Lacks phone support
Cheapest plan offers very little
If you love the idea of Kinsta but know that the price doesn't suit your budget, then you may want to choose HostGator instead.
HostGator is one of the most well-known names in web hosting. They provide a variety of services like a website builder, shared hosting, WordPress-specific hosting and dedicated hosting. Their prices are affordable, but this does not mean that they don't offer outstanding services.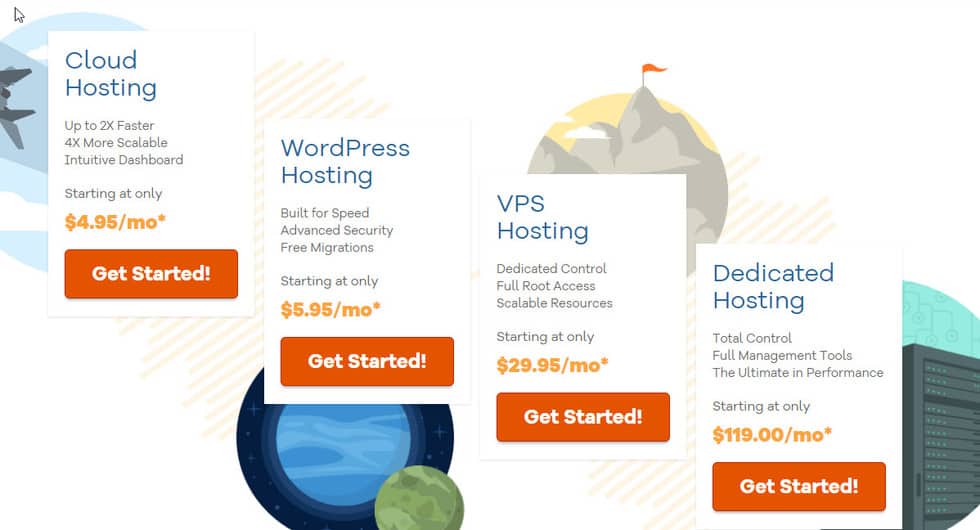 Each hosting plan offers plenty of features, and even new webmasters will have no trouble navigating HostGator's interface. The uptime with this host is outstanding, and it also has some really reliable customer support.
Packages for dedicated hosting start at just $119 per month. For this price, the service is customizable with as much as one TB of SSD storage and 32 GB of RAM. Monthly data transfers are unlimited, which means that sufficient bandwidth will never be an issue.
HostGator's customers may sign up for Mojo Marketplace for access to a variety of marketing tools like DaDa Mail. With excellent uptime and high-quality customer service, it's hard to go wrong with HostGator, especially if you are on a budget.
You can access customer support by telephone on a 24/7 basis or use the convenient online web chat.
Read our full HostGator review here.
---
3. A2 Hosting - Best Budget Option
Key Features
Wide array off e-commerce tools
Money Back Guarantee
Free SSL & SSD
24/7/365 Support
Best suited for WordPress

PROS
Refund policy
Efficient customer support
A2 Hosting is another all-around excellent entry in the dedicated server field. They are especially well-adapted to handle WordPress websites, but this is not their exclusive focus. In fact, A2 has packages for shared hosting, VPS hosting and reseller hosting as well.
A2's dedicated hosting options include core servers which provide customers with a managed server and root access or managed servers without root access. Finally, the dedicated options also include unmanaged servers for customers who want to take a really hands-on approach with their website.
Prices for these dedicated server packages are quite varied. The various core server packages range from $140 to $290 per month while managed servers have similar prices. The unmanaged server packages are the most affordable, ranging from $100 to $250 per month.
Most of these packages have at least eight GB of RAM and 10 TB of monthly data transfers. Additionally, customers get access to a minimum of two 500 GB hard drives and two CPU cores.
Linux-Based Packages
All of these packages are Linux-based, which mainly leaves Windows out in the cold. This is perhaps the biggest drawback to using A2 Hosting. Otherwise, the 99.9 percent uptime is admirable, and the 24/7/365 customer support is a major advantage.

Businesses that are considering using A2 Hosting for selling products will have an array of e-commerce tools from which to choose. OpenCart, AbanteCart and PrestaShop all are represented as well as others. Further, the well-known e-commerce app Magento is available through A2.
If you'll be running an online store, you'll need to take steps to ensure the security of the transactions. That means adding an SSL certificate for encrypting data. A2 will sell you an SSL for as little as $50 per year that provides 256-bit encryption.
Just remember that an SSL certificate is included in the package by other providers on this list.
Read our full A2 Hosting review here.
---
4. SiteGround - Expensive For Quality
Key Features
Fantastic uptime
Great customer support
Free SSL
24/7/365 Support
Multiple Server Locations
PROS
Fast Speeds
An Abundance of Features
SiteGround has a great deal to offer people, but it also has some fairly serious drawbacks. Nonetheless, it still boasts great uptime, solid customer support and a free SSL certificate with all packages. On the downside, SiteGround is pretty expensive.
You'll probably only want to go with this web host if you're certain of the success of your website.
Four dedicated server packages are available. With the Entry package, customers pay $80 per month for two CPU cores,  four GB of memory and 40 GB SSD spce. The larger Business and Business Plus packages run for $120 and $160 per month and provide upgraded version of the entry packet.
Super Power is the largest package at $240 per month. This extra-large offering is scaled for the biggest organizations.
All servers are Linux based, and the storage allotments are disappointingly small. Still, SiteGround offers good e-commerce tools and reliable security features as well as helpful customer service.
Read our full SiteGround review here.
---
What is a Dedicated Web Host?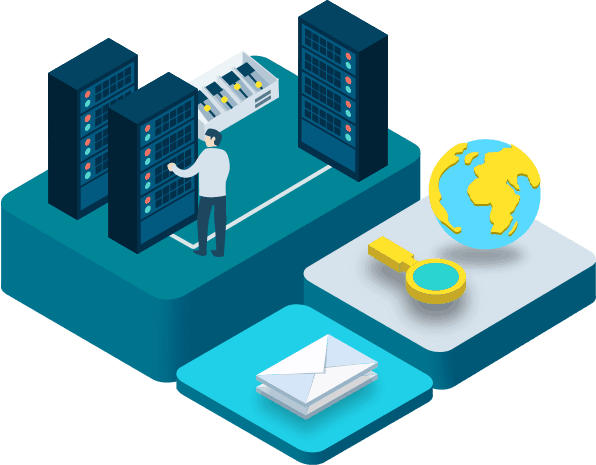 A web host essentially is a company that provides you with the technology that you need to bring your website online. "Hosting" a website can also be referred to as "storing" it.
Essentially, the host stores your website on a specialized computer that is called a server.
When a person types in your address or domain, their computer looks for and connects with the web host's server. Your website then is delivered to the user via their browser.
Accordingly, your web host is basically at the center of your online presence. This means that you need a host that is fast, reliable and won't let you down when your website needs maximum uptime.
Most reputable web hosts provide many of the same features. They likely will require you to have a domain, which you may purchase from a third party. Alternatively, your web host may help you with this process. Once you've chosen a domain and a host, you should be able to set up email accounts.
Web hosts also give you access to FTP so that you can easily upload files from your computer to your web server. Because WordPress is so widely used, many web hosts additionally provide specific WordPress support.
Further, you may expect a web host to have in-house technicians whose job it is to ensure that all servers are up and running every hour of every day. Web hosts usually offer full customer support so that if you ever run into a problem, you should be able to quickly and easily get the help that you need.
---
The Benefits of Dedicated Hosting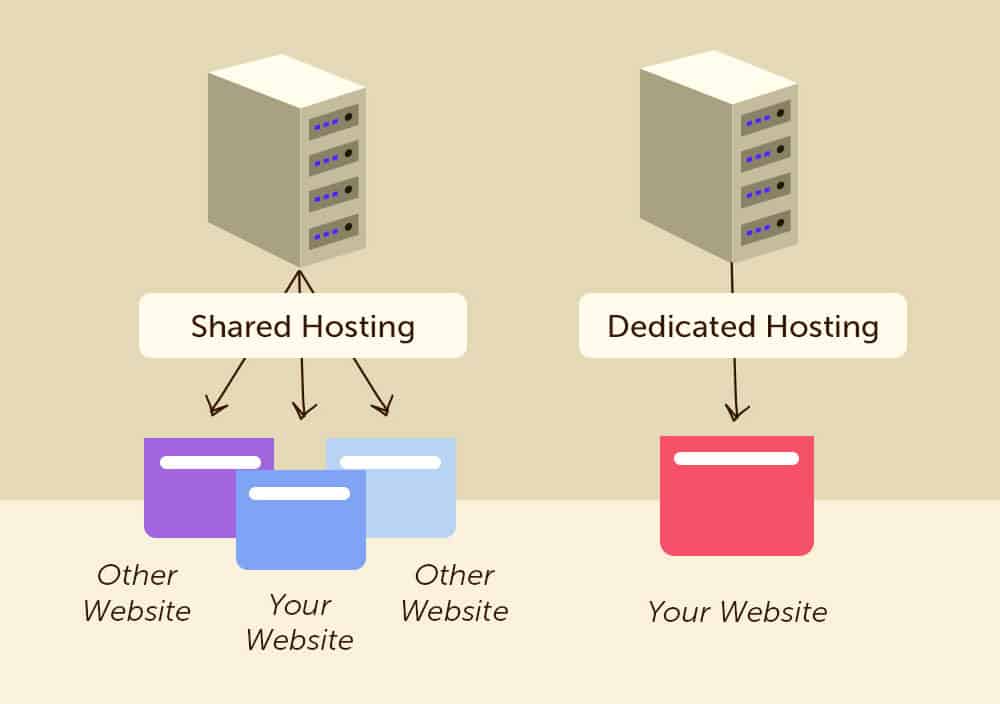 When it comes to choosing a web host, one of your primary considerations is whether to choose shared or dedicated hosting.
First, you have to understand the fundamental differences between the two types of service.
Shared hosting is exactly what it sounds like. Your website is stored on a server with many other websites. Theoretically, there could be hundreds of websites sharing space with yours.
This means that you are allocated just a certain amount of bandwidth and disk space. Exceed either of these limits, and you'll have to pay extra.
Dedicated hosting is different. Your website is the only one that occupies that particular server. This means that all of the bandwidth and disk space that are associated with that server belong exclusively to your website.
Both types of hosting have their advantages and disadvantages. Several factors will help you to decide which type is right for your website.
Shared Hosting Less Expensive
Shared hosting tends to be a more affordable option. It's also a great deal simpler and more straightforward than dedicated hosting. This is because web host personnel take care of administrative and security matters so that you don't have to.
People and organizations that use a shared host service retain control panel access, but they are not responsible for dealing with many of the more technical considerations.
That sounds like a pretty good deal. However, there are plenty of disadvantages to sharing a server. You won't have anything like the flexibility you would have if you went with a dedicated host. That's because the host will manage the resources and all software installation.
Security Risks WIth Shared Hosting
Sharing server space also may mean sharing security risks. If one website on the server is compromised, all of the others are suddenly vulnerable. Moreover, some websites that occupy the same server may not have an ethical purpose. This could get your IP blacklisted, even though your website has done nothing wrong.
Websites that are housed on a shared server also may experience problems with slow performance because of limitations on bandwidth and disk space.
This does not mean that shared hosting is necessarily a bad thing. Many fledgling websites do quite well using a shared server. People building a personal website that is likely to only be visited by friends and family may find that shared hosting is an ideal solution.
If you're new to shared hosting or just website building in general, I would recommend you start off playing around with a free website builder first or utilising one of the many free web hosts.
Dedicated Hosting Lets Use All the Space by Yourself
Unlike shared hosting, a dedicated host does not require you to divide up bandwidth and disk space with many other users. This means that all of the memory is yours and that your website can handle a lot more traffic.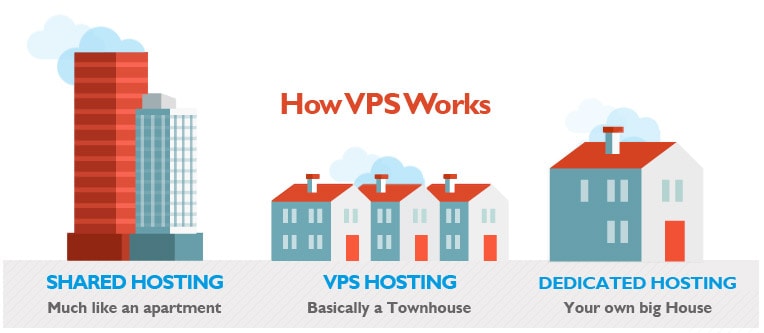 Another primary benefit of dedicated hosting is that it keeps your online presence separate from everyone else. This means that your IP is less likely to get unfairly blacklisted, and you also may enjoy greater security from hackers and malware.
Many organizations appreciate having a dedicated server because it provides the latitude to install whatever software is needed to match the needs of the website. Moreover, they like being able to manage more than one website and several domains with granular precision.
More Reliable Performance
Load speeds tend to be steadier, faster and more reliable with a dedicated host than they are with a shared host. These are critical metrics as they ensure a better, more enjoyable experience for visitors to your website.
They'll probably stay on your website longer and be more likely to make a purchase when they trust that your website is up and functioning at all times.
If there is a downside to dedicated hosting, it may be that it can be relatively expensive. This is a huge concern for new organizations that may not have much money to invest. It may be advisable to begin with a shared host provider and then move to a dedicated host later when cash flow has improved.
The other potential drawback to dedicated hosting is that it tends to require more technical knowledge than shared hosting does. Some organizations leave these concerns to their IT team, but what happens if you don't have an IT team? You may be forced to deal with dedicated hosting yourself.
Alternatively, you may look for a managed hosting service that can handle many of the technical aspects so that you don't have to. The result is that you get the benefit of a dedicated host without having to acquire all of the technical knowledge.
---
Dedicated Hosting FAQ
What Is the Difference Between Shared Hosting and Dedicated Hosting?
Shared hosting is an economical approach in which your website is hosted on the same server as numerous others. This is a perfectly acceptable platform for many websites, especially those that are not particularly large and that do not expect a large amount of traffic.
However, there may be security concerns connected to shared hosting, and larger websites with lots of traffic may soon exceed their monthly allotments.
Dedicated hosting provides an exclusive server for just one website. This tends to ensure better reliability, speed and security. While it's the more expensive alternative, many busy, expanding websites require the resources that they can only get from a dedicated server.
One question we get pretty often is about cheap web hosting. If you're looking for a discount host but want a dedicated server, you're looking in the wrong place.
Who Should Choose Dedicated Hosting?
Using a dedicated server is recommended for sophisticated webmasters who are comfortable with doing much of the maintenance themselves.
Moreover, businesses and other organizations tend to be better able to afford these services, and, in many cases, they require the quality of services that are provided by a dedicated server. Managed hosting may make it possible for people with less technical knowledge to still take advantage of dedicated hosting.
If you have a high-traffic website or are using e-commerce applications, then the enhanced security, capability and reliability of a dedicated host may be imperative.
What Are the Advantages of Dedicated Hosting?
If your website is large and has plenty of traffic, then you'll see advantages to dedicated hosting. Enhanced security is one of the primary benefits. Your data won't be at risk because another website gets hacked.
Websites that are hosted on dedicated servers tend to enjoy more uptime. Accordingly, your visitors can trust that your website will be there whenever they look for it.
One of the main benefits of a dedicated server is that your website can be customized to serve your unique needs. You're assured of optimum functionality at all times.