Disclosure: Aussie Hosting is community-run. We sometimes earn a commission when you buy hosting through our links. Learn more.
Best WordPress Hosting in Australia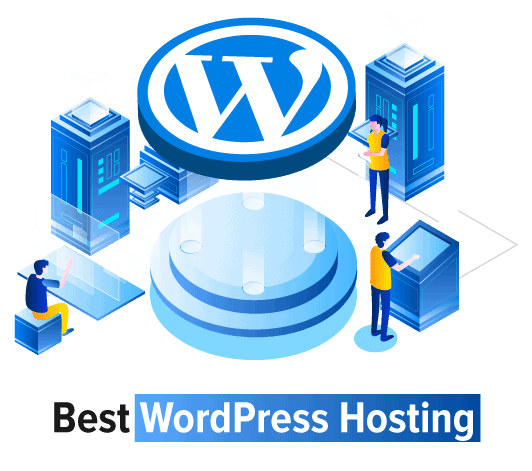 WordPress powers 27% of the internet as we know it today. Let that number sink in. Over a quarter of the companies on the internet were created using WordPress.
Sites like The NY Times and TechCrunch all use Wordpress. They must be doing something right.
Everyone loves the internet (for the most part) and WordPress has made it possible for a large number of fun things on the internet to exist.
How does WordPress allow us to use the internet? First, WordPress users need to find a hosting service to host the WordPress software.
Hosting WordPress in Australia should be easier than actually using WordPress. In this review we're going to look at a few options for WordPress hosting based on the kind of site you're looking to build.
Let's get started. 
---
Best Wordpress Hosting in Australia Overview
You can't go wrong with any of the options on this list. All you have to do is take a deep look at what each one offers to see which one works for you.
As far as what we think, SiteGround is the best option for your money. While it isn't a super cheap option, it isn't even close to the most expensive hosting option in Australia either.
Starting off with SiteGround is as easy as it gets with 1-click WordPress installation. The features offered are top of the line and scaling doesn't pose a problem.
On the expensive end, Kinsta is the best option and offers a few things SiteGround does not. On the WordPress cheapest hosting end, we recommend Hostinger as it offers great service while being absurdly cheap.
---
1. HostPapa
Best Web Host for Australians
Key Features:
Large knowledge base
Free Let's Encrypt SSL
Free Cloudflare CDN
24/7 support
Special discount for our readers
PROS
SSD Storage
Cloud Linux
Free domain transfers and website migration
CONS
Poor customer support
Hidden fees
Small businesses often have small budgets to work with, and that's why your choice of website hosting is critical to your success, security, and profitability. You want a company that's reliable, safe, and cost-effective.
In our opinion, HostPapa offers all of that and more.
It provides user-friendly tools and servers that are built for speed, and you can have the whole thing up and running in minutes.
What else makes HostPapa ideal for small business web hosting? Check out these features and plans.
What HostPapa Offers Small Business Websites 🛰️
There are dozens of hosting services in Australia, with more popping up everyday. That's why it's important to find the one that offers the best combination of features and price.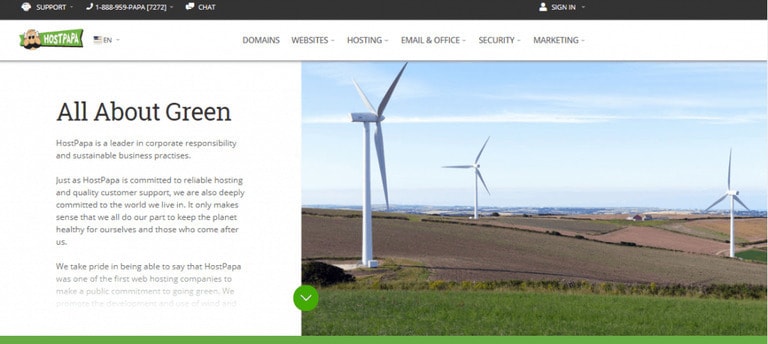 HostPapa tried to provide all of your services in one place, and gives you whatever level of control you need to serve your customers. Do you have a high-traffic eCommerce business and an in-house tech team? Check out their enterprise plan that puts you in the driver's seat.
Startups will find the web builder, cheap domain registration, and managed plans helpful and affordable. You'll even find dedicated best WordPress hosting and free domain transfers.
Pricing and Plans
HostPapa offers several levels of service and pricing options. First of all, you'll get a 30-day money-back guarantee before you have to commit to anything. The Starter plan does one better than most companies by giving you two websites and unmetered bandwidth.
The plan starts at $3.95 per month for one year, renewable after 12 months for $7.99. They also have a Business Pro plan for growing businesses that starts at $12.95 per month, $19.99 at renewal.
However, their best deal is the standard Business hosting plan. This comes with a 36-month commitment, but you get it at a rate of just $2.95 per month. Renewal rates for this plan are $12.99. For that price, you'll get everything included in the Basic plan and a number of advanced features.
The success and viability of your website or eCommerce business depends on the reliability of your hosting service. HostPapa offers a bucket load of features at a price that's right, and they do it without putting your visitors or data at risk. More than 500,000 customers can't be wrong.
---
2. Cloudways
Managed WordPress Hosting
Key Features
Git Deployment
Platform Level Firewalls
Real-time Monitoring
Security Patching
SSD Based Hosting
SSH & SFTP Access
24/7 365 days live chat support
PROS
Easy to install
Free SSL Certificate
Pay-as-you-go plans let you monitor real-time consumption
CONS
Limited server access
Not all programming languages are supported
If you're looking for a managed WordPress hosting, it's difficult to do better than Cloudways. This company is on a mission to simplify the process of WP hosting for you, and they've delivered as far as we can tell.
Their platform is set up so that you can be up and running in minutes. It's also packed with all of the features and perks you'd hope to find in a managed hosting service.
Plans start at just $10 per month, and you can pay as you go if you don't want to make a long-term commitment.
Looking for a more more storage, bandwidth, and power? The highest tier of their regular set of packages will cost you $80 per month for eight times the RAM of their basic plan, four more terabytes of bandwidth, and 160GB of storage.
What do you get for your money?
Each plan includes tons of features and functionality, like free migrations and SSl certificates, unlimited apps, 24/7 support via live chat, dedicated firewalls, PHP7-ready servers and many more.
Reliable and Fast
All of this is geared toward speed and reliability. You'll have access to 62 data centers in 33 cities, scattered across 15 countries throughout Europe, Asia, and North America, as well as location in Brazil and Australia.
Cloudway also puts security at a premium with 2F authentication, regular security patches, and IP whitelisting to enable safe collaboration with other networks and unrestricted SSH and SFTP.
The most popular package will cost $42 per month and $0.0583 per hour. That will give you:
4GB RAM
Dual core processor
80GB of storage
4TB of bandwidth
Cloudways also has an Enterprise solution for fast-growing corporations who need deluxe service at competitive prices. This option includes dedicated onboarding, priority support, and a scalable platform with load balancing for companies on the move.
What does managed hosting look like under Cloudways? It looks like freedom.
They strive to provide a high level of versatility and WordPress customization, and then they handle all of the oversight and upgrades for you. All you'll have to worry about is building your brand.
Some of the new innovations with Cloudways managed hosting include Chatbot notifications, Cloudways support add-ons, and Change Application webroot.

While they manage all of the technical and maintenance details, you'll have the freedom to control parameters and server configuration, change app settings, configure Advanced/Custom Varnish settings to perform the way you want things done.
Through one account, you'll enjoy CloudwaysBot Channels and API. But, that's not all. Extras abound with email, application upgrade, DNS Made Easy, and SMTP add-ons.
We feel that the amount of functionality and dedication to taking care of every detail puts Cloudways above most WordPress hosting platforms. They'll even let you try it for free. Each of the tiers of service comes with a 30-day free trial.
---
3. Hostinger
Best Cheap Choice
Key Features
Cheapest Host Hands Down
Great Speed
Easy to Use Interface
24/7/365 Support
30 Day Return Policy
PROS
Excellent customer service
Good uptime in testing
Montly annual plans
CONS
Lacks phone support
Lacks dedidcated hosting
The world of Australian hosting is rife with promotional pricing. This can be seen as positive and negative for hosting users. On one hand, you can take advantage of some truly amazing prices. On the other hand, you then get smacked with a much higher price when the promotional period is up.
Hostinger's Promotions and Prices 💰
They offer promotional pricing all the time. The price goes back and forth between $0.80 per month and $1.45 per month. The crazy thing about this is that you can lock that pricing in for three years.
The even crazier thing about this is that Hostinger is actually a great hosting service with its own website builder - Zyro. It is not required from you to be a master in coding or design. It is easy to use without anyone's help.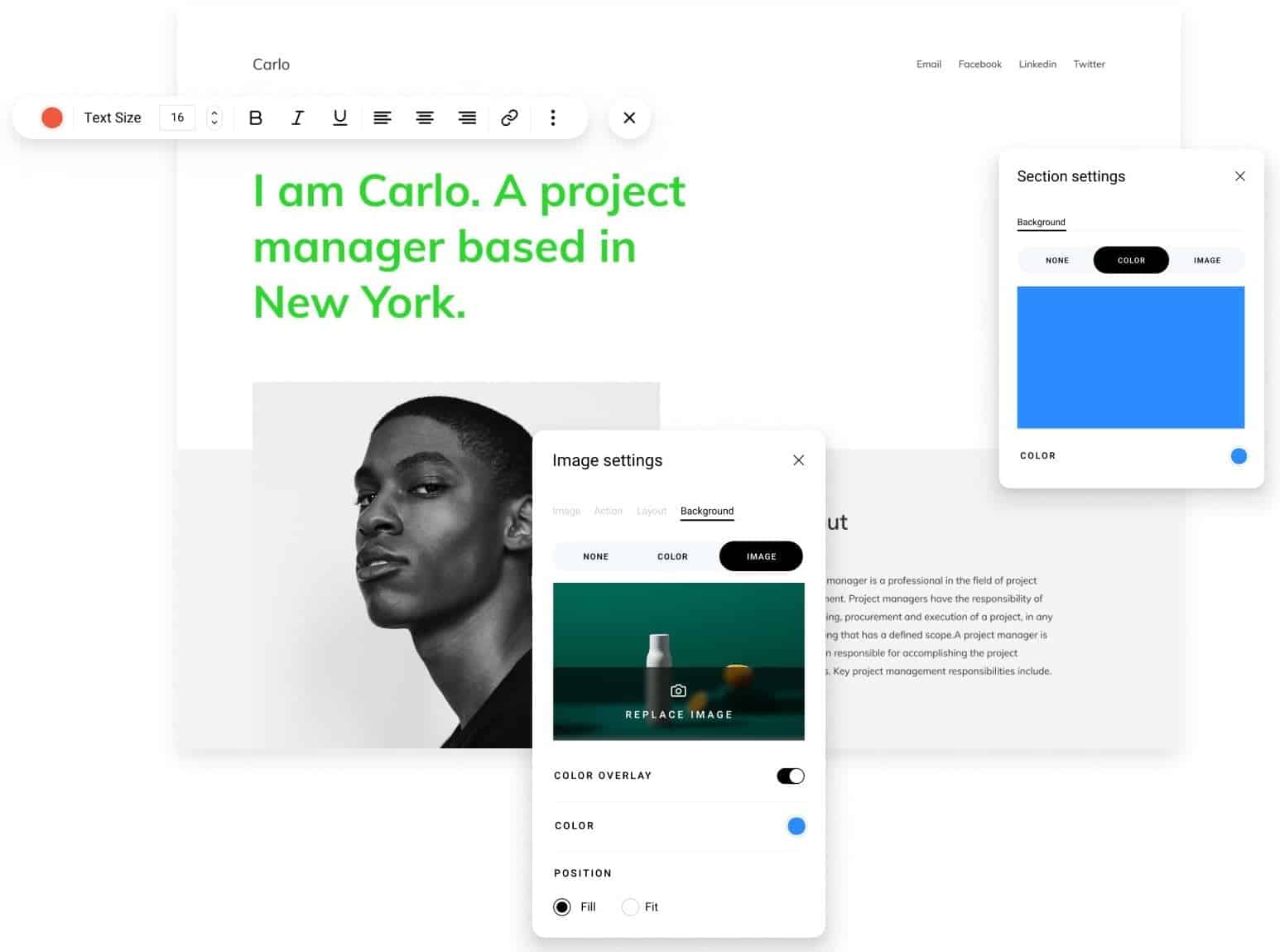 It comes with the classic features most builders do, and with a couple of new ones as well. Like a library full of free images to brighten the mood of your website and a quite innovative one called Logo Maker; a DIY that allows you to reinvent your logo with ease.
If you're looking to save money and still have all of the bells and whistles, Hostinger is a fantastic option
Read our full Hostinger review here.
---
4. SiteGround
Overall Best WP Hosting Choice
Key Features
One-click installations for Joomla and Drupal
Drag-and-drop
Free SSL
Daily Backups
Cloud-based hosting
Top of the line speeds/uptime
PROS
Excellent uptime
High speed hosting
Eas and intuitive to use
SiteGround is ranked as the best web host on this list and is currently one of the most popular hosting options worldwide. It's also worth mentioning it has a dedicated Sydney data server. It's also at the top spot in our guide to the best web hosting.
Fantastic Customer Support
To sum it up quickly, SiteGround checks all the boxes on the list of everything you could want a web host to do, the prices are not absurdly expensive, and SiteGround support is some of the best customer support we have ever encountered.
If you have a technical issue, SiteGround customer support is basically like contacting an employee. They'll drop everything to help you and go above and beyond to make sure they're helping you.

Other aspects that are worth mentioning are the uptime and load speeds. As you can see from the numbers above, websites load in under half of a second and the servers are almost always performing up to par.
With data centers all over the world and one-click WordPress installation, SiteGround is our go-to for WordPress hosting in Australia.
Whether you're a blogger who is just starting out, or someone running an online business and looking to switch to SiteGround, they have a pricing plan for everyone's needs and budget limitations.
Check out our full SiteGround review if you would like to know more.
---
5. Hostgator
Another Great Choice
Key Features
Unlimited Domains
Free SSL
24/7/365 Support
99.9% Uptime Guarantee
Free WHMCS Client Management / Billing softwar
PROS
Decent support
Site migration available
CONS
Their Managed plans are a bit short with advanced features
Everyone knows about Hostgator. They're one of the most marketed hosting services and owned by one of the biggest hosting companies out there.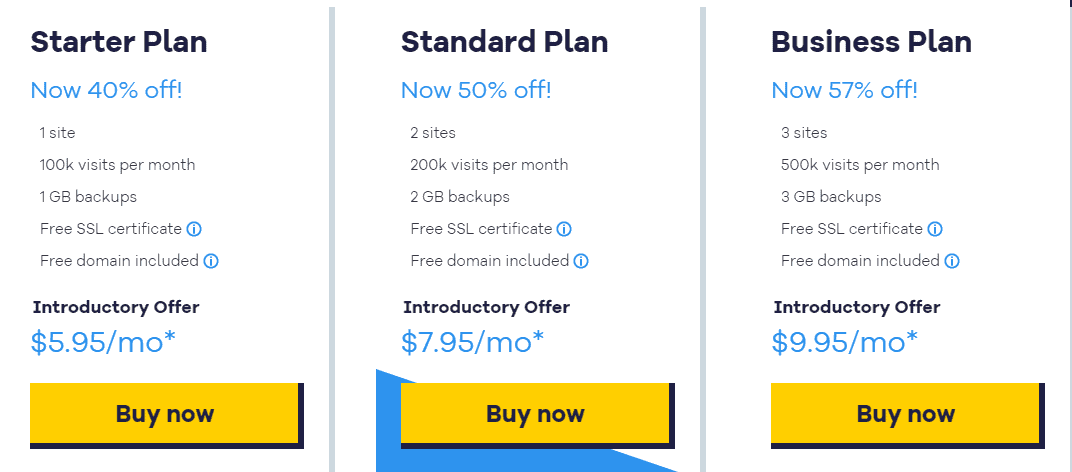 This is the best option if you want the guarantee of a massive and long-standing company. Hostgator offers everything a WordPress hosted website would need at a cheap introductory rate with high uptimes and fast load times.
Read our HostGator review here.
---
6. A2 Hosting
Great Service for Price
Key Features
Turbo option at high-tier plans
Money Back Guarantee
Free SSL & SSD
24/7/365 Support
1000 GB Transfer
PROS
Any time money-back guarantee
Responsive customer service
Supe secure servers
CONS
Slightly clunky sign-up process
Not the most competetive uptime
A2 Hosting is our favorite alternative to SiteGround. Honestly, we've never had a bad experience with A2 hosting, so if you're looking at the less than $10 per month hosting options and SiteGround made you irrationally upset for some reason, A2 should be your next choice.

One awesome thing about A2 Hosting is if you do choose their highest-tiered plan you get Turbo speeds. Basically, they have faster premium servers. The crazy thing about that is their basic servers are already just as fast as other hosting providers in Australia.
A2 offers everything you could want in a hosting service with a money-back guarantee and one-click WordPress installation.
Read our full A2 Hosting review.
---
7. WP Engine
Best Premium Choice
Key Features
Free Genesis framework
Over 35 StudioPress themes
24/7 chat support
2 website transfers
Access to a global CDN
A free SSL certificate
PROS
Excellent uptime
Daily backups
Real-time threat detection
CONS
Doesn't come with email
Limited phone support
Our most expensive option on the list and the most relevant one. WP Engine was created specifically for WordPress hosting.
You will not have a negative experience with WordPress hosting on WP Engine. You will spend a lot of money though.

WP Engine includes great themes so you won't have to worry about figuring out how to design your website. It also offers literally everything else anyone could want for hosting in general.
WP Engine better with that price tag.
---
8. Kinsta
Best Business WordPress Host
Key Features
Google Cloud platform
Free site migration
24/7 customer support
Powerful dashboard
Staging site
Free SSL
PROS
Free migration
Robust security features
Automated website backups
CONS
Price
No email service of any kind
Going into the high end of hosting can be a rewarding yet expensive experience. Kinsta is no different.
The hosting provider will definitely charge you a premium but you will not be receiving anything less than premium service. Read our full Kinsta review here.

Kinsta is obsessed with creating the best WordPress hosting architecture for its customers. Their infrastructure uses the Google Cloud Platform and powers its 19 data centres around the world.
With next-level cost comes next-level security. They check the status of every single one of their websites every two minutes.
That means that your website will be checked 720 times every single day to make sure there are no issues.
We selected Kinsta as our top choice in our best dedicated hosting guide.
---
9. WPX Hosting
Great But Overpriced
Key Features
Unlimited website migrations
Unlimited free SSL certificates
99.95% uptime guarantee
High-speed custom CDN
30-day money-back guarantee
Manual backups and 28-day automatic backups
PROS
Malware scanning and cleanup
Enterprise level DDos protection
Support other CMS, not just Wordpress
CONS
No phone support
Interface lacking features
Still, staying in the upper-echelon of cost, WPX hosting is a premium service that does come slightly cheaper than Kinsta.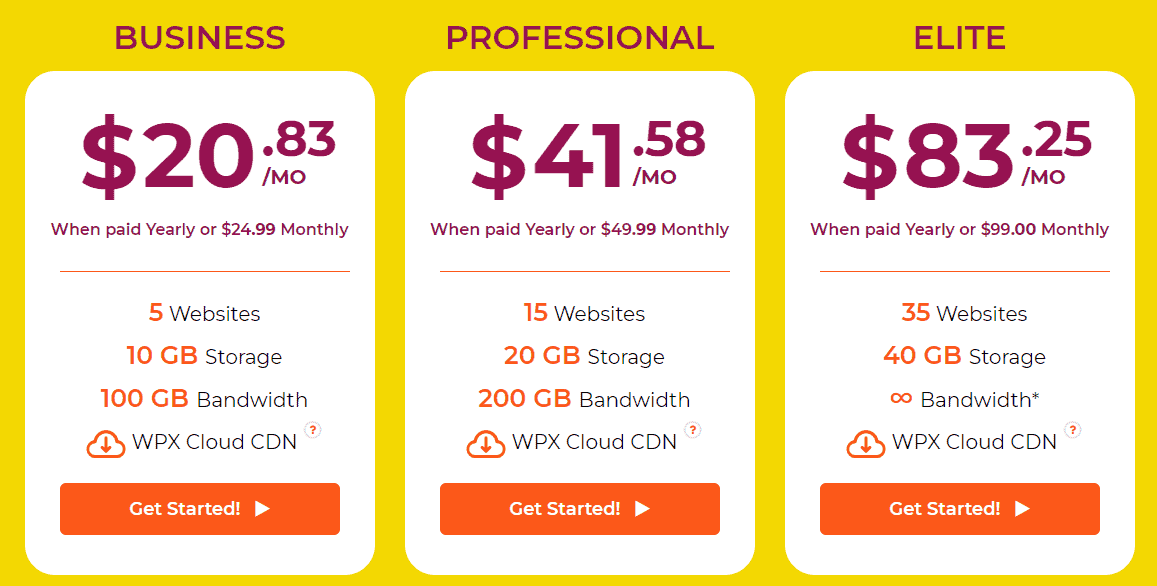 What you get when you pay for a premium host is complete peace of mind. Sure, the cheaper hosts can offer great speeds and uptimes but when you are paying this high of a price you know you are going to always get fast loading times and great uptimes.
The other aspect of using WPX hosting is in the base plan you can have up to five websites. If you plan on hosting a few websites right out of the gate, WPX hosting is a great option.
---
WordPress Hosting: What to Look For
In the next section I'm going to run you through a bunch of different things we look at when trying to find the best WordPress hosting in Australia.
You can also see our live tracking on this page to better understand uptimes and downtimes on some of our reviewed services.
With any type of shopping, you need to weigh the different aspects of one product against another product.
Reviews are always a good way to figure out which product to purchase - but you need to know the different aspects of a product that are being looked at beforehand.
The key aspects of hosting services that need to be taken into account are uptimes, load times, presence of an SSL certificate, site migration, free backups, number of servers and data centers, customer support, security, and WordPress installation.
Uptimes 🔵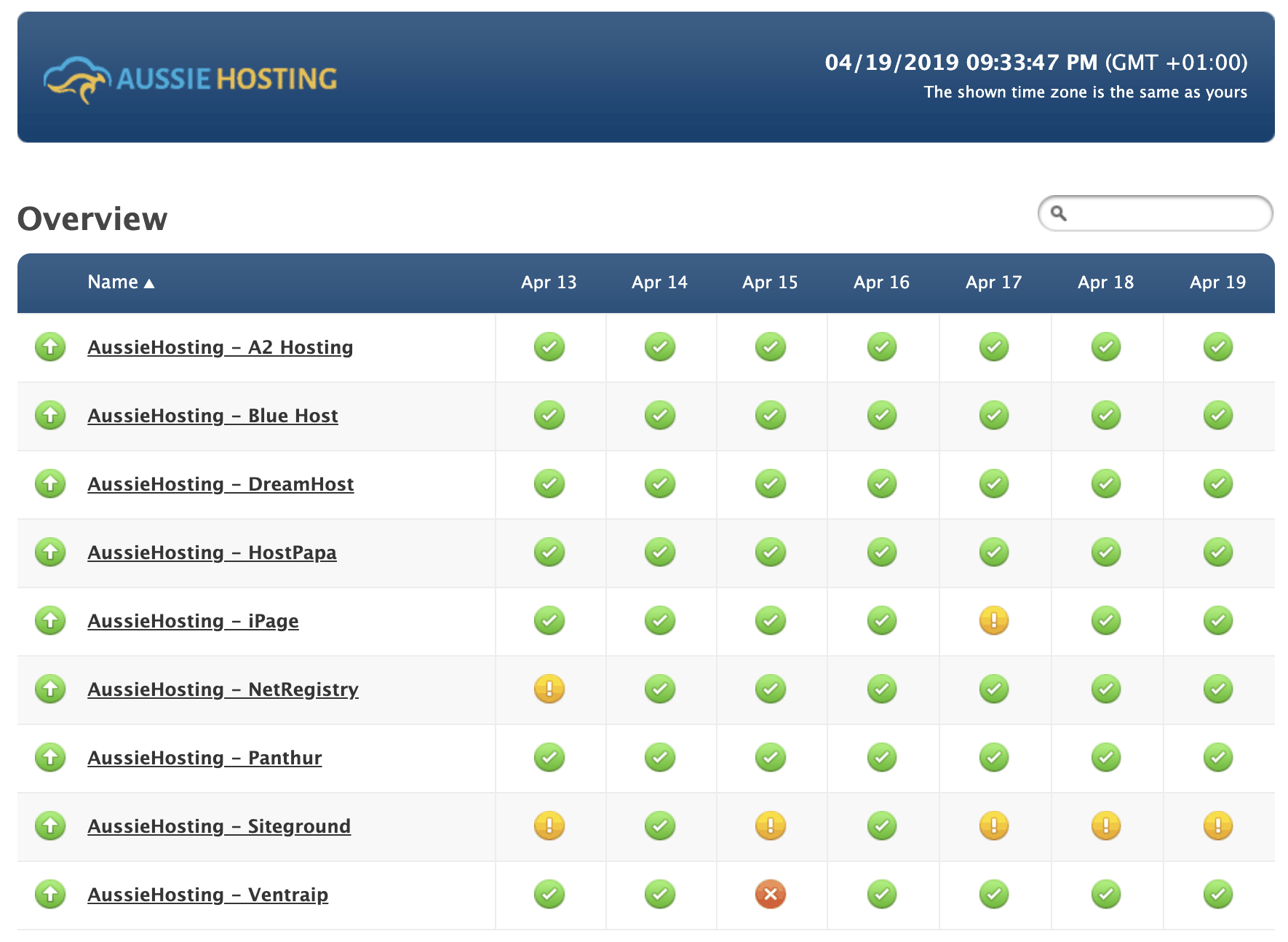 What does uptime actually mean?
That's a good question because uptime is one of the most important aspects to evaluate in terms of web hosting providers.
Uptime is a percentage that indicates the overall time that a hosting provider is online and functioning normally.
If a hosting provider has an uptime of 100%, it is always functioning. If a hosting provider has an uptime of 90% that means that 1 out of every 10 minutes, the servers are down or not functioning normally.
A fraction of a percentage point can make a significant difference in the availability of your website.
We consider uptime metrics over 98% to be strong. Anything hovering around 100% is your best bet. No company can be perfect but the companies that are truly great have uptimes above 99%. The times that they are having issues, the servers usually aren't down, they are just having some sort of small issue.
Loading Times Compared ⏳
As you may have figured out, load times are just as important as uptimes. Uptimes check the first box, as you need your website to actually be up and running.
Load times are the next aspect to look into because a slow website makes unhappy website users.
Load time is the actual speed measurements of a hosting service. The unit of measurement is in milliseconds and illustrate the length of a full request and response to a web server.
Users on a website will always have a variety of response times because there are so many variables at play. This includes the actual internet speeds that website users get at home.
Good load times are anything below 2,000 milliseconds. That is a full two seconds. Two seconds can seem like a long time when it comes to waiting for a webpage to load in this day and age. The truly elite Australian web hosting providers hover around 500 milliseconds or half of a second.
Learn more about uptime in our main guide to best hosting in Australia.
Site Migration 🕊️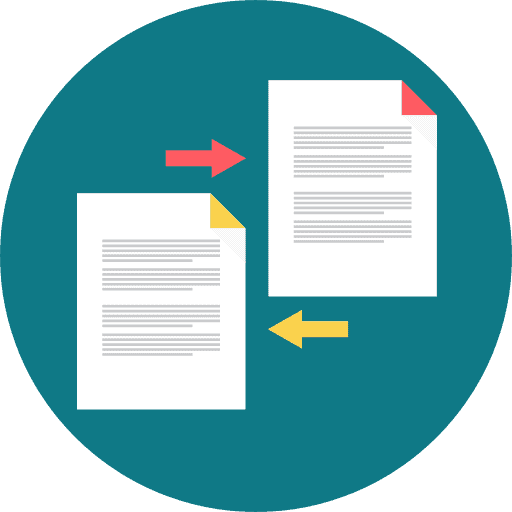 Things happen - you might need to take your website and move it to another host. Sometimes you even need to stay on the same host but move over to another domain.
If your hosting service doesn't offer automatic site migration (they do it for you), it is a pain in the you know what.
You have to compress everything on your website and then transfer them to a new location. If you aren't tech savvy, this can be a process.
If you are tech savvy, this is an annoyance.
You might as well choose a hosting service that offers site migration. There are so many that do, which makes it silly to use one that doesn't.
What you'll be looking for in a hosting service is the ability to migrate a website without having to pay them more money. Good hosting services advertise somewhere on their website that they help you do this and do this for free.
There are a few hosting services on our list of best WordPress hosting in Australia that go above and beyond helping you do this. Some just do it for you and others will take the time to have a customer support agent walk you through, step-by-step, how to accomplish the task.
Free Backups 📁
Admittedly, if you're hosting service doesn't offer a free backup - it isn't the end of the world.
WordPress offers a bunch of different app and plugin solutions that will back up your website at any time of the day.
However, it is always good to be redundant in this category. Your web hosting service should definitely be backing your website up at least once a week. This should also not cost you an extra penny.
If for some reason, your website just disappears out of nowhere, you shouldn't be scared. You should be able to go directly to your WordPress plugin backup service and have your website up in minutes. What happens if that fails?
Normally, you'd be screwed. If you went with a hosting service that offers backups regularly for free, they will have your website stored and readily available for you. It's better to be redundant and worry-free when it comes to the best Australian WordPress hosting.
Related: How to Backup Your Website
---
Servers and Data Centers
It doesn't even sound like a real thing - but the distance from data centers does affect your website.
Your hosting service will store all of your website's information on a server in a data center.
This data center could be in Muncie, Indiana or Bangkok, Thailand.
Latency is the time it takes for any data to move from a data center or server to its destination. If you are farther from the data center then there are more opportunities for the data to be delayed or diverted. This would cause slower speeds on your website.
If you have the option to choose a host that has servers closer to you, you should take it. Obviously, there a bunch of other factors for website speed. This is one variable that you have the ability to control and improve website speed with. You might as well take it.
Enhanced Security 🛡️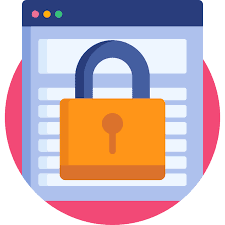 Security threats are real. At any time, your website can be hacked or subject to any kind of cyber attack.
There are a lot of basic means to stopping these types of malicious interferences on WordPress. From plugins to best practices, you can protect yourself.
Going a step further, the high-end hosting services offer high-end security practices. A few of the services on the list above do go above and beyond. They scan your site daily (or more) to diagnose any security threat. If they find one, the hosting service alerts you and makes it a high priority task to remedy the situation.
The lower-end hosting services don't offer that. Paying that high price allows you to receive service with resources that allows constant scanning and remediation. If you don't want to fork up that amount of cash, a lot can be done on WordPress to stop intruders.
More and more regulations are being implemented to encourage companies big and small to take customer data and privacy seriously. There are now major fines associated with poor security practices and data breaches.
Easy WordPress Installation 💬
If your hosting service doesn't provide one-click WordPress installation - this is how you do it.
☑️ Download WordPress
☑️ Upload WordPress to hosting account
☑️ Create MySQL database and…
Never mind, those are already way too many steps. I haven't even gotten to editing files and changing code around.
Installing WordPress should not be difficult because a whole bunch of web hosting services allows you to install WordPress with one click.
Installing WordPress shouldn't even be thought about. The fact that I'm writing about it is just silly. Every hosting service should provide one-click WordPress installation. If one doesn't, toss them out of contention as your hosting service.
Free SSL Protection ⚔️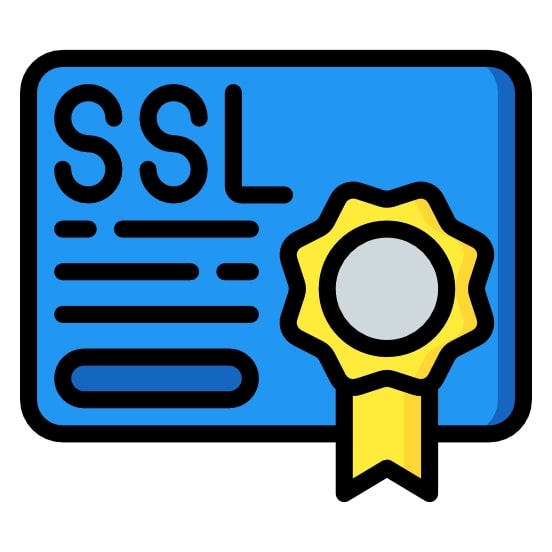 SSL certificates are something a lot of people tell you to have for your web hosting service. They are also something a lot of people don't actually understand.
The gist of SSL certificates is that they secure your website. If you look by the URL on your web browser, the SSL certificate is what provides that small little padlock icon.
Usually, an SSL certificate is used so credit card transactions, logins, and data transfers, in general, are secured. Search engines are also starting to penalize websites that don't have an SSL certificate.
How does an SSL certificate actually secure your website?
An SSL is a small data file that digitally binds a cryptographic key to a web server. It uses https protocol, which means it is encrypting all of the data going to and from the web server. This makes everything a lot more secure.
As time goes on, SSL certificates will be all but mandatory if you want search engines to find your website. Google will want to make sure every website they are directing people to are secure and safe.
If a company attempts to have you pay for your certificate, you should run for the hills. Even the best cheap hosting companies offer free SSL protection.
There is never a need to pay for an SSL certificate and any company that pretends otherwise is stealing your money. All good web hosting companies will offer to set up your SSL for free using a service called Let's Encrypt.
---
Wordpress Hosting FAQ
Which Hosting Is Best for WordPress? Linux or Windows?
Linux hosting or Windows hosting just means which operating system is running on the servers the company is using. Linux is the most popular on servers so it has more features and most web designers prefer Linux-based web hosting for that reason.
The only time Windows would make sense is if there are specific Windows applications that need to be used.
With that information, Linux hosting is usually the choice - but it doesn't really matter.
Do You Need a Hosting Site For WordPress?
Yes, to use WordPress you need to purchase hosting from a third-party hosting service. At that point, you can install WordPress on your hosting platform.
Which Website Hosting Service Is Best?
For the cost, combined with everything that is included, SiteGround is our choice for the best website hosting service. Other more expensive hosting services might produce better results but SiteGround is the best all-around option.
If you're looking for better performance I would advise you to read our guide to the best dedicated hosts or for the more technically minded, check out our guide to VPS hosting.
Can I Host a WordPress Site Anywhere?
You can host WordPress on the majority of hosting services. All of the mainstream and well-known hosting services will allow you to host a WordPress website.
Does Windows Hosting Support WordPress?
Yes, you can host WordPress on Windows hosting. It is just as easy as using WordPress on Linux hosting.
What Is the Difference Between Web Hosting and WordPress Hosting?
The difference between a WordPress hosting plan and a standard web hosting plan is minimal. The dedicated plans that are specifically for WordPress just know the software that will be running on the server.
This enables the hosting company to configure the server correctly and allocate the specific resources need to run WordPress.
Does WordPress Host Your Website?
There is a version of WordPress on WordPress.com rather than WordPress.org that allows you to host your own website. We recommend hosting your website on a different hosting service.
---
Closing Thoughts
Hosting can be overwhelming to a lot of people with no prior knowledge of how websites work. Using WordPress can add to that overwhelm.
While learning all of this fun stuff, it helps to have a truly great web hosting provider. The service should be a help along the way - not a hindrance.
That is why we chose SiteGround as our number one choice. The price makes sense and they just check all the boxes. The great thing is, they also go beyond that as their customer support team kind of feels like an extra employee.
If you want even more added features like extremely heightened security, going with a more expensive option like Kinsta makes a lot of sense. Just make sure you're okay with starting out at that price point.