Disclosure: Aussie Hosting is community run. We sometimes earn a commission when you buy hosting through our links. Learn more.
Using Squarespace as your website builder gives you all of the tools you need to build a beautiful website.
Over the last several years Squarespace has really evolved as a company. The initial product was a very barebones version of what just looked like old school Dreamweaver WYSIWYG editor (a very old site builder).

Visiit Squarespace.com
Our Quick Breakdown
Since then it's expanded on both its builders functionality, giving its UI a complete overhaul and investing in hundreds of free themes and guides.
With Squarespace you get a powerful website builder and editor that is easy and efficient to learn on. Instead of the several week learning curve you'd need for Wordpress, you can learn pretty much everything you need in a week.
This functionality makes Squarespace great for new bloggers or businesses who need a simple info-centric website. There are some kinds of sites and functions that we think Squarespace isn't the best for.
In this review we're going to look at how Squarespace stacks up in the ever increasingly competitive best website builder category.
---
How Squarespace Works
Squarespace allows you to build a beautiful website quickly and easily with almost no learning curve.
They do this by offering you the option to choose from a number of amazing templates. Once your template is chosen you can upload media, write text, and add a handful of other useful items. At that point, you can rearrange these different elements within the theme.
If you want to go even further for customization - it will be difficult. Squarespace thrives in the templated world. Outside of that world, barriers appear. Other options for building websites are better than Squarespace if customization is what you're after.
A lot of people are okay with building a beautiful website quickly and easily with almost no learning curve within a template. There is nothing wrong with that.
Squarespace also offers a 14 day free trial for people looking to try it out. Tip - make sure to cancel before the 14 days or you'll get charged.
So to summarise - Squarespace is great for people who want an incredibly easy sit to build without a lot of optionality.
When starting on Squarespace you are presented with two options.
Start by answering a few questions.
Start by browsing templates.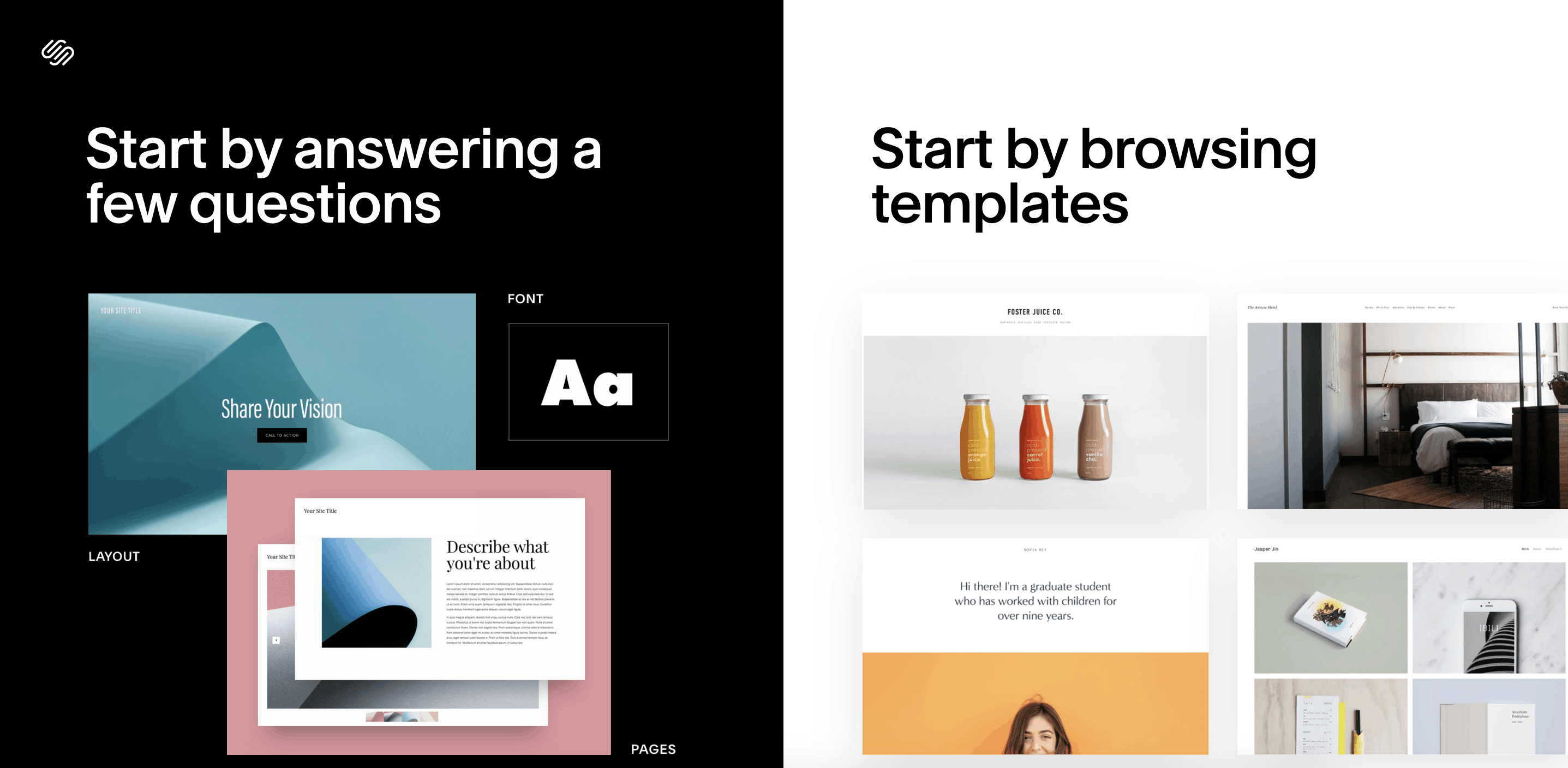 If you're easily overwhelmed we suggest clicking on the first option. Basically, what Squarespace will do is ask you what you plan on doing with your website and then place you in a template category for you to look at.
Here, I answered the one question they had. I told them that I wanted to create a website for my portfolio. Depending on what you answer, Squarespace then takes you into a template category and suggests a template for you.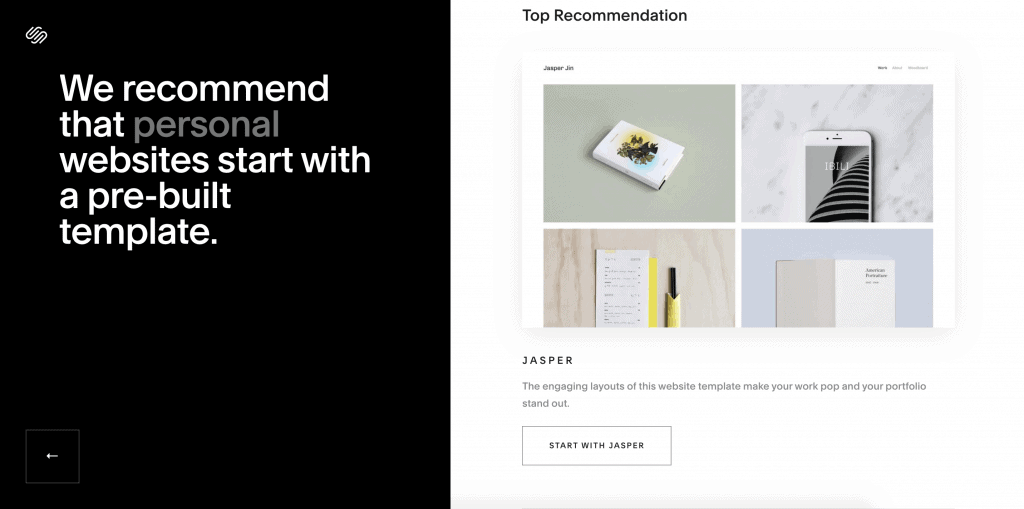 I was given the suggestion of the Jasper template. The Jasper template was built specifically to showcase people's portfolios. If you had answered another category, Squarespace would have suggested a different template. I decided to just select Jasper and move forward.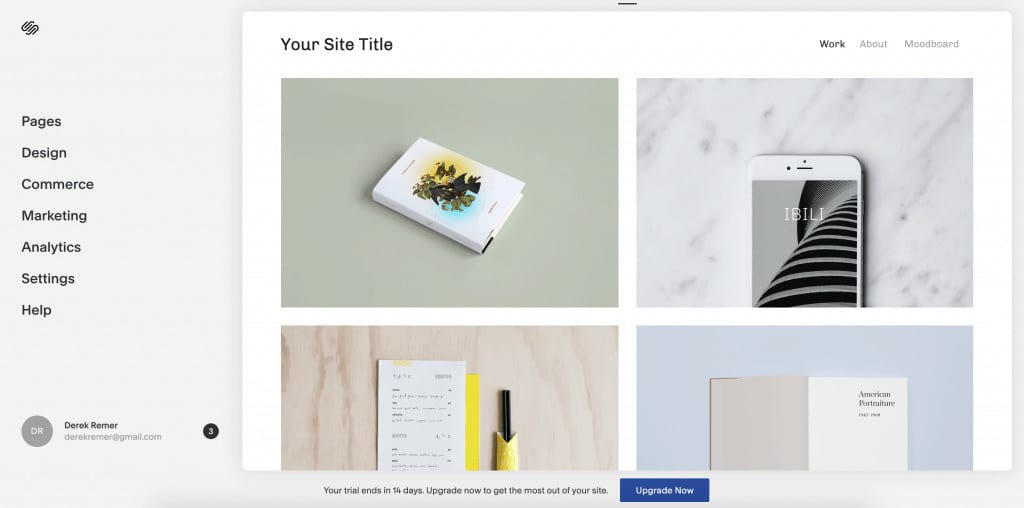 Boom, you have a website and you're in your free trial. You can always upgrade right away. The great thing about Squarespace is that I could just upload a few images and be done with my website right away. A little more customization is always good but be aware that there isn't much moving around you can do.
You live and die by the template.
That isn't to say that you can't build a beautiful website. Here is an example of a website built on Squarespace that shows what is possible in a short amount of time.
---
Who Squarespace is For (Hint - Sites with Pictures)
Squarespace is best suited for people who want to showcase photos. This could be any type of person but it really is suited for people showcasing photography and other art. As you can see from the templates below, creating a beautiful showcase is very possible on Squarespace.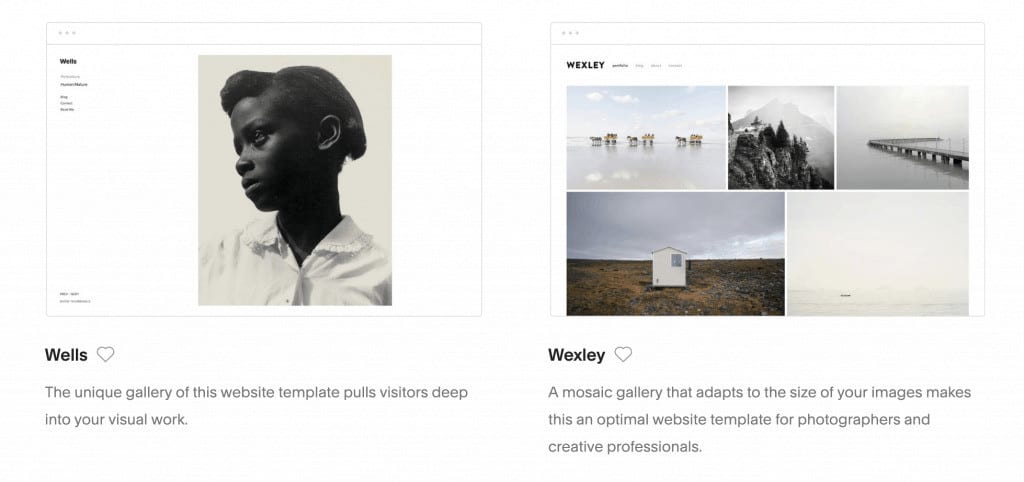 Beyond that, Squarespace is also for anyone who wants to build a website but doesn't want it to be difficult. It isn't an exaggeration to say you can fire up a template and just swap out images and text in 30 minutes and have yourself a complete website.
I don't suggest using Squarespace for eCommerce unless you're selling less than five products and you don't care about extra eCommerce functionality that other platforms offer.
---
What We Like About Squarespace
In the next section we're going to go into some of the nitty gritty elements of the the service to highlight what we like and don't like.
Ease of Use
There are plenty of website builders with more options than Squarespace. Going back to my bedroom furniture analogy - you can use a website builder where you get to choose from a whole store of furniture and even choose your room in your house. Those website builders, like Wix, offer complete customization.
With that complete customization comes more of a learning curve and more difficulty. Squarespace doesn't really have a learning curve and it isn't difficult at all.
If you want to go beyond a website builder you can choose your own furniture, house, room, and neighborhood for that matter. That's what it's like using WordPress. If you want to use HTML, you're building your house and furniture from scratch.
The beauty of the internet of today is that it offers services like Squarespace the opportunity to allow people like you the ability to build gorgeous websites.
The great thing about Squarespace is how intuitive everything is. You can scroll through the different elements to choose on and edit the settings of that element.
Or you can just click what is placed on the webpage and just edit the settings without having to hunt down what you're looking for.
Squarespace Templates
The magic of Squarespace is in the template. This alone would be a reason to choose Squarespace over competitors like Wix.
They truly are the best templates on the market when it comes to website builders. I could pick any of the templates offered and be confident that they can build a website anyone could be proud of.
Squarespace separates their templates into categories. Your website will most likely fall under one of the categories - all you have to do is pick one.
Once you narrow it down there are usually two options to choose from. In the wedding category, you can choose from Julia or Sonny.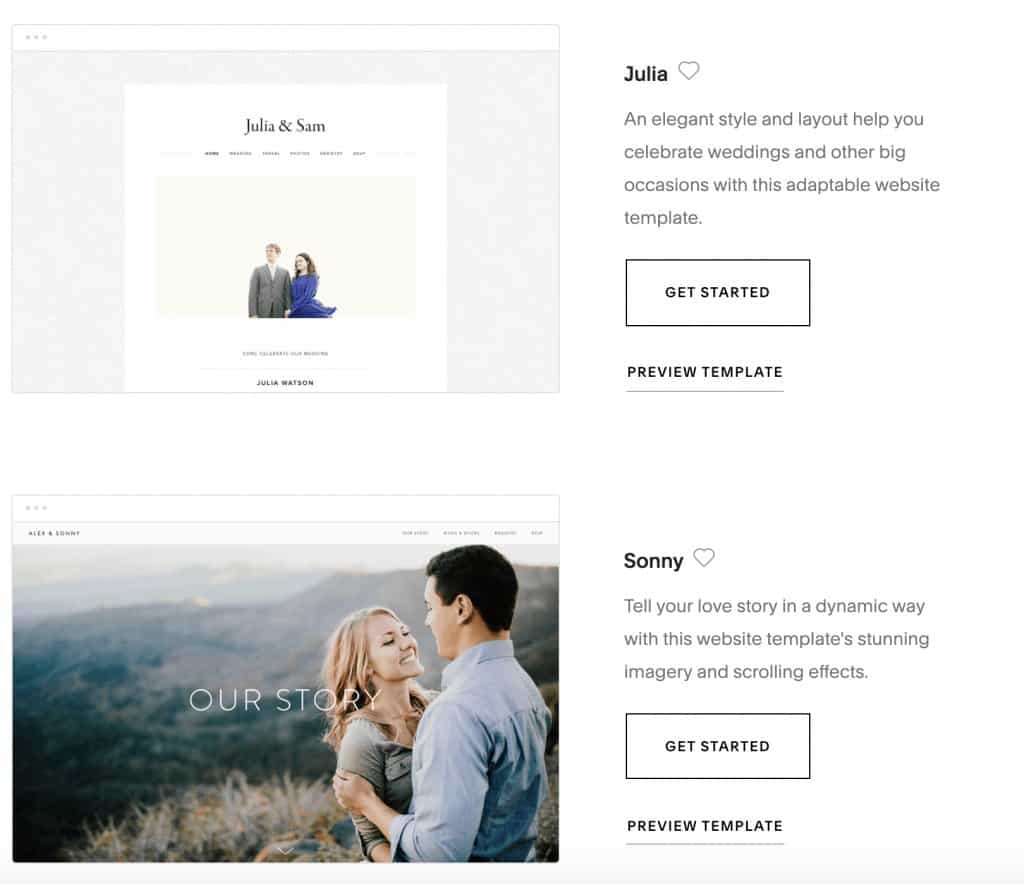 After going through the top two you might feel like you haven't been given enough options. Well, in each category there is also a section called "others you might like". In the wedding category, you find 6 more templates called Anya, Naomi, Sonora, Charlotte, Aubrey, and Kin.
---
What We Don't Like About Squarespace
Customization
The pros of Squarespace directly influence the cons of Squarespace.
If something is extremely easy to use, it usually means that it doesn't provide very many options. There are so many ways to build a website now that there isn't really a point in trying to fit a round peg into a square hole.
Squarespace just isn't meant to be used as a website builder where you build whatever you want. The whole purpose of it is to work inside a template that ensures you have an aesthetically pleasing website.
There are options - it's just that those options are limited.
Blogging and SEO

Blogging functionality is fine on Squarespace. It obviously doesn't hold a candle to WordPress when it comes to functionality but it still gets the job done.
Honestly, it's better than other website builders as it has features such as liking, comments, and a sharing icon. You can also enable an RSS feed and set up a podcasting integration.
On top of that, it offers the ability for a blogger to schedule posts to publish later. This is great for people who like to write a handful of blog posts.
It enables them to stagger publishing days rather than bombard people with new blog posts.
When it comes to SEO, there are no plugins that help you assess how well you've optimised a page. On other platforms, it is easy to use a plugin to tell you what you've done wrong and right.
Squarespace also allows you to edit URL structures and titles which will go a long way in organization for search engines. A lot of simple website builders and platforms don't allow that much.
If SEO is your main goal but you literally can't use WordPress - Squarespace is a good choice. If you're planning on going all out on SEO but can't use WordPress, you probably won't be able to go all out on SEO. WordPress is still king in the blogging and SEO world.
If you're looking to eventually build a very SEO focused site than you should be considering a wordpress host.
Customer Support

I want to start off by saying that Squarespace's customer support is not bad.
It is kind of annoying though.
Squarespace has an amazing knowledge base, help center, tutorial catalog, and forum presence. This is by design and they know this. Squarespace is simple - questions shouldn't be numerous. However, if you do want to talk to a human, it is difficult.
The company wants you to use all of their help materials before contacting them. This is understandable as they save time and money by pointing users in the direction of already created materials to answer almost all questions.
Sometimes, you need to talk to someone. When you do want to do that, it's a hassle. The website makes you click a bunch of options saying why you need to talk to someone. While this is helpful in some ways, mainly because it points you to the exact help article, video, or other resources you might, it is still annoying.
Whatever happened to being able to ask for help?
I get it, some people abuse the system. For those of us that only ask a question once in a blue moon, it can be super annoying to pay for a service and not have full access to a customer support staff when needed.
---
Squarespace Pricing
The great thing about Squarespace is that it offers a 14-day free trial. With the trial, you can begin building your site and see how you like the software. This is more than enough time to see if you actually like using Squarespace.
After your free trial ends you are presented with four different options. Two for a normal website and two for e-commerce
| | Personal | Business | Basic eCommerce | Advanced eCommerce |
| --- | --- | --- | --- | --- |
| Cost if Paying Monthly | $16 | $26 | $30 | $46 |
| Cost if Paying Yearly | $12 | $18 | $26 | $40 |
| Features | Unlimited bandwidth and storage, mobile-optimized website, website metrics, free custom domain, SSL security, 24/7 customer support, 2 contributors | Everything in Personal, unlimited contributors, professional email from Google, $100 Google Ads credit, promotion pop-ups, fully integrated eCommerce, unlimited protects, accept donations, 3% transaction fee, mobile information bar, CSS and JavaScript capability, premium blocks and integrations, and an announcement bar | Everything in Business, no transaction fees, mobile-optimized checkout, commerce metrics, inventory, orders, tax, coupons, label printing, integrated accounting, checkout on domain, customer accounts, products on Instagram | Everything in Basic eCommerce, subscriptions, advanced cart auto recovery, flexible discounts, gift cards, and order API |
If paid annually - Squarespace's subscriptions are right in line with competitors. If paid monthly - the cost is relatively high. Just like with any website builder you're paying a premium for ease of use and an all in one solution.
Anthony Casalena created Squarespace out of necessity. He wanted to host his own blog and discovered that there weren't any self-hosted blogging options for normal people. This was 2004 and the options for building your own website were scarce.
An initial loan from his parents got him two servers, which he kept in his dorm room at the University of Maryland. Anthony was the only employee until 2007 and wanted to make sure everyone using Squarespace had a website they could be proud of.
While building the business over the next few years, the main goal was to provide an aesthetically pleasing way for people to build their own websites.
In 2014, Squarespace completely revamped the way the website works into the beautiful design platform that exists today. They needed to do this to stay competitive and offer mobile optimization. This change allows all templates and designs on Squarespace to be seen on mobile just as easily as the desktop version of the website.
Now, the company is worth almost $2 billion.
To hear the Squarespace story and Anthony Casalena's journey to build what Squarespace is today, check out the How I Built This episode that features the founder. If you are a fan of web design, it is a must listen.
Is Squarespace Better Than WordPress?
The short answer is no. The long answer is that it can be. See the above questions for reference. Squarespace is much easier to use than WordPress and has about one-twentieth of the learning curve. As a beginner WordPress can be daunting.
Is Squarespace Free?
Squarespace offers a 14-day free trial. This will allow you to test out the service to make an educated decision on whether or not you want to pay for the service full time.
Which Website Builder is Best?
Overall, Wix is the best website builder. However, Squarespace is much easier to use and can create the most beautiful website in the smallest amount of time.
Read more about our guide to best site builders.
Is Squarespace Difficult?
No, Squarespace is one of the easiest website builder services to use. There are a few that are easier but they aren't as good as Squarespace.
Is Squarespace Good for Beginners?
Squarespace is a great choice if you feel you are a beginner and have a bit of anxiety when it comes to building a website. Wix is a fantastic choice as well and should be used if you feel a little more confident in your abilities to learn the software. Use Squarespace if you're looking for the most simple approach to building a website.
To see a couple other options check out our best ecommerce platform guide.
Is Squarespace Good for an Online Store?
Squarespace is good for a simple eCommerce store. If you want to go beyond that then Shopify is the best eCommerce solution.
How Expensive is Squarespace?
For regular websites, there are two pricing options. You can pay $12 per month of $18 per month.
Is Squarespace Better Than Wix?
Both options provide benefits. Squarespace is for people who want to build a beautiful website inside of a fantastic template whereas Wix is for people looking for more customizability.
If you're looking for an easy way to build a beautiful website then Squarespace is a top choice for you. If you don't plan on hosting a website yourself and using WordPress, you are limited to a handful of options in the website builder realm. Here are our picks for best web host.
That's where Squarespace comes in. If you're looking to build an awesome website within beautiful templates then Squarespace is a no brainer. Issues arise when you want to customize outside of the templates provided.
It is not outside of the realm of possibility to build a website that you are completely satisfied with, using Squarespace, within an hour.