Disclosure: Aussie Hosting is community run. We sometimes earn a commission when you buy hosting through our links. Learn more.
SiteGround Review for Australians 2022
SiteGround has remained as one of our top choices for web hosting for the last few years. You'll understand why after reading our SiteGround review.
They are one of the few companies in the new generation of web hosting that put the customer first and foremost.
This includes above average server performance, free upgrades and lots of host-side managed features.
One of the first things that most first time users of SiteGround notice is the insane support. 24/7 support is ready on standby to literally help you with anything related to your hosting.
For some bloggers and business owners this means you'll save hours of time figuring out technical details of how to modify certain elements of your hosting.
SiteGround's pricing comes out to $5.99 a month discounted price over then regular $14.99 price. Compared to other hosts this is a great deal.

Visit Siteground.com
In this guide we're going to look at some of the above mentioned features.
Let's jump into the nerdy stuff guys. 🤓
---
How We First Learned About Siteground
Back in 2013, I was attending a conference in Thailand and got chatting with a few guys.
Turned out that a few of them worked for SiteGround, after chatting for a while about my web agency and whitelabel team that I had built they suggested their service as a fix for some of the hosting issues I was having with local Australian based hosts.
They told me about their massive Singapore datacenter that they had just leased.
A month later I had transitioned over 20 sites to SiteGround and have never looked back since.
SiteGround saved us a lot of time, trouble and provided a lot better service. In the next few sections I'm going to explain some of the technical aspects of why their services beats the competition.
---
Tracking SiteGround's Service
Recommendations don't mean anything with good solid data. Luckily, using our intergrated system that we use to manage all our hosting/client accounts we also have years of data on uptimes and downtimes. You can see our live tracking of SiteGround here.
You might not know what that means so let me explain…
Downtime is the amount of time your website is down or unable to be accessed. This is usually due to an issue on the server.
Uptime is the amount of time the website is up and functioning without error. Higher uptime is good.
---
SiteGround Uptime
On average we put SiteGround's uptime at 99.92% in a SiteGround review, which is as you can guess… insanely high.
This is tested via their Singapore datacenter. This is pretty good considering there were only 5 outages in the last 24 months. This is really low considering that Panthur and Melbourne IT had over 173 (yes, you read that correctly)
Downtime Lengths
4/28/2015 – 154 seconds
10/4/2015 – 561 seconds
11/11/2016 – 431 seconds
2/3/2017 – 331 seconds
2/4 2017 – 430 seconds
Here are some records of our 2017 uptime reports. You can see all ranges from 100-99.9%.
This test is specifically from Sydney. This was tested on 12/29/2016 as you can see from the top right.  You can see that with uptime like this having your site go down is basically never an issue.

Another screenshot showing how our dashboard tracks the uptime of each individual site/host. All our data is able to be historically tracked. Pretty good right?
Only a couple hosting services can match SiteGround's uptime, Bluehost for example, is one of them. You might want to check out our Siteground vs Bluehost comparison for a more detailed insight.
---
SiteGround Speed
I talked about this in our review of Australian hosts vs overseas datacenters, one of the more common questions we get is why don't you guys recommend some local hosts and the reasons are pretty simple. I apologize if I offend any fellow Aussies that work in the web services industry.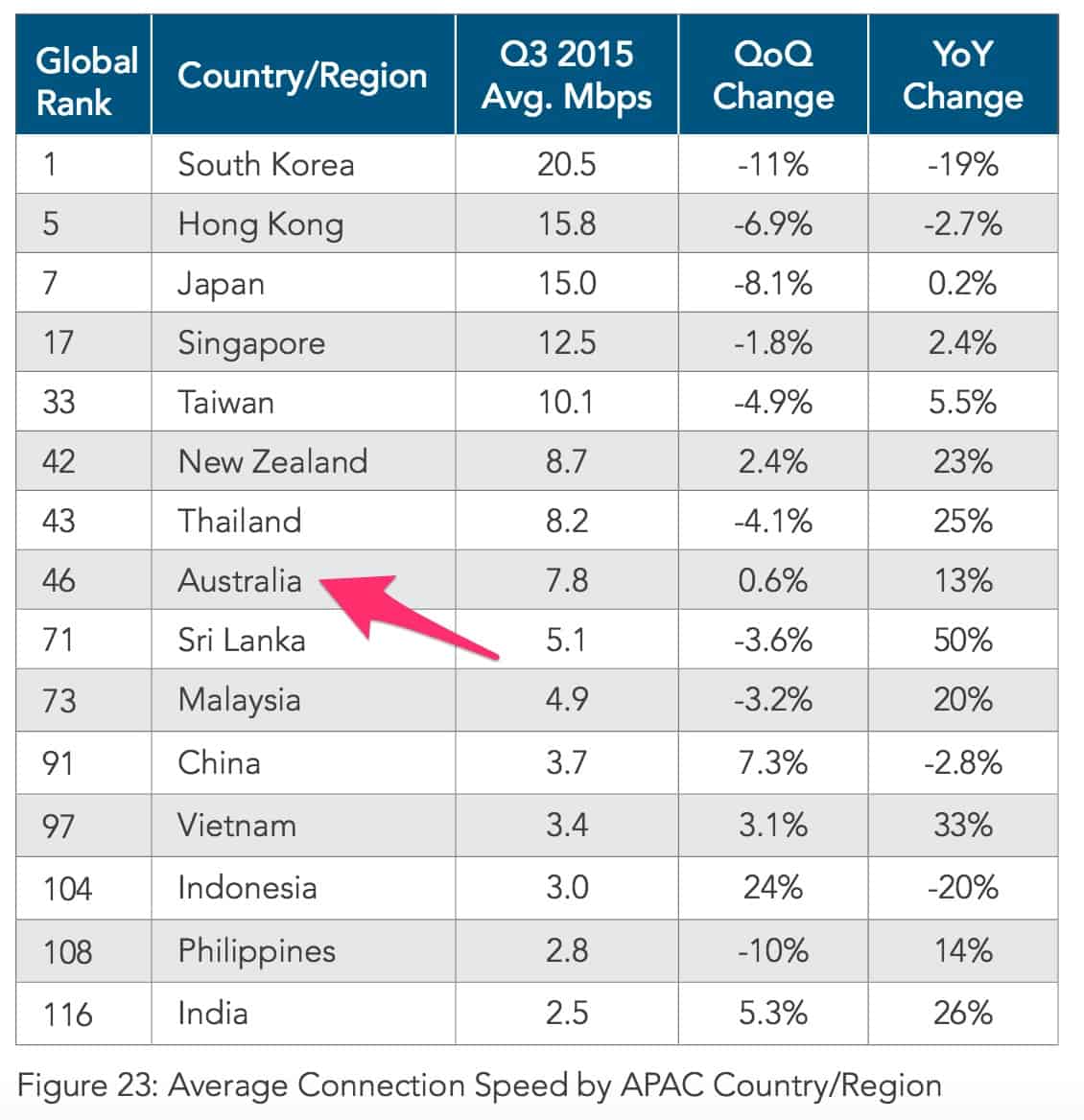 Australian datacenters use unreliable, cheap and out of date software.
Combined with the lack of fiber optics cables providing Internet and you have a recipe for very slow and unreliable Internet.
Australian datacenters have continuously ranked pretty badly on worldwide tests of Internet speed and website performance.
You might think that Internet speed has no relationship to web performance but that isn't accurate.
Datacenters send information to visitors so if that datacenter's Internet is itself slow you're going to get reduced performance all around.
Click here for more about how badly Australian Internet sucks. The year before that we were at #56 
SiteGround's datacenters are fast and while your Australian based ISP might be slow at least the data is coming in lighting fast via their datacenters.
Here are some of our test SiteGround Australia results from Sydney and Melbourne.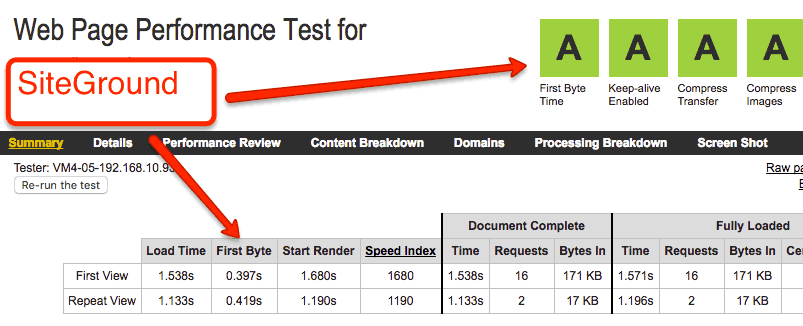 Can you say fast?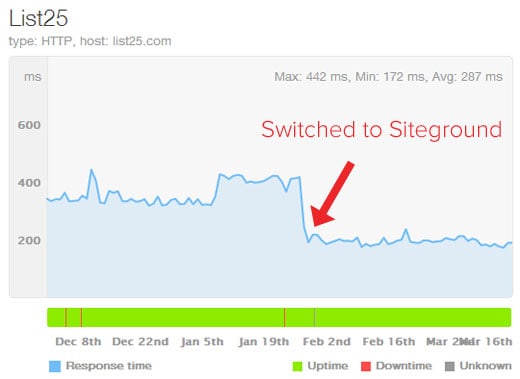 This was one of our E-commerce websites before and after switching. Notice the massive drop in load time and this is using a "premium" host located in Sydney (we won't name names).
In case you aren't convinced here are some more test times via 5 different locations throughout Australia during 2017.
July average speed: 314ms
June average speed: 302ms
May average speed: 283ms
April average speed: 333ms
March average speed: 312ms
---
The Best Support of Any Web Host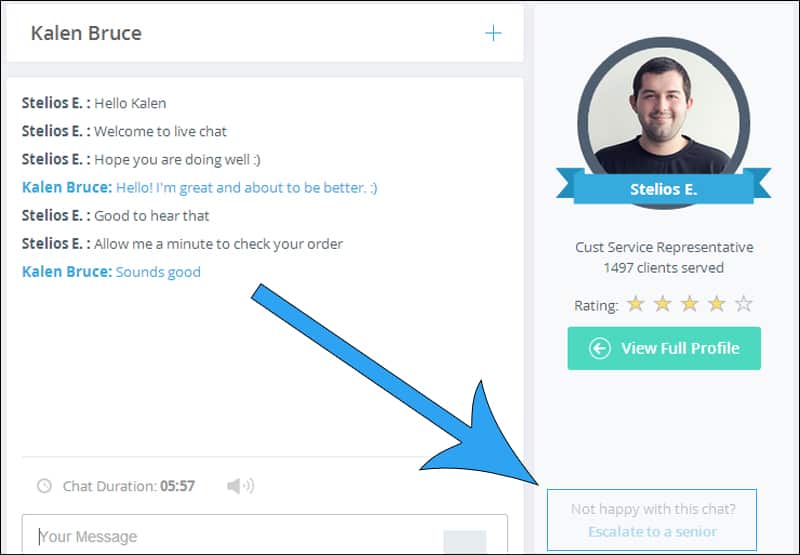 Throughout our SiteGround review, we realized quickly that SiteGround prides themselves on their support.
This alone makes them stand far apart from a lot of other providers. Their team is really knowledgeable an quick to help you out with any issues that come up.
A lot of other web hosts have neglected their support teams and outsourced it to other countries where support staff are apathetic and many times don't even understand what you're talking about.
Both Siteground and A2 are the only hosts that train their support staff to answer your questions.
Support options for Siteground
Live Chat (24/7)
Ticket System (answered in 10 minutes!)
Phone support
Here's a quick picture of their chat window.
There is only a 10-15 second wait for the chat to start. You can even rate your support staff if you aren't happy.
---
They Keep Your Website Up to Date
One of the biggest security weaknesses that hackers and other bad guys exploit is older versions of plugins, themes or WordPress itself. Newer vulnerabilities are "patched" as these programs are updated and fixed by developers.
If you aren't upgrade your site you're a prime target for hackers who use bots to search the Internet for older websites to break into. Think about it like a security system and if you're using an old lock there's a good chance someone is gonna get in.
SiteGround auto-updates all sites using Wordpress (find out more about WordPress hosting). This means that you no longer have to worry about keeping your site up to date.
If you're a small business you can literally set it and forget it.
---
Siteground Supercachcer and CDN
---
Downside of Siteground Hosting
Most hosts will advertise using a really low price like $2-5 dollars, however, there is a slight stipulation to that. You'll need to sign up for 2-3 years.
After doing a thorough SiteGround review, we found out that with SiteGround's plans you're looking at the same thing, although they do have a one year signup. This is normal as none will setup a website for only 4 or 5 months.
There is no hidden fees or upsells on software or security with the original signup package either.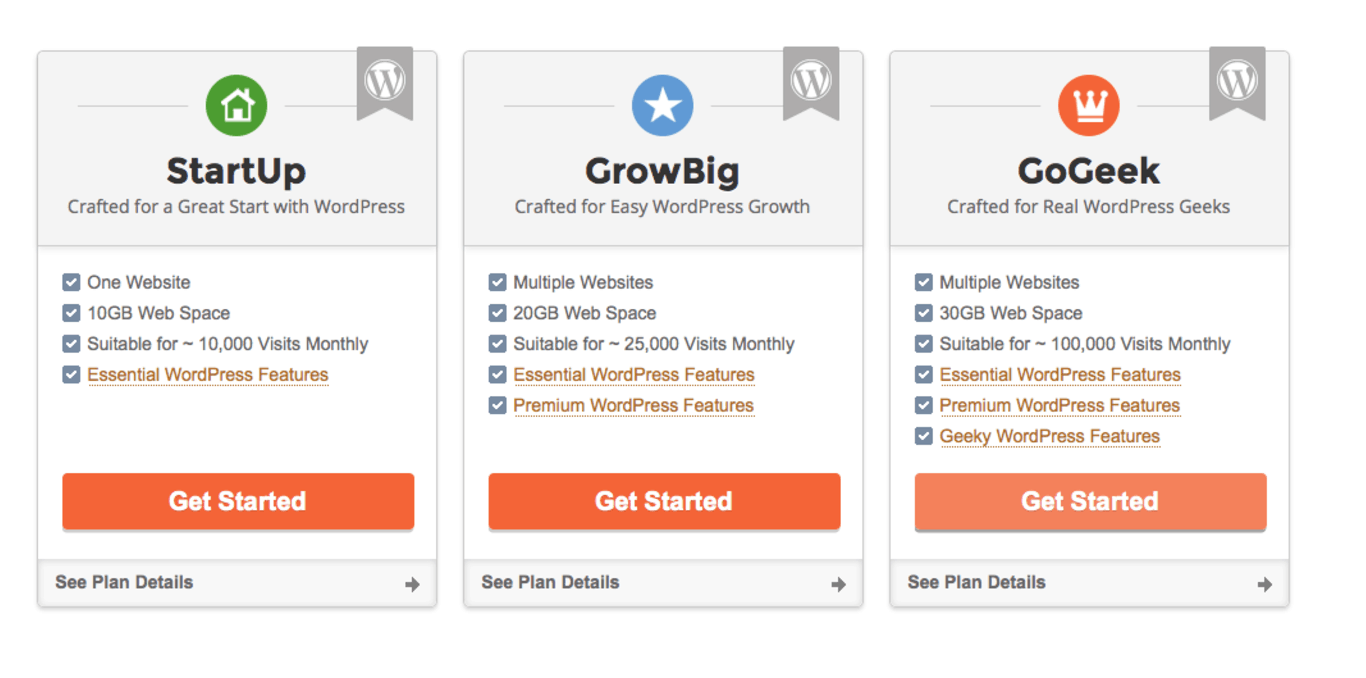 They also offer a totally free optimization feature that makes your site's user experience even better with faster loading times. A content delivery network or CDN spread out your files over 200 locations worldwide to offer faster load times depending on where visitors are accessing your content from.
These are features that usually require paying a monthly fee for. CDN features dramatically increase web security, browsing experience and speed.
SiteGround has also developed one more unique speed booster called the Ultrafast PHP, which can speed up your site with another 30%.
Free SSL Cert (Save $70-100)

SiteGround offer totally free SSL.  
If you aren't sure of what SSL is it means Secured Socket Layer. If you've ever seen the green http:// text at the beginning of a URL that is SSL.
The idea behind it is that your visitor's browser and your host created an encrypted tunnel to trade information back and forth. This back and forth allow total privacy and security
If you're planning on selling anything on your website or want your site to show up in Google's organic search then you NEED SSL. Luckily with SiteGround it's free.
One Click Installs for Newbies
SiteGround offers a unique 1-click install of WordPress. Once you login you'll see the option for a one click install of Wordpress or any kind of CMS you want to use.
Set your password/login and you're good to go within a few minutes. You can literally setup your site within a few minutes and if that's too complicated support will do it for you.
Free Website Transfers
If you're planning on moving your site from one host to another switching over can sometimes be a big hassle. You want to make sure everything is working fine and there are no issues when copying your files over.
This is usually done by creating backups and or manually doing it via FTP and cPanel. SiteGround does it for free with any new signup, meaning if you have an existing site they will migrate it over exactly as is within 1-2 days.
No extra fees required. 
SiteGround has built their own Migrator plugin which is free for each user who wants to migrate their WordPress site over to SiteGround. If you experience any issues, you could always contact their support team for help.
Or if you prefer a migration performed by their technicians, you will have to pay USD 30 per site.
---
Different Siteground Plans
Shared SiteGround Hosting
With shared hosting you are sharing an IP address with lots of other websites. The logic behind shared SiteGround hosting is that no one site requires all of the assigned hard drive space or bandwidth. Shared hosts offer the cheapest option for most websites.
Startup plan
---
Cost - $5.99/month
One Website and 10GB
Daily Backups
Caching
All-inclusive security plugin
For sites with less than 10,000 Visits
---
---
$5.99/month
Grow Big Plan
---
Cost - $8.99/month
Multiple websites
20 GB
100,000 Monthly Visitors
Free SSL
Free Backups
Free On-Demand Backups
Staging
Collaboration Tools
Ultrafast PHP
$8.99/month
GoGeek Plan
---
Cost - $14.99/month
40GB HD Space
Up to 400,000 Monthly Visitors
White-label hosting
Staging + Git
Priority support
Ultrafast PHP
---
$14.99/month
---
The best plan to get if you're just starting out and don't have 10k daily visitors is the shared plan. This also works great for e-commerce store and small business websites.
Well, thats it.
If you have any questions or comments don't be shy and leave one below we'll answer it as fast as we can.