Disclosure: Aussie Hosting is community run. We sometimes earn a commission when you buy hosting through our links. Learn more.
WordPress is the most popular content management system/page builder on the planet, powering more than one-third of all websites in existence.
When you want a hosting platform that's made to enhance WP's capabilities, you'd have to look long and hard to do better than Kinsta.
It's not only tailor-made for WordPress hosting, it offers stronger performance over the Google Cloud Network (GCN) than any other cloud-based platform.
What is Kinsta, exactly, and why should you try it? Read on to learn more.
---
Kinsta Explained
The platform was first developed in 2013, They weren't shooting to become a low-budget solution, but the best choice for WordPress website owners who were looking for the speed and reliability they needed to run their businesses and blogs.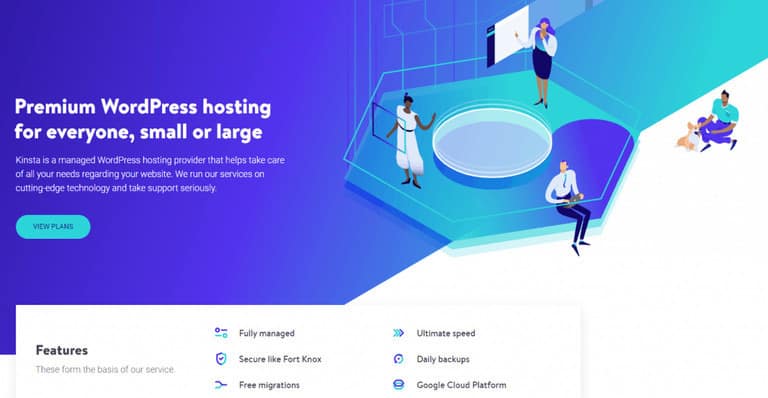 Kinsta doesn't just perform better with Google Cloud, it was created to work with it exclusively. As a relative newcomer to the family of cloud services platforms, GCP has worked hard to differentiate itself from Amazon Web Services and Azure.
GCP's premium tier allows websites to load faster, and that's a big bonus for the sometimes sluggish WP platform. All of the engineers at Kinsta are also WP developers. These are two of the main reasons that Google Cloud recommends Kinsta for managed WordPress hosting.
Not only that, Kinsta has been awarded the Top Tier for Performance Benchmarks for the fifth year in a row.
But, don't take our word for it. Here's how the hosting platform stacks up against the competition.
---
Kinsta Vs Other Hosts
What makes Kinsta different than other hosting platforms? Unlike other platforms, Kinsta was created by WordPress engineers specifically for WP support.
When you investigate other hosting services, you'll find that a number of them either don't support WP, have issues, or cause high latency rates that lead to slow performance.
In an environment where speed is everything, every second you can save and enhance performance is essential.
Kinsta is a managed hosting platform, which means that a lot of the heavy lifting and maintenance are done for you. With many regular hosting platforms, you would be responsible for all optimization, backups, and other essential functions.
Because Knista is made exclusively for use with WordPress and Google Cloud Platform, it's optimized to work seamlessly with both platforms.
---
Why Kinsta is a Good Choice For Business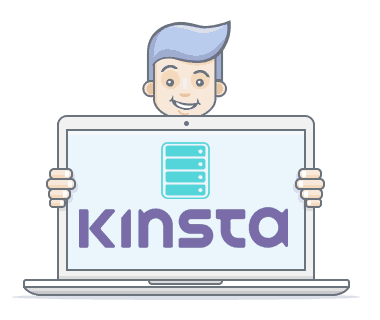 One of the most deadly situations for eCommerce is downtime. For every hour of downtime, you face the possibility of losing up to $100,000 dollars.
Kinsta managed hosting takes care of maintenance and optimization chores like caching, security, and backups/restoration that improve website performance and safety.
This is good for your business. Not only does it mean reduced downtime and business disruption, it allows you to put forth a more professional image and high security standards.
The result is more reliable service for your customers, an enhanced user experience, better search engine ranking, and higher productivity. With Kinsta on the case, you'll be free to grow your business.
Ease of Use
The last thing a busy company owner needs is a difficult interface with a steep learning curve. You don't have to worry. The developers and design team at Kinsta have gone out of their way to make things easier for you.
Their custom MyKinsta dashboard was designed for easy navigation, and you can manage all of your WP websites right from their admin portal. You can even review your usage for better resource management, and traffic metrics are right at your fingertips.
Performance
So, how does Kinsta perform? As a dedicated WP host, it was created to work with all of the WordPress functionality and features while improving overall performance.
Due to the popularity of WP, there are plenty of hosting platforms that claim they're optimized for the CMS. How does Kinsta compare?
On a test conducted over a seven day period using a lightweight default theme, we were able to achieve page load times of less than one second. That sounds great, but what if you have a more media rich website and a more substantial theme to load?
A second test was conducted over the same time period using a WP website with a multipurpose theme called Acada installed.
Using Pingdom to test speed, with times again recorded every 30 minutes over a period of seven days, we realized load times of 1.5 seconds with a 5.14 MB homepage. During the duration of the testing, Kinsta was able to keep their promises of 99.9 percent uptime.
To our minds, this platform demonstrates the ability to maintain very respectable speeds and a high percentage of uptime even with websites that use a lot of resources.
Features
Now we come to the meat of Kinsta. What's in the box? This platform includes a large number of features and tech enhancements that are made with WP capabilities in mind.
One of the best features is a WordPress Staging Service that allows you to test new plugins, code edits, and customizations from their development team and and go live with them at a click.
Related Read: Best Small Business Hosts
As for other features and tech specs, let's break it down for you.
Architecture: Kinsta features the kind of architecture you'd expect from a Google-developed platform.
In addition to LDX software containers, you'll get to enjoy:
Security: Kinsta takes security and data integrity seriously.
In addition to backups and SSL authentication, you'll have the advantage of:
DDoS detection
24/7 uptime monitoring
Firewalls
Tech Specs: You'll find a ton of technical enhancements with Kinsta. There are so many, we'll just go down the list and provide a little overview of the highlights.
Content Delivery Network (CDN): They provide 50 GB of KeyCDN per month with the basic plan, and more available with the premium services. Overages cost $0.10 per GB.
Website caching: The platform has four types of caching on their platform,which contributes to their excellent page loads. These include caching on the server level and via a House-developed clear cache WP plugin.
PHP: Developers will be happy to note that they can toggle through PHP versions 5.6, 7, 7.1, 7.2 and 7.3 with just the touch of a button.
HTTP: In addition to free SSL certificates, HTTP/2.0 is in use on all of the servers and the CDN.
SSL: The platform provides a free SSL certificate from Let's Encrypt, but you always have the option to install one of your choosing from a valid source.
SFTP: This secure FTP protocol allows secure file transfers to your web space for editing and uploading files.
Server file manager: Although Kinsta had no online file manager available; you can use FTP to access the server space.
Email: There are no email addresses included with Kinsta hosting, but the platform integrates well with G Suite and all other Google products and services.
Database access: You can gain access to your WP database through the browser using phpMyAdmin.
WordPress website management: You can update plugins through your My Kinsta account dashboard, but there is no availability for automated plugin or WordPress core software updates. You'll have to handle those manually.
Plugin restrictions: Kinsta has a list of banned plugins for your convenience and safety. These are mainly plugins with known problems, including caching, security, and optimization plugins that are dangerous or detrimental to website performance.
Post-hack clean up services: This is a bonus for business owners who may have small budgets and no mitigation protocol in place. If your WP website is ever hacked while it's hosted by Kinsta, they'll fix it free of charge.
Staging sites: WP staging and one-click deployment are available with all plans.
WordPress website migration: Kinsta offers free migration services starting from even the Starter Plans (basic plan)
Visitor analytics: You can view a number of metrics from your My Kinsta admin dashboard, including your website traffic.
Uptime checks: Kinsta performs uptime checks every Two minutes. If any performance issues or downtime are detected, the team will get on it right away.
Servers and Accessibility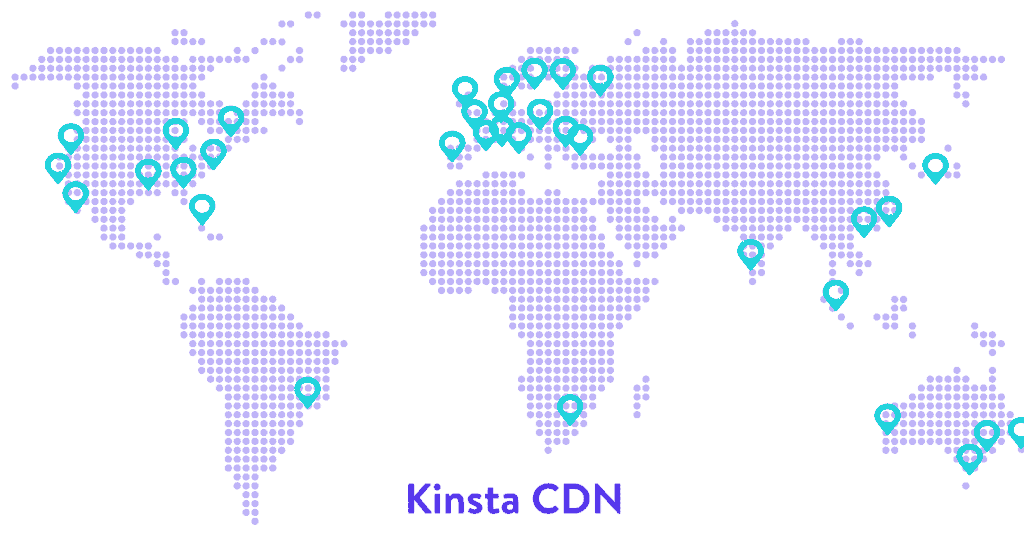 Kinsta currency has 20 servers(databases) spread out across the globe, with two more coming on board soon from Hong Kong and Switzerland.
The built-in scalability and CDN means less likelihood of experiencing an outage or excessive downtime.
Speaking of which, Kinsta guarantees 99.9 percent uptime as part of your SLA.
You'll also enjoy automated backups that are kept in their database for up to 14 days, or more if you have one of their premium plans.
Support and Knowledge Base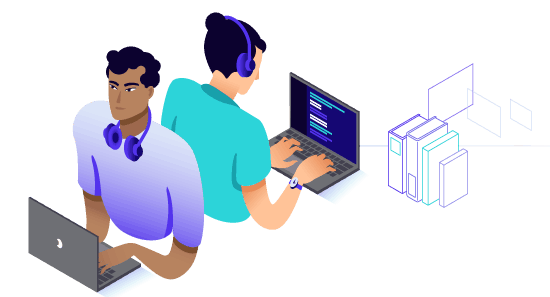 You won't have to worry about customer care with Kinsta. The only platforms it supports are Wp websites, so you'll have a dedicated team of experts at your disposal.
Support is available 24/7 via live chat. They don't offer phone support, but you can request a help desk ticket via the built-in messenger.
The company also provides 24-hour performance monitoring as part of their commitment to quality and reliable service.
As for their knowledge base, the company website has a large resource center that contains 11 main topics and dozens of subtopics that cover everything from billing to developer issues. There's also a blog with a wide range of topics, WP tutorials, information about updates, and a newsletter.
Pricing Explained
Now we get to the bottom line. How much is Kinsta going to cost you? The company offers 11 tiers of service, Basic, Pro, Business levels 1 - 4, and Enterprise levels 1 - 4. We'll begin with the basics of what each service level has to offer.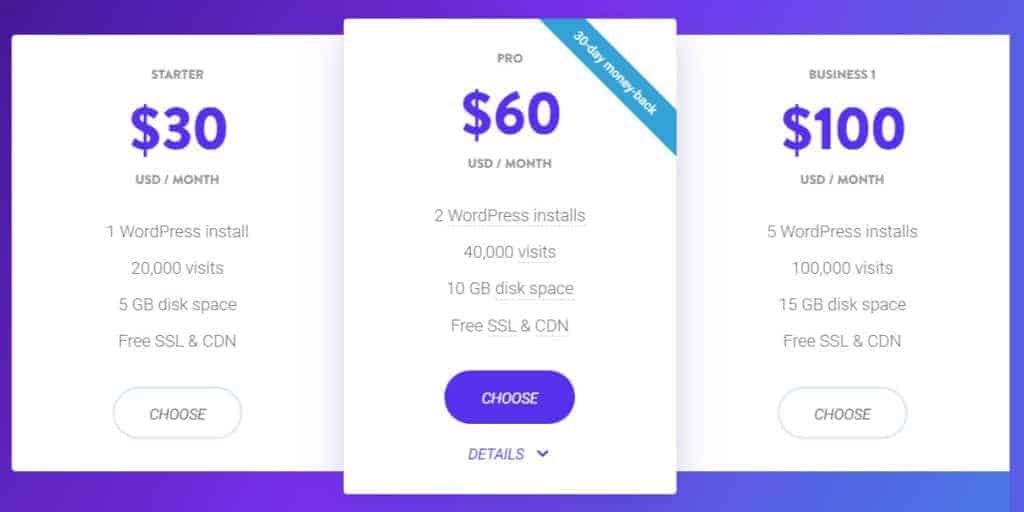 Basic: Basic service is priced at $30 per month, billed monthly or yearly; If you choose a yearly contact, you'll get two months of service free.
What you get:
One WP installation
20,000 visits
Free SSL and CDN
5GB of disk space
Pro: At the pro level, your price goes up to $60 per month.
That will increase your functionality to:
Two WP installs
40,000 visits
10GB of disk space
Free CDN and SSL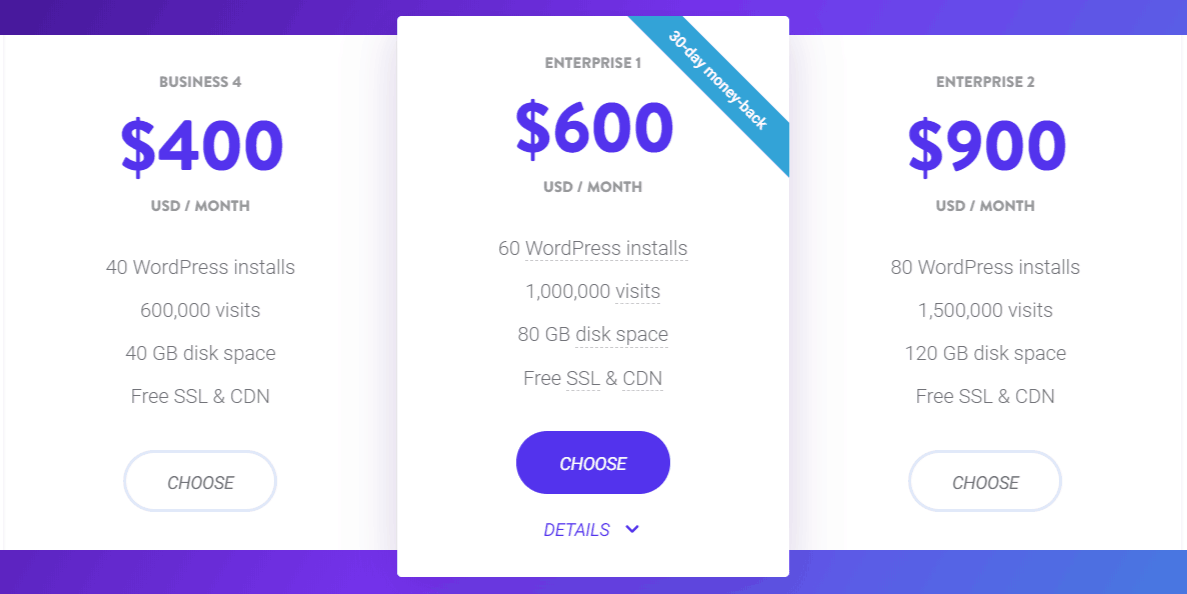 Business: The basic business level bumps your cost to $100 per month; succeeding levels are priced at $200 - $400. For that, you'll get, at minimum:
Five WP installs
100,00 visits
15GB of disk space
Free SSL and CDN
Enterprise: Your Enterprise packages start at $600 per month, and run up to $1,500. The functionality includes, at minimum:
60 WP installs
1,000,000 visits
80GB of disk space
Free SSL and CDN
The company also provides free migration, support, and security with every plan. Optional add-ons include Cloudflare railgun, Elasticsearch, redis, and Nginx reverse proxy. They do charge an overage fee of $1 per 1,000 visits and $0.10 per gigabyte for CDN overages. You'll also get a 30-day money back guarantee.
---
Installing WordPress on Kinsta
This hosting platform features installation in just a few clicks. Once you signed up and created your user account, you can add your first website within minutes. For those who run multiple websites, you can easily view the details and manage all of them through the same dashboard.
We all have choices in life. When your decision is between a platform that was created especially to support the environment in which you do business and a generic platform, the choice is easy.
Our goal is to provide you with all the information you need to make the right decision about your hosting platform. The rest is up to you.