Disclosure: Aussie Hosting is community run. We sometimes earn a commission when you buy hosting through our links. Learn more.
Investing in cryptocurrencies and stocks has become the norm today, especially after the COVID-19 pandemic. To cater to this popular trend, more and more platforms are emerging with attractive features.
One such platform that is helping make it easier to invest online is eToro.
eToro is a global social investing and multi-asset brokerage company that allows everyday users to trade stocks, crypto, currencies, commodities, and ETFs online.
This platform also provides you with several tools to assist with your investing, including allowing you to copy the trades taken by the leading traders on eToro.
So, if you want to know more about investing with eToro, this eToro review will help with it.
Our eToro review covers everything from all that eToro has to offer, its features, drawbacks, fees, and customer support so that you can start your investment journey.
---
eToro Overview: What is eToro?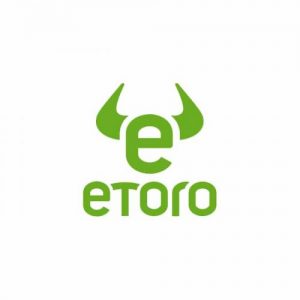 Launched in 2007 by co-founders Ronen Assia, David Ring, and CEO Yoni Assia, the Tel Aviv-based company was originally started under the name RetailFX as a forex online broker.
In 2010, eToro launched its social trading feature, and then in 2014, they added support for Bitcoin as well.
Today it has grown by leaps and bounds, with millions of users in more than 140 countries are using this platform.
Now, let's see all the features eToro Australia offers that make it so attractive to users.
eToro Key Features
Some of eToro's features for users include but are not limited to:
User-friendly platform.
Free demo account.
Multi-asset platform.
Copy trade.
Social trading.
The eToro app.
User-Friendly Platform
One of the most important features that we found in our eToro review is its free demo account. This means you can first learn more about the markets and sharpen your trading skills with zero risk of losing your real hard-earned money.
When you sign up with eToro, the company gives you free $100,000 to build your virtual portfolio. To get started here, you just have to log in to the eToro platform and create an account.
Then select Virtual Portfolio from the menu under your username to access the demo account.
With this demo trading account, you are ready to trade stocks and crypto in real-time without risking your capital. It will help you get your feet wet before you begin with real funds.
Multi-Asset Platform
eToro is a multi-asset platform that offers you a broad choice of tradable assets, indices, and commodities. Australian users can not only trade US stocks listed on NYSE and NASDAQ on eToro but also fractional shares in companies with a high individual share price.
Besides stock, market index, commodity, and currency CFDs (Contracts For Differences), you can also trade Bitcoin (BTC) and Dogecoin (DOGE).
eToro started offering Bitcoin CFDs in 2013, even before the world's largest cryptocurrency gained mainstream popularity. Then four years after that eToro also supported Ethereum (ETH) and XRP on its platform.
Now, eToro is deep into the cryptocurrency industry and is in plans to launch a separate platform for digital assets called eToroX as well as a crypto wallet.

Copy Trades
In this eToro review, one of the most innovative features we discovered that was introduced over a decade back by the platform is its social trading.
The feature called CopyTrader allows its users to automatically copy the trading strategy of successful traders on the platform, making the trading experience possibly more profitable.
The feature already has more than 10 million users all over the world, helping eToro establish itself as the world's leading social trading network.
To copy a trade, you have to choose a successful investor that you want to copy, and just by clicking a button, you can start mirroring their positions with the option of a stop-loss level to limit potential losses.
The minimum amount required to copy another user is $200, and the maximum is $500,000. As for the number of traders whose strategy you can copy, the number is as high as 100.
Social Trading
If you don't want to use CopyTraders, you can still view millions of other traders' portfolios on the platform, as well as stats and risk scores.
Users can also follow and interact with fellow investors and traders on eToro's social news feed too.
eToro's platform connects you with users around the world so that you can discuss, share and learn market ideas and trading strategies with others.
Its Twitter-like news feature on the OpenBook platform meanwhile offers live user updates. You also have access to price data, research papers, and training courses.
The eToro App
eToro allows you to manage your portfolio right from your phone via its mobile app. With mobile trading becoming more and more popular today, it makes sense that eToro has a way for its users to buy and sell assets on the go.
eToro actually has highly-rated apps for both iOS and Android. Moreover, you can sync your portfolio to all your devices– mobile, desktop, and tablet.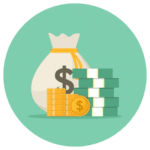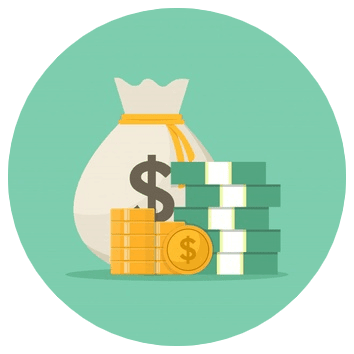 Now that you know what eToro has to offer you, how much does it cost to open an account or trade on the platform? Let's break it down in the fees section of our eToro review.
Opening an Account
It's completely free to create a new eToro account. In addition to joining eToro without any charge, any registered user also receives a $100,000 demo account for free.
However, eToro does charge various spreads and fees for some trades and withdrawals.
To get started, you have to deposit a minimum of $50. Deposits via Bank Transfer must be at least $500.
If you are registering a corporate account, the minimum first-time deposit is as high as $10,000.
Commission-Free Trading
eToro has also made investing in stock affordable for its users by introducing zero-commission trades. Moreover, there is no limit on commission-free trades, and you can also buy fractional shares.
Zero commission means there is no additional fee charged when you buy or sell shares through the broker. eToro does not charge any management, administration, or ticketing fees either.
This commission-free trading applies to all US stocks available on the eToro platform.
While zero commission does apply when investing in non-leveraged, buy stock positions, it does not apply to stock CFDs.

Rollover Fee
There is also a rollover fee, which is also known as "swap" and is charged when you keep a position open overnight. It is calculated based on whether your position is long or short.
Rollover fees change from time to time based on global market conditions.
Forex Spreads
While there are no traditional broker fees or commissions charged by eToro, the platform has a fee on foreign exchange spreads.
As such, the forex spreads on eToro start at 1.0 pips for AUD/USD and go as high as 50.0 pips for exotic currency pairings.
Deposit Fees
There are no fees for depositing money into your eToro account.
However, because users trade in USD, as an Australian user, you would have to pay a currency conversion fee of 0.5% for wire transfers and 1% for any other depositing method such as PayPal or card.
As of now, eToro only supports the debit and credit cards of Visa, Mastercard, and Maestro.
Withdrawal Fees
Much like with deposit funds, the currency conversion fee applies to withdrawal funds as well. In addition to that and unlike fees-free deposits, there is a flat fee of $5 on withdrawals.
You can withdraw your funds from eToro at any time, but the minimum amount for withdrawal is AUD30.
Funds can be withdrawn using a credit card, which could take 1-2 days, just like with PayPal. Bank transfers meanwhile will take up to 8 days.

Inactivity Fee
If you haven't logged in to your account for a period of 12 months, eToro will charge an inactivity fee of US$10 per month until any remaining funds are removed.
This fee, however, will stop once you log in. eToro doesn't close any open positions to cover this fee either.
Crypto Fees
eToro charges a 0.5% fee on cryptocurrency transfers. Coin transfer fees are calculated according to the size of the position, as such, the minimum fee is $1, and the maximum is $50.
We found in our eToro review that the final amount of fees is determined when the transfer request is processed.
There is no deposit fee for crypto either, but on eToroX, the withdrawal fee for crypto is different for different assets, such as eToro Australian Dollar (AUDX) will cost you 3.75 AUDX.
The quick withdrawal limit for all currencies meanwhile is 10k USD per 24 hours, with any amount higher than that need to be screened for approval.
The minimum position amount meanwhile for crypto varies. For instance, for Bitcoin, it is 0.007195 BTC, 0.107588 ETH for Ethereum, and for XRP, it is 17.7574.
For cryptocurrency CFDs, a method that enables individuals to trade and invest in crypto via a third-party broker, fees also vary for different digital currencies but ranges between 0.75% to 5%.
If you want to check the fees paid for each of your trades, you can go do so on the history tab on your portfolio page. Here, you will also see aggregated fees for different periods.
---
eToro Security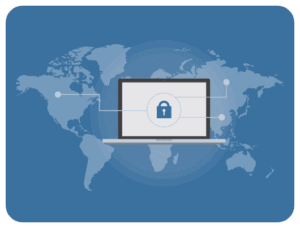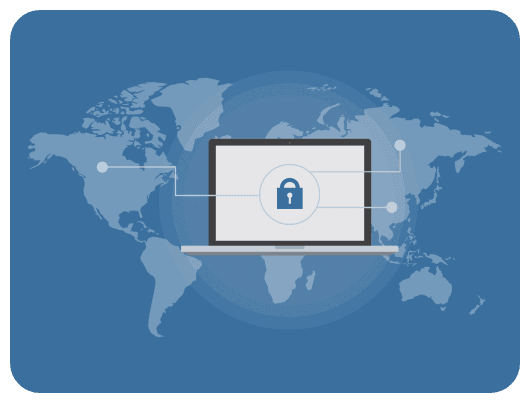 eToro is an established online trading company that has been offering a regulated and secure platform to trade both stocks and crypto for over a decade.
Based in Israel, Cyprus, and London, eToro's Australian operations are regulated by the Australian Securities and Investments Commission (ASIC).
Your funds are protected by industry-leading security protocols and user data is kept safe with encryption and firewalls.
In terms of risk management, you can choose your desired risk level with each trade with mandatory stop-loss levels.
Worry-Free Transactions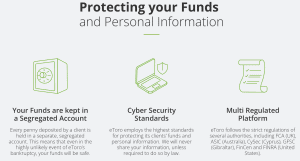 When it comes to crypto assets, the majority of user funds are held in cold storage to prevent their potential loss in a hack or due to an operational error.
In partnership with leading cybersecurity firm GK8, they have deployed a cold storage Custody as a Service (CaaS) solution.
eToro also encourages all its account holders to set up two-factor authentication (2FA) as an added layer of protection.
eToro further provides its clients with free insurance purchased from Lloyd's of London, giving coverage of up to 1 million AUD.
The insurance is given automatically to all eToro clients and covers claims of its eligible clients suffering losses due to the unlikely event of eToro's insolvency and in case of Event of Misconduct.
The insurance covers cash, all CFD positions, and securities but not (non-CFD) crypto assets trading.
---
eToro Customer Service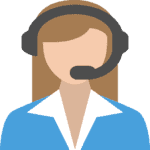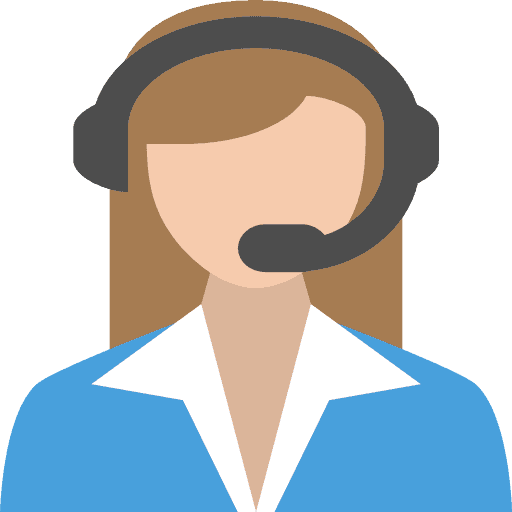 An established leader in online trading with more than 23 million users all over the globe, eToro has a strong customer support team.
eToro actually has separate customer service for eToro and its crypto division eToroX. Both of these platforms provide help via support tickets.
Phone support, however, is not available, which isn't surprising in the crypto sector as many other crypto exchanges do not provide phone assistance either.
There is a live chat option on the platform, but this isn't currently available for Australian users.
eToro's Help Center is Here for You


The Help Center on the platform meanwhile has tons of articles to help you with any basic problems, such as questions about your account.
Its News and Analysis section, on the other hand, keeps you updated about what's happening in the investment world.
Besides all this, eToro encourages its users to be knowledgeable about what they are trading. Through its eToro Trading Academy, you can learn all about trading forex and CFDs.
The Academy offers an e-course, trading tips, guides, podcasts, videos, webinars, and a dedicated education center to help gain more knowledge about trading and investing in both stock and cryptocurrency markets.
eToro Plus meanwhile provides daily, weekly, and quarterly in-depth analysis of the markets. This section caters to both beginners as well as advanced users.
Loyal Customers Get Rewarded at eToro
The company has also employed account managers for its most loyal customers.
These account managers look after the most active traders, those with $5,000 or above in equity on the platform, to enhance their experience at eToro.
Overall, eToro has received positive customer feedback, with its Trustpilot score of 4.1 out of five stars across 13,000+ reviewers.
The app store ratings of eToro are just as impressive, with 4.7 stars on the Apple Store and 4.0 stars on the Google Play Store.
---
Final Word

eToro is a global social trading platform that has something for each kind of investor and trader. Its free demo account is surely a great way to start your investing journey.
This platform allows you to trade US stocks with zero commission on its easy-to-use website. Its mobile apps meanwhile make it easy to trade stocks, fractional shares, currencies, commodities, as well as crypto, all from a single account and from anywhere.
Not only does eToro have a wide range of stocks for you to trade, but they also have tons of crypto assets from different categories for a more enriching experience.
At the same time, eToro offers news, analysis, guides, videos, tutorials, and other educational tools for its users so that you know what's going on in the market and can do better with your trading and investing.
While there are spread fees, currency exchange margin and overnight fees involved may put off some. Overall, eToro has features that appeal to most investors.
---
eToro Review FAQs
How Does eToro Work?
To get started on eToro, you'll have to first open an account. It's free and easy to create an eToro account which will require your full name, email address, and phone number.
Then, you have to create a username and password and provide your ID documents and your tax file number.
To start trading, you'll need to deposit a minimum of $50 in your eToro account using your credit card, bank transfer, PayPal, or money transfer service.
Once your deposit is confirmed, you can start buying stocks and crypto. The minimum trade size and minimum additional deposit are $50.
How Long Do eToro Withdrawals Take?
As you've already read in this eToro review, you can withdraw your funds from eToro at any time. The minimum amount you can withdraw is $30, and the withdrawal fee is $5.
The time it takes to receive your funds, however, depends on the payment method you used.
For example, if you are using eToro Money, withdrawals will be instant, but credit or debit cards and bank transfers can take up to 10 business days.
Other payment methods like PayPal and money transfer services like Skrill, Neteller, and Trustly can take up to 2 business days.
Is eToro a Good Trading Platform for Australians?
eToro is a reputable and secure online trading platform for Australians to invest in stocks, currencies, commodities, ETFs, and crypto.
It is regulated by the Australian Securities and Investments Commission (ASIC). eToro AUS Capital Pty Ltd is the holder of an Australian Financial Services License (AFSL) issued by the ASIC.
It's free to create a new eToro account with zero management fees charged on any trade or investments.
Trades on eToro Australia, however, are conducted in USD, so Australian users will have to pay a small currency conversion fee (50 pips).