Disclosure: Aussie Hosting is community-run. We sometimes earn a commission when you buy hosting through our links. Learn more.
30+ Amazing WordPress Statistics
With more than one-third of all websites powered by WordPress (WP), there's no doubt that it's the most popular and widely used content management system around.[1]
It's the CMS behind more websites than the next two platforms combined. According to Keyword.com, "WordPress" is Googled 34 million times per month.
But, that figure is just the tip of the iceberg when it comes to WP usage, both good and bad. It's best known as a blogging platform.
The majority of websites on the platform are eCommerce storefronts, a large portion of which belong to Fortune 500 companies like Fortune.com, CNN, and the New York Post or tech giants like Microsoft and Facebook News.
It's even the platform behind Whitehouse.gov and Sweden's official government website.[2]
Whether you're considering WP for the first time or you're just curious about who is using the platform and how they're using it, we've got the numbers and the stories behind them.
---
What Makes WordPress Such a Great Web Page Builder?
That header alone might cause some controversy. There's a raging debate on the internet about whether it's actually a page builder or simply the best platform for managing content creation and publication.
The short answer is that it's both.
It's a CMS with a wide range powerful page building themes and plugins like Beaver Builder and Divi.
Versions 5.0 and up also have a built-in default editor called Gutenberg that more closely resembles the drag-and-drop functionality of traditional website builders than its old word editing platform, which resembles MS Word.
All plugins and themes must support Gutenberg, so there are no worries about compatibility.
Where WordPress differs from many website and page builders is that other platforms provide hosting, but they don't allow you to choose your own unique domain name, and you don't actually own the content you create.
If you want to migrate to another hosting platform, it's unlikely that your can bring any of the content on your website with you. You won't have that issue with WordPress.
Two Different Versions of WordPress
WordPress has two versions, wordpress.com and wordpress.org. The dot com version is a self-hosted platform that gives you a free basic website, but it can run up to $5,000 per year for an enterprise solution; that also leaves you with the problem of content ownership and lack of a unique domain name.
Wordpress.org is completely free to use. All you have to do is select and register a domain name and find a hosting solution that supports WP technology.
Although WordPress may seem a little intimidating at first if you're not tech savvy, it has a pretty shallow learning curve. The coding is built into the add-ons and themes, but experienced coders can alter and customize any code to their specifications.
On the other hand, novices can quickly learn how to customize WordPress without any coding knowledge and build a quality website. This makes it a great platform for novices and tech experts alike.
Plugins and Themes
One of the best things about WordPress is the technology and frameworks that support the CMS and add to website functionality. We're talking about the much-lauded, and sometimes derided, WP plugins and Themes.
Because WordPress is an open source platform, there are hundreds of free themes and plugins available to install right from the WordPress website.
In fact, there are currently 55,094 plugins in the WP library. Developers around the world have also created premiums plugin and themes for almost every feature, purpose, and preference.
What do they do?
Themes are front-end frameworks that are installed over the WP back-end code. Themes come with built-in modules and page building features that determine the layout and appearance of your WP website.
Abundance of Free and Premium Themes
There are themes that are created to build websites for specific industries like real estate, journalism, and digital commerce, and you can use one of the hundreds of free themes from the website or buy custom, premium themes from companies like Theme Forest, which has more than 11,000 WP themes available.
Percent of WordPress website owners use premium themes, and the average cost of a license for a premium theme is $40.[3][4]
When you purchase themes from a reputable developer, you have the advantage of developer support, upgrades, and security patches. You don't have to worry about scalability with themes, either. They can be scaled up or down as your business grows without paying more like you would with website builders.
You don't have as much to worry about with free themes as long as you download them from the WordPress website.
Those are extensively tested and reviewed to support quality CSS and HTML coding and checked for security and privacy standards. Just make sure you keep them updated and remove old themes or plugins you're no longer using.
Plugins are add-ons that give your WordPress websites functionality. These are also divided between thousands of free, third-party plugins and premium add-ons. Whatever function or feature you need to improve user experience, there's at least a dozen plugins or widgets to match.
These range from plugins that manage email to those that bolster security and everything in between. You can even install a Google Analytics plugin and integrate your Google ID with your admin dashboard.
Now that you have a little background about what WordPress is and what it does, let's look at some more stats behind platform.
WordPress Usage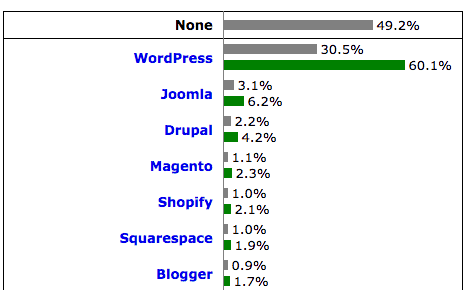 The statistics about the percentage of websites powered by WordPress doesn't tell the story about just how widespread it is globally. These points include both global and specific facts and stats about WordPress usage.
It's estimated that WordPress is the force behind 59.9 percent of all content management systems.[5]
The CMS is available in 162 different languages localities around the world.[6]
71 percent of all WordPress blogs are in English; the next most common language is Spanish, with 4.7 percent of the market.[7]
In 2014, downloads of non-English versions of WordPress passed those of English language versions for the first time.[8]
It's the most popular website building platform in India, reaping 47 percent of CMS market share.[9]
Nearly 3,000 of the top 10,000 websites are managed by WordPress. [10]
In 2016 alone, there were nearly 117,913,148,357 words published on WP blogs. Hosting Tribunal
17 new posts are added to a WP website every second. [11]
805 new WP websites are launched every day.[12]
WordPress Community and Support
Are you worried about lack of support with a free, open source platform? These statistics should put your mind at ease.
WordPress has no CEO; it's entirely run by volunteers from the open source community.[13]
The founders of WordPress, Matt Mullenweg and Mike Little, created the platform in 2003 as a B2B cafelog. He formed a non-profit called the WordPress Foundation to protect the open source project and ensure that it always remains free.[14]
There are 175 in the United States and more than 185 WordCamps outside the US. [15][16]
Currently, you can find 840 MeetUp groups with a total of 511,000 active members and growing.
WordPress is known for its dedicated community of developers and users. At last count, there were more than 2,030,000+ open topics on the WP forum.
There are 70 developers in the core WP development team, and they've written more than 430,000 lines of code to create the platform's core.
Many developers contributing to the growth of WP are volunteers, but the average salary for a WP developer is $49,185 a year.
WordPress Growth
Not only does WP support business growth, the platform itself is growing and evolving every day. Here are some facts to back that up.
The latest version of WordPress is 5.2. It's called Jaco, and it has been downloaded 27,360,583 times, 300 since I typed this sentence. You can watch the download counter in real time here.
Among the Alexa Top 1 million websites, there are 74 versions of WP running them.
Pro Tip: Only 27.9 percent of users have the latest version of WordPress installed. Make sure to upgrade or install the most current WP version. It includes the new default editor, and it's less vulnerable to hacking.
Social Media Engagement
One of the most basic ways to increase your website traffic and overall web presence is through social media. WordPress can help in the area of social engagement as well.
WordPress Plugins and Themes
The limits of your WP website functionality are restricted only by the plugins you install. Here are some stats about plugin development and usage.
The top WP plugin is the All-in-One SEO pack, with more than 25 active versions and 13 million downloads. Rounding out the top 5 are Akismet, Google XML Sitemaps, Contact Form 7, and NextGEN Gallery. Hosting Tribunal; Akismet and Contact form 7 are both free.
One of the most popular premium plugins is Visual Composer, with more than 2,300 units sold each week.
Akismet is the most downloaded plugin of all time, with more than 82 million downloads.
Other top free plugins are Yoast SEO and JetPack, which is the basic starter kit for WP beginners. They have more than 5 million downloads each.
Akismet Anti-Spam has blocked more than one trillion spam comments and stopped more than 23 billion hacking attempts. Hosting Tribunal
WordFence blocked more than 4,952,346,301 attacks on WP websites in March, 2019 alone. It repels 90,000 attacks every 60 seconds.
The WooCommerce plugin powers 23 percent of all eCommerce websites, and it has been downloaded more than 30 million times.
The most popular page builder plugin is Elementor, with about 430,000 downloads per week.
There's a new WP default theme released annually.
There are nearly 6,000 free themes in the WP directory.
The top two free themes are Divi and Genesis, with 10 percent of total WP websites each.
The top premium theme of all time is Avada by Theme Forest; it has more than 450,000 purchases.
Pro Tip: One of the biggest vulnerabilities for WP websites is using outdated plugins and themes. Upgrade your plugins, make sure to install security patches immediately, and completely uninstall old, obsolete, unused, and unsupported plugins. Disabling them doesn't make them any safer.
Pro Tip: Only use plugins from reputable developers that have been tested and reviewed.
WordPress Security
Even if you're not engaged in eCommerce, online security is still important. These are the numbers behind WP website security, good and bad.
Pro Tip: Never use the default password on any platform.
---
Choosing a WordPress Hosting Platform
The popularity of WordPress rests not just in it's scalability and versatility, but in the fact that it's free and easy to integrate into a range of environments. The only costs incurred with using WP are theme and plugin purchases, domain registration, and hosting. This can run as little as $50 per year, total.[30]
Many hosting packages will give you domain registration as part of the service, and they'll even throw in domain-specific email addresses. If you only have one website, choosing the same host and domain registrar should be sufficient. But, if you're running a high-volume website or multiple domains, it might be better to keep the registrar and hosting platform separate.
When looking for the best hosting solution for your WP website, take the following into consideration:
Minimum requirements. Any hosting platform should support minimum WP requirements of PHP version 7.3 or higher, MySQL version 5.6 or higher or MariaDB version 10.1 and up, and have HTML support.
Scalability. You want the maximum possible speed and bandwidth available, and that other resources are sufficient for your type of website, expected traffic, and growth.
Support. Customer support should be accessible 24/7 through a variety of methods.
Uptime. Many hosting services guarantee a certain percentage of uptime; 99+ percent is standard, but make sure you get this guarantee in writing.
If you're running your website from a computer with a Linux OS, it's compatible with PHP and MySQL. Hosting platforms that support Windows OS are compatible with ASP, .NET, Microsoft Access, and Microsoft SQL (MSSQL).