Disclosure: Aussie Hosting is community-run. We sometimes earn a commission when you buy hosting through our links. Learn more.
How to Create a Website Free of Cost Explained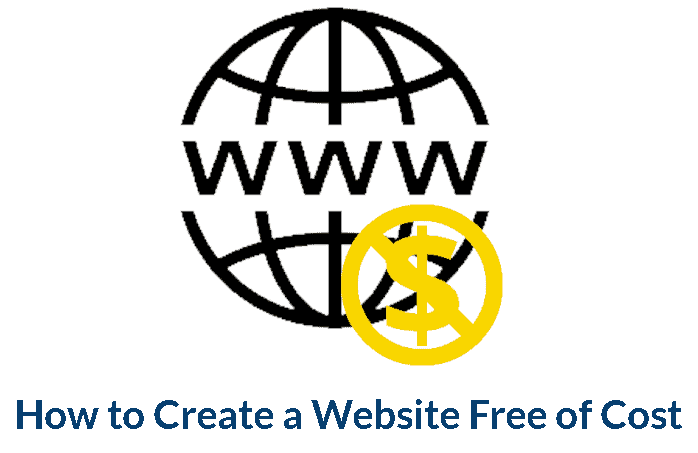 Starting a website, whether for business or personal use, is becoming more popular every day. More so, it's essentially necessary.
Whether you're a professional, student, entrepreneur, or small business owner, having an online presence is crucial to future success.
Unfortunately, many people have the idea that starting a website is expensive. While it's true that you can pay thousands of dollars for a website, you don't have to. Instead, you can create a website free of cost, and this guide will show you how to do just that.

Table of Contents:
#1 How Can a Website be Free?
---
Websites will never be free—at least in terms of the complete picture. If you're creating a website as a beginner, you're likely going to use the services of a company. This company then uses resources, such as electricity, hardware, and software, that they must pay. Considering that they must pay for these resources, they need income streams to cover the costs and deliver profit.
There are several free hosting options that don't explicitly charge you to use their services. However, like mentioned before, they must get money from you and their users to keep running their business.
Companies that offer free services will cover their expenses and earn profit through several means. First, many of these companies will monitor your website to sell that information to other companies. Additionally, they will have their own advertisements on your website which nets them more money. Lastly, after some time, they'll likely convince you to upgrade from a free tier to a premium tier which is likely to cost you more money than if you found an economical solution from the start. 
#2 Is a Free Website Right for Me?
---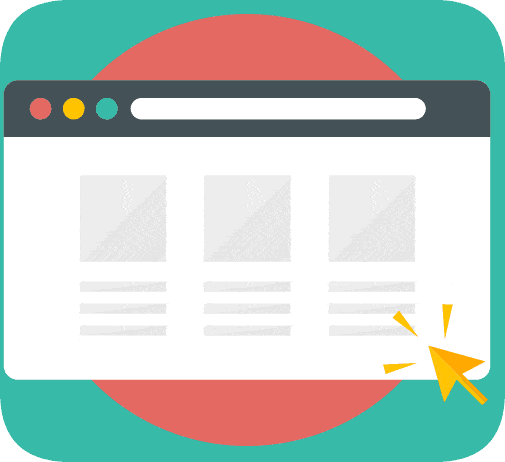 There's a good reason why people pay well for a custom-built website— they want and need a professionally designed and developed site to show their audience what they're all about.
If you're a business without design or development skills and who is looking to establish yourself online, a free website may not be for you.
It would be a better investment to pay a professional. On the other hand, if you're an individual starting a blog, portfolio, or even a startup business website, creating a free website may be the right option for you. Tools called website builders allow users who have no coding knowledge to make a website in just a few steps.
Some of the best website builders offer free tiers to beginners which include plenty of built-in themes, plugins, and support services. Although website builders facilitate the process, they do not come without challenges.
Anyone who wants to make a website free of charge must understand the time, effort, and patience it requires. Many beginners may want to take some time to learn about the basics of web design. With the fundamentals down, you'll be able to create an attractive website free of charge thanks to platforms like Shopify and Wix.
A related yet different option is to use a content management system like WordPress. This well-known platform is a website builder plus more. WordPress users can take advantage of website building functionality while also retaining significantly more customizability compared to traditional builders like Wix.
If you're going the route of a CMS, you must be aware of the learning curve. Content management systems are inherently more complex, so it requires more time and effort to create and publish a well-designed website. If you choose to go the route of a CMS, it helps to understand basic HTML and design principles. To make a professional site with custom functionality, you'll need experience coding websites.
#3 Choose Your Website Builder or CMS
---
Deciding between using a CMS or a website builder should be straightforward. Are you interested in the complexity of website development, or do you want to get your site running with as little technical input as possible? The easiest way to get your free website published is to use one of the two website builders below. Alternatively, WordPress, a CMS, is better for those who want more control over their website.
Wix 🤖
Wix is likely the most well-known website builder today. It's well-liked for its easy-to-use interface and abundance of web templates. For those who want to create a free website with Wix, you'll have to be okay with having a domain name that includes Wix in it. Furthermore, your website will have advertisements for Wix.
When creating your website with Wix, beginners benefit from having an easy drag and drop feature. That means you can select elements to add to your site and place them in select locations within a grid. This grid system can be seen as an advantage or a disadvantage for users as it makes the development easier, but it also limits the freedom in design.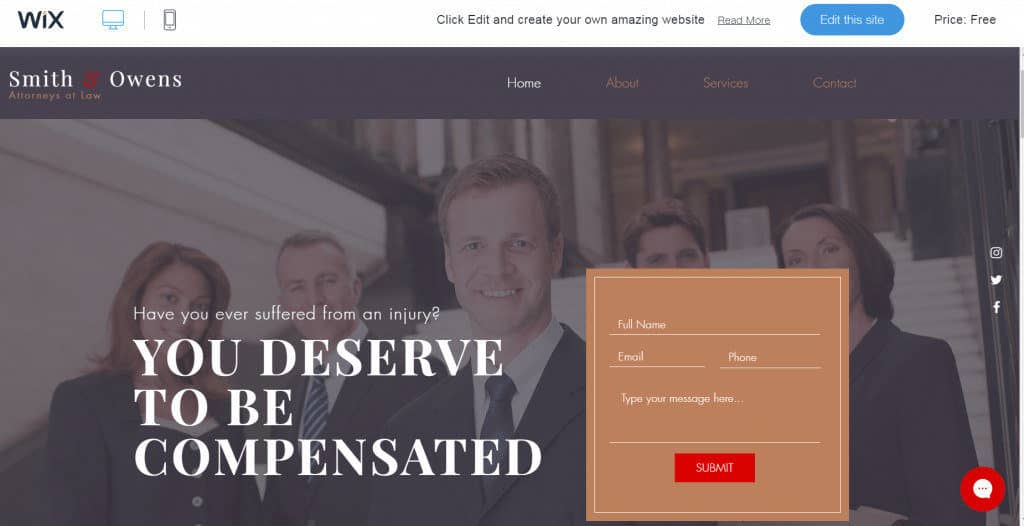 Another option for designing a site with Wix is to take advantage of their Artificial Design Intelligence tool, called Wix ADI. By answering various questions about your site and uploading some content, this tool will design and create a complete website for you.
The free tier serves well as a blog or a general business site as you can add all the content and media necessary for your audience.  However, if you wish to create an eCommerce store, you won't be able to accept payments through your site with the free tier. For that, you'll need to pay a monthly fee.
Try Wix today and see why it's the preferred website builder for millions of site owners.
Weebly 💻
Another well-established website builder, Weebly is fairly similar to Wix regarding its user-friendly nature. It can even be argued that Weebly may be easier than Wix to get a site up and running. Once you sign up for your free account, you can get a website completed and published in just minutes—although, it may be a bit bare bones.
The platform offers numerous attractive designs that can be tailored to mobile or web applications. It uses a drag and drop feature to ease the process of adding elements to your pages. Additionally, users can create as many web pages as they want on their site. This allows users to create a complex yet free website.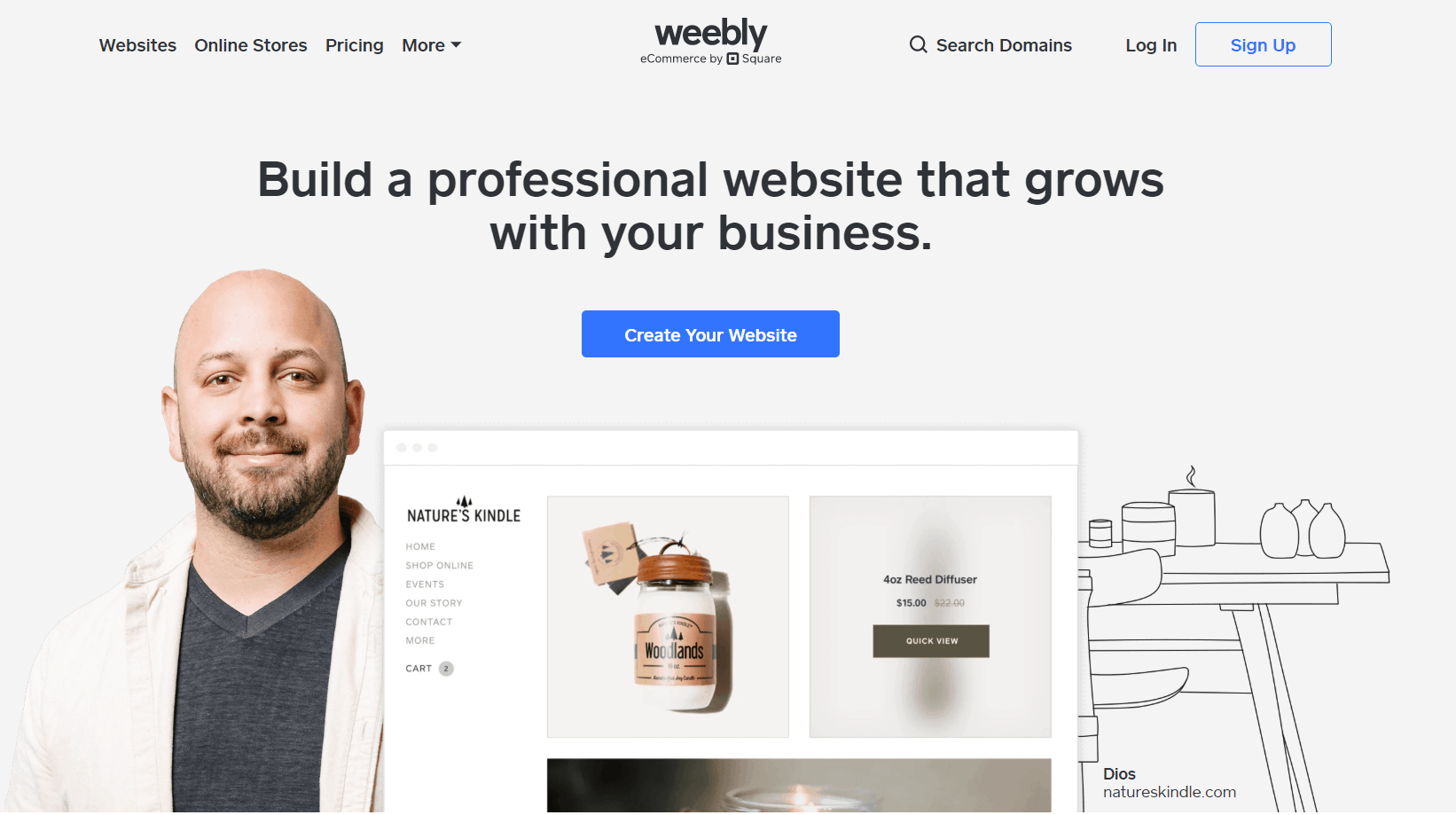 Weebly is a great platform for those who are just getting started in creating websites. However, the platform does lack some free features like the ability to embed audio into web pages. With that in mind, Weebly does allow free tier users to easily upgrade to premium features whenever they wish.
Check out Weebly today to see some creative themes and professionally designed websites.
WordPress 🖥️
As the only true content management system on the list, WordPress is unique to the website builders above. First of all, there are two options to use WordPress, although only one method is truly free. WordPress.com allows users to create an account and host their website directly through the site. This means your domain name will include WordPress in the URL, similar to Wix.
The free tier through WordPress.com provides users with select themes and sufficient customizability for beginners. Users can create their website, add pages, media, and content. It's a great method to create a basic business website or a blog. However, if you want to use WordPress for a more functional and professional website, you'll have to use WordPress.org which requires paying for your own hosting and likely domain name.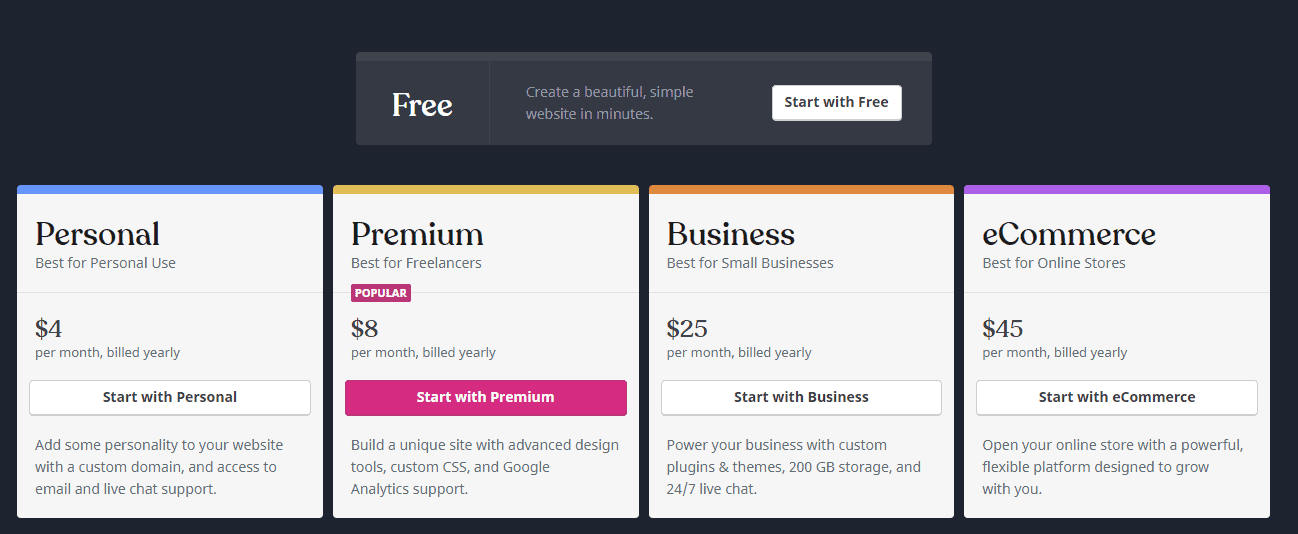 All in all, WordPress is a great option for those who want to create a blog with the most popular CMS available. Check out what WordPress.com offers users for free today.
#4 Customize Your Website
---
Once you've chosen your preferred platform to create and host your website, all you need to do is sign up and get started. The process for creating a website will be relatively similar regardless of your chosen platform.
The first thing to do is select your desired theme. You will likely have several options to choose from, so you need to take your time to explore the options and look at the sites that have been created with each theme. You'll find some of the themes are better for blogs whereas others are better for portfolio websites or professional websites.
Choose a Theme 🖼️
Upon choosing a theme, you'll be able to customize it to your liking. Depending on the theme and platform you're using, you can change the default colors, edit elements, and select your preferred font.
Alternatively, on each platform, you should be able to start with a blank canvas to fully customize your website. If you already have an idea of what you want your site to include, this may be the best route to complete your design. For example, you'll be able to create elements like navigation bars, sidebars, text boxes, and more.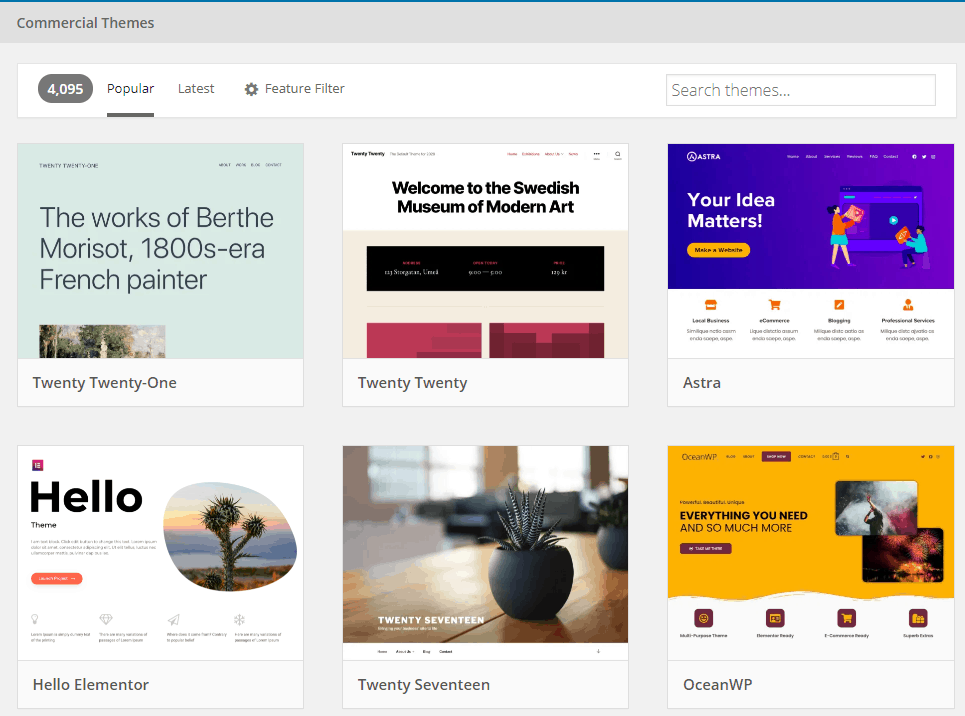 Once you've got the basic layout of your pages finalized, all you need to do is start adding content. You can upload already written blogs to create new pages, add copy for your basic home and about pages, and strategically place images to improve the site's look.
For any beginner creating a website, it's a good idea to look at your competitor's sites to see how they design their web pages. If you're creating a blog to cover new technology products, look at other blogs to see what their homepage and individual blog pages look like.
Be careful not to copy anything explicitly, but you can take ideas from various competitor sites. For example, look to see how new blogs are advertised on the main page, what's included in navigation bars, and so on.
With time and experience, you'll learn what looks good and functions well on your site, and you'll always be able to make changes.
#5 Alternatives to Free Websites
---
If you are not satisfied with what free options can provide you can always turn your attention to paid options. Some features you can only get with alternatives or upgraded features.
Premium Tiers from Website Builders 💰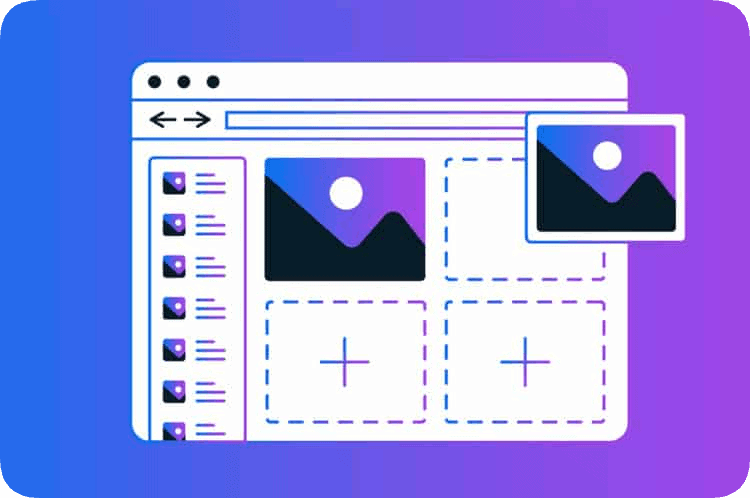 After reading all about creating free websites, you may find that your best option is to pay for services.
While it's entirely possible to create a free website that continually grows and maintains a loyal audience, your website will be limited in its functionality. You won't be able to place your own ads, sell products, or have a fully custom domain name.
Additionally, you may find that after creating a free website, you prefer paid services. Many people like to start with a free site simply to get their feet wet, and later, they upgrade their services. Depending on the platform of your choosing, upgrades can improve the design, functionality, and overall purpose of your site.
For example, some website owners choose to create a free site to build their online presence and audience, and later, they transition to a paid tier to start an eCommerce website.
With a paid tier, website owners can sell products seamlessly, use advanced data analytics to track their website's performance, and even offer paid online services to their audience.
Content Management Systems 👔
Like upgrading to premium features on a platform like Wix, many people find that WordPress.com doesn't provide all the services they want. Instead, WordPress users may decide to pay for the premium features WordPress.org offers is better than a completely free website.
By starting a free site on WordPress, beginners can learn about the web development and design world before fully getting involved. From there, users will transfer their website to a different hosting platform and sign up for one of the paid tiers offered by WordPress.org.
Before you can make the switch from WordPress.com to WordPress.org, you need to find a hosting service and a domain name. Once you've made the transition, you can take advantage of the plugins and other services.
Creating a free website is entirely possible and arguably easy-going. Depending on how interested you are in diving into web development and design, you can spend hours or weeks creating a free website.
Regardless of your skill or comfort level with website design, you have several options to choose from, and the best option for you is what you're comfortable with. To select the right website builder or content management system, you should visit the sites of each and see which is easiest for you. Alternatively, consider a low-cost website that offers more potential for growth.
You Might Also Like: