Disclosure: Aussie Hosting is community-run. We sometimes earn a commission when you buy hosting through our links. Learn more.
Understanding Datacenter Locations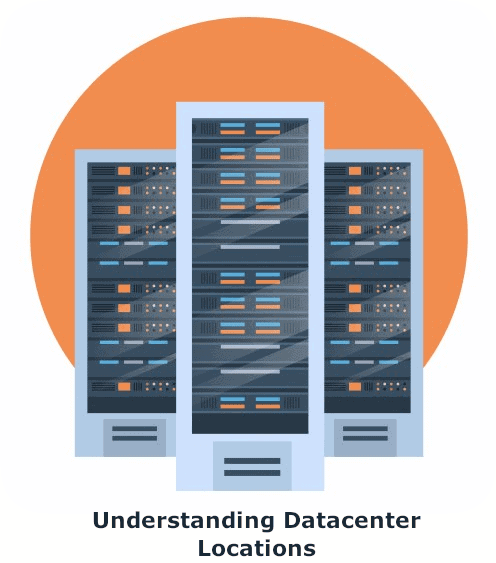 How many websites are there in the world? Would you be surprised to learn that there are a little more than a billion websites? This means that there is one website for every eight people.
Of course, this does not mean that all of these websites are active. It's estimated that only around 200 million of them are actively being used. Among these are hundreds of millions of existing host names.
If there are hundreds of millions of websites, they all need a hosting provider. It is estimated that there are currently hundreds and, depending on who you ask, thousands of hosting providers and servers all over the planet.
Small business owners and individuals who have their own websites have been using these hosting providers for years. For these individuals, the hassle of setting up their own hosting is not worth it. Off-site hosting is where it is at for them.
The situation is different with larger companies. Many larger companies have decided to keep their website's servers on site.
Or they may use private data centers. Many are migrating their computing to the cloud. This has led to an explosion in the amount of data centers that there are around the world. Each new data center is larger than the one that preceded it.
There are currently close to 500 hyperscale data centers around the world. These include data centers used by Facebook, Amazon, Google, Alibaba, and Baidu.
In addition, there are data centers of varying sizes in excess of 8.6 million.
At the time of this writing, large data centers account for more than 70 percent of the service provider data center construction when it comes to space around the world.
These data centers have a massive impact on the lives of everyday people. For this reason, it is understandable that many have asked where these large data centers are located.
---
Where Are the World's Large Data Centers Located?
It can be difficult to compare the size of different data centers around the world. This is because some data centers are just buildings that have a ton of servers in them. Others have amenities, including convention spaces, offices, and even living spaces.
When you keep up with the news on data centers, it seems that every single month there is a new project that's being announced.
It seems like companies are in a competition to outdo each other by creating data centers that are bigger and better than those that came before them. When you look at data centers laid out on a map, you clearly see just how much effort and financial resources are being invested in their creation.
---
Competing to Be the Biggest
When you look at the plans for some of the data centers that are going to come online in the next few years, you cannot help but be impressed by how these new centers will dwarf the mega centers that have been built over the last few years.
There was a time when facilities like The Lakeside Technology Center located in Chicago, Illinois or the Switch's SUPERNAP facility in Las Vegas were considered to be the largest data centers in the world, each of them having around 1,000,000 ft.².
There closest competitors were data centers that had somewhere between 400,000 ft.² and 600,000 ft.². Let's not kid ourselves, when these data centers opened, they were considered behemoths as well. How things have changed.
Now, a data center that has 1,000,000 ft.² is barely a blip on the map. Data center projects that are currently being constructed involve multi-building campuses with millions of square footage. They have been designed with flexibility in mind. The goal is to be able to continue to grow the data center based on the current demand.
Just think about the China Telecom Data Centre. The center is located in the Inner Mongolia Information Park. At the time of this writing, this is the largest data center into the world.
It covers an impressive 10,700,000 ft.². It is home to a computer dating center, call centers, offices, living quarters for the staff, and warehouses. This is an expensive data center. It is thought to have cost more than $3 billion to construct. So take that Lakeside Technology Center.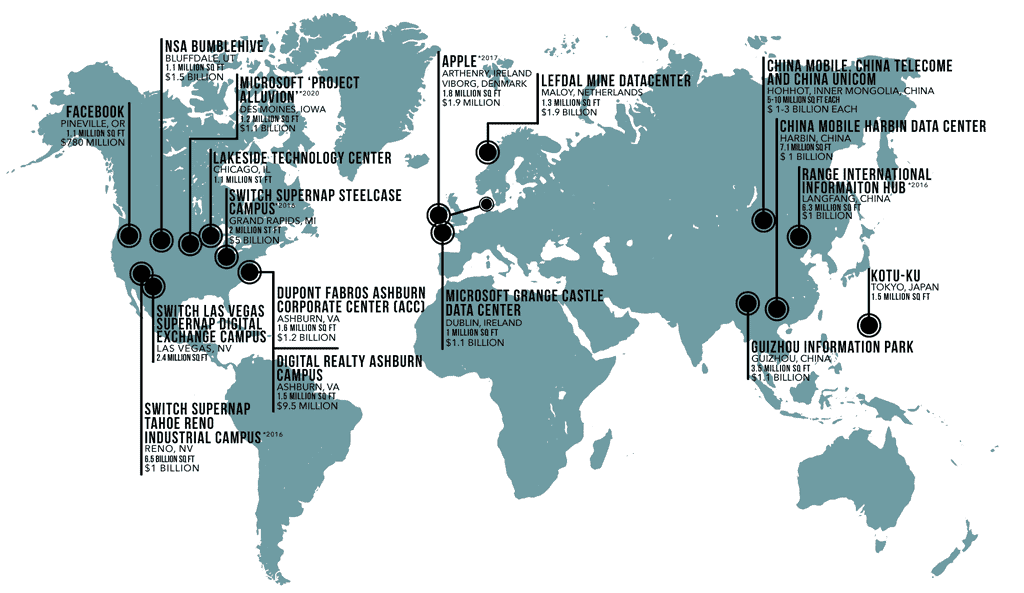 ---
The World's Data Center Vortex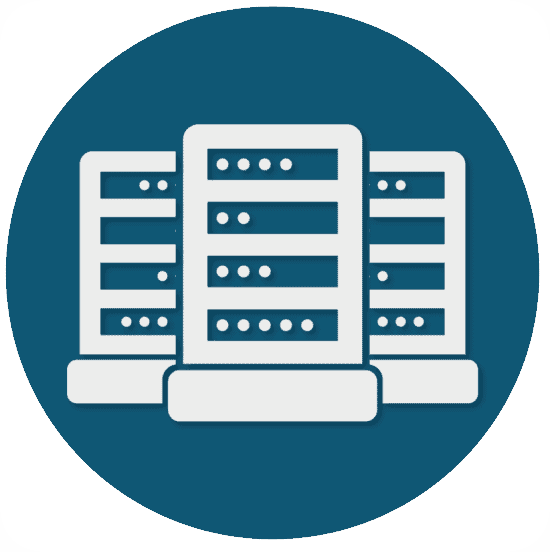 Data center alley in Loudoun County, VA is considered to be a Data Ctr., Vortex.
There are a number of factors that have contributed to this, including the infrastructure in the area, the location of the area, and incentives that have been laid out by government officials.
Discussing the relevance of their county, the Loudoun Office of Economic Development stated that upwards of 70 percent of the Internet traffic around the world flows through Loudoun's data centers on a daily basis.
When you first hear this, it might sound a bit exaggerated until you realize that hyper mega data consumers, including Facebook, Amazon, and Microsoft, all own or rent real estate in that zone. In addition to these behemoths, there are 3,000 other tech companies renting or owning space in that area.
The DuPont Fabros Ashburn Corporate Center as well as the Digital Realty Ashburn Campus are a couple of the large facilities that a call Loudoun County home. There are more than 60 facilities in the area, taking up millions of square feet of space. That number is growing on a daily basis.
Something similar is happening in Inner Mongolia. China is taking advantage of the cool weather, ample rainfall, and other unique properties of that area to create mega centers that are millions of square feet large.
Of course, as with the China Telecom Data Centre mentioned earlier, not all of the space in these data centers is used for servers.
Some of the space is used for housing, offices, cold storage, business services, and just about anything else computers can do. China is in second place, but it has a long way to go before it comes close to the United States.
The United States currently hosts half of the world's 100,000 most visited websites. China and Germany each host around 5,000 of the top sites.
Phoenix, Arizona is the most popular city for the most popular websites. One reason for this is the fact that web hosting giant GoDaddy, along with Cyrus One and Digital Realty Trust, make their home in Phoenix, Arizona.
---
It's All about the Location
Large data centers are expensive to build and expensive to maintain. They generate a lot of energy and heat, so they need complicated cooling systems as well as complicated network systems. Many data centers use the same amount of power that a mid size city needs.
Obviously, because of the large amounts of secure data these data centers hold, they need to be secure and reliable.
At the same time, they must be flexible enough to change with the needs of their customers. In selecting the right location for a large data center, companies need to consider the cost of electricity, how much land will cost, and how far their data will need to travel to get where it needs to go.
When thinking about data transfer speeds and the location of a data center, companies need to consider the users who they are going to be servicing.
Who Is in Need of Great Data Transfer Speed?
For example, the New York Stock Exchange requires data transfer speeds in sub milliseconds. In order to provide this service, the data center needs to be as close as possible to the individuals who it is servicing. In the case of the New York Stock Exchange, it needs to be within 50 miles.
Normal people don't require data transfer speeds anywhere near this fast. Most people do well with data transfer speeds measured by fractions of seconds.
For example, when talking about the Switch's Supernap facility in Las Vegas, we are talking about a facility that is 270 miles away from Las Vegas. Data is able to transfer from the data center to Las Vegas in seven ms.
Facebook has taken a novel approach by building a data center at the edge of the Arctic Circle by Northern Sweden.
This location allows Facebook to take advantage of hydroelectric generators to power their servers. They are able to use the Arctic air to cool their servers. This makes Facebook's server in the Arctic Circle energy-efficient.
Other data center developers are following suit. They're looking for ways to use green energy to reduce the impact of their data centers on the environment while at the same time lowering the cost of running them.
---
The Meteoric Growth of the Internet
If you read at an average speed, from the time you started reading this article until now, more than 1,200 websites have been created.
This underscores the large impact the World Wide Web is having. Soon, data centers that have 2,000,000 ft.² will not be included in the world's largest data centers.
We will likely see more emphasis placed on Infrastructure As a Service, as well as Platform As a Service. These two technologies, coupled with Software as a Service, are making data centers the lifeblood of business.
The gig market is also playing a large role in this. There are so many people who are making money off of the Internet. Now it is more important than ever for you to be able to identify the best website host, learn about how their infrastructure works, and make sure that they are measuring up to your needs.