Disclosure: Aussie Hosting is community run. We sometimes earn a commission when you buy hosting through our links. Learn more.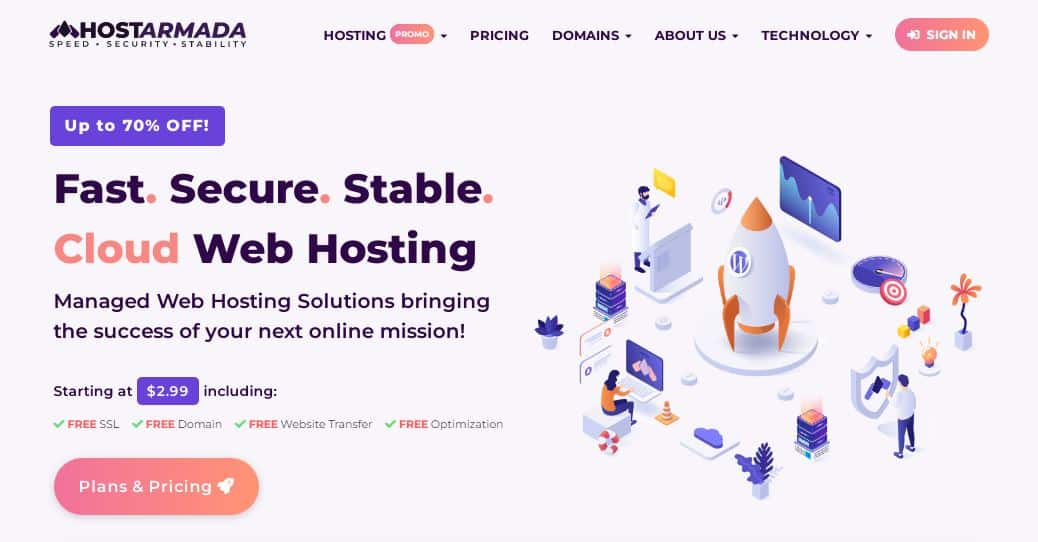 ---
HostArmada has brought the technology, features, and performance necessary to shake the industry since launching in 2019. The company commits to offering reliable, secure, and fast web hosting services. What's more, HostArmada holds customer satisfaction high and thereby provides unmatched guarantees such as no cancellation fees, 99.9% uptime, and a 45-day money-back guarantee on all plans.
Check out the full review of HostArmada and its hosting services below.
---
Pros
Free SSL certificates on all websites
Data centres located around the globe
Custom dashboard built with cPanel
Free website migration
45-day money-back guarantee
24/7/365 customer support
Cons
Renewal prices are triple the original price
Features
HostArmada offers several types of hosting services that are priced depending on the features each client needs. Most services offer three different tiers that come with varying amounts of storage, domain, bandwidth, and website transfers. The following features are what all clients receive regardless of the plan.
Free domain name
15 GB of SSD storage
2 cores CPU
2 GB RAM
7 daily backups
Malware support
Network and WAF firewall
MySQL databases
Website transfer
SSL certificates on supported domains
Unlimited email accounts
Softaculous one-click application installation
Live server monitoring
cPanel
Customer support is available 24/7/365
For services such as dedicated CPU or VPS hosting, the features will be quite different. However, clients can expect to receive all the above features regardless of the tier of service they choose. Clients who have websites that need more resources such as more storage and support for unlimited websites will find the higher tiers of hosting services better suited to their needs.
Key Insights
Uptime
HostArmada guarantees all its hosting services with 99.9% uptime. While it's easy for hosting companies to claim such impressive uptime scores, it's another matter to back it up. Website monitoring tests have shown that HostArmada does live up to the uptime guarantee. In the chance that websites do experience issues, the company has technical staff monitoring the company's servers 24/7/365.
Speed
Page load speeds are one of the most important factors that determine the success of an online business. HostArmada markets itself as not only a reliable website for server uptime but also as a highly performative hosting provider. The company's hosting services use servers that are optimised for fast speeds and lead to a quality user experience regarding page loading speed. What's more, HostArmada has data centres in Australia, North America, Asia, and Europe for optimal speeds.
Ease of Use
Website owners know that ease of use and user experience is crucial for any technology product, including hosting services. HostArmada offers a customised cPanel control panel that makes being a website owner easy.

The cPanel allows website owners to quickly find important site information such as visitor metrics, statistics, and more.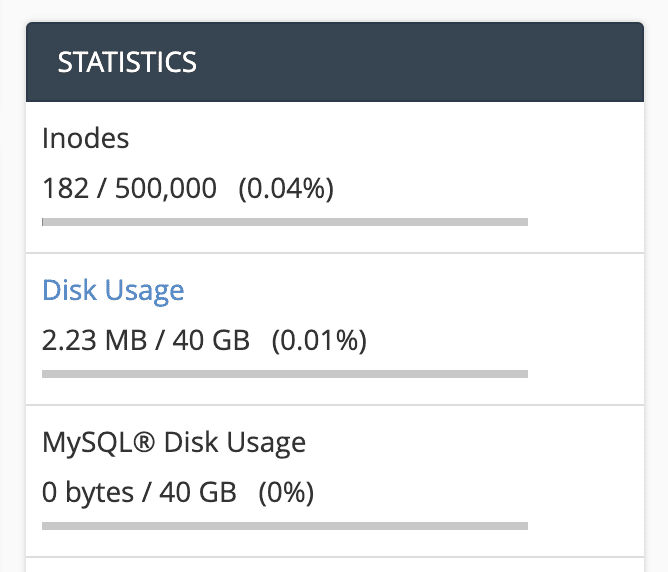 Plus, through the cPanel clients can see all their installed applications and install any new applications they need through the Softaculous app installer.

Security
To be a serious competitor in the web hosting industry, a company must offer top-class security as website owners need to guarantee the safety and security of their applications and websites. HostArmada offers numerous security features to ensure its clients receive the protection they need. All hosting plans come with SSL certificates, network and WAF firewalls, daily website backups, malware protection services, and live server monitoring.
Customer Support
HostArmada has staff monitoring its servers around the clock and a customer support team at the ready 24/7/365 to handle a wide range of issues. From assistance with website migrations to consultation for optimising websites to help with a client's account, the customer support team is available. What's more, clients can get help from customer support staff through various channels such as phone, email, live chat, and a ticketing system. In addition to direct contact with support staff, HostArmada also has countless educational resources. Customers have access to a knowledge base full of articles and guides and tutorials that cover basic workflows and solutions to common problems.
Pricing
HostArmada offers various types of hosting services such as basic shared hosting or dedicated hosting that range widely in price. The company offers different plans for each type of service that include various features and increasing amounts of storage and websites supported. On top of all that, HostArmada also offers several billing cycles such as annual, biannual, triennial, and monthly. The downfall of HostArmada's pricing is that renewal prices are much more expensive than initial sign-up fees. Further details on prices are covered below.
Hosting Services
Cloud Shared Hosting
HostArmada has created its Cloud Shared Hosting plans for website owners who don't need their own server or the highest-performing services. Cloud Shared Hosting plans are general shared hosting plans that are the most used hosting services used by new website owners. HostArmada's introductory plan includes support for one website, 15 GB of storage, and 2 GB of RAM. Premium tiers improve the features to unlimited websites, 40 GB of storage, and 6 GB of RAM.
The intro Cloud Shared Hosting plan starts at $2.99 per month, whereas the premium tier costs $5.39 per month when paid triennially. Respectively, the plans cost $3.89 per month and $6.29 for the basic and advanced plans when billed monthly.
Cloud WordPress Hosting
Cloud WordPress Hosting is a shared hosting plan HostArmada created specifically for clients who have a WordPress website or who want to start a new WordPress website. WordPress-hosted websites have features such as daily backups, free SSL certificates, a customised cPanel, website migration support, and one-click application installation with Softaculous. The SSD storage, RAM, and the number of websites supported follow the same model as the previously discussed Cloud Shared Hosting plans.
In addition to all the above, Cloud WordPress plans include managed services from the HostArmada team. As WordPress is known to be finicky with tasks such as plugin integration and updates, HostArmada's team can help. The prices for Cloud WordPress plans are the same as the Cloud Shared Hosting plans as well.
Cloud Reseller Hosting
Cloud Reseller Hosting is HostArmada's plan for clients who are interested in creating their own hosting business. The white-label hosting plan allows clients to sell HostArmada's services under a unique name to build up their own brand identity. HostArmada provides various tiers of services which include all the standard features of the company's other hosting services such as SSL certificates, daily backups, malware protection, and more.
HostArmada's Cloud Reseller Hosting tiers provide between 50 GB and 00 GB of storage, 50 and 200 cPanel accounts, and 3 TB and 12 TB of bandwidth. The basic plan starts at $19.09 per month, and the premium plan starts at $44.59 per month.
Cloud VPS Hosting
HostArmada's Cloud VPS Hosting plans are tailored to businesses and website owners who have high traffic. Virtual private server plans offer more control and greater power for website owners. What's more, the plans are scalable, flexible, and managed by HostArmada's technical staff. While the four main tiers of VPS hosting range from 50 GB of storage and 1 CPU core to 320 GB of storage and 6 CPU cores, HostArmada also offers special customisations up to 32 CPU cores and 3840 GB of storage.
Cloud VPS Hosting doesn't have the same flexibility in billing as most of HostArmada's other hosting services have— all plans are billed monthly. Prices start at $41.21 and increase up to $101.21 per month. Clients who need more resources than the four standard tiers can contact HostArmada directly for a quote.
Dedicated CPU Server Hosting
Dedicated CPU Server Hosting plans are created for clients who need the best-performing resources possible to power high-traffic websites. HostArmada's dedicated CPU plans are redundant and optimised for speed. Clients receive the latest technology with LiteSpeed servers, NGINX, cPanel, CloudLinux OS, and more. All plans include malware protection, SSL certificates, KVM virtualisation, root access, managed services, and 24/7 technical support.
Dedicated CPU plans start at $11.75 per month for 160 GB of SSD storage, 4 CPU cores, 8 GB of RAM, 5 TB of bandwidth, 40 Mbps speed in, and 2000 Mbps speed out. The highest tier of CPU hosting includes 640 GB of SSD storage, 16 CPU cores, 32 GB RAM, 7 TB bandwidth, 40 Mbps speed in, and 2000 Mbps speed out for $246.75 per month.
Opensource Hosting
Opensource Hosting is HostArmada's plan tailored to clients who have created their own open-source applications. The various tiers of Opensource Hosting include all the same features found in the company's other hosting services such as SSL certificates, daily backups, managed services, and cPanel dashboards. What's more, Opensource Hosting includes SSH/Bash access and support for languages like Python, Node.js, and Perl and technologies like Git, WP CLI, and Drush.
The basic Opensource Hosting plan costs $2.99 per month and includes 15 GB of SSD, 2 CPU cores, and 2 GB of RAM. The highest tier costs $5.39 and includes 40 GB of SSD, 6 CPU cores, and 6 GB of RAM.
Development Hosting
HostArmada's Development Hosting plans were created with developers in mind. Development Hosting includes all the basic features of shared web hosting like website backups, server management, SSL certificates, and website migrations. However, the Development Hosting plans also include SSH access, support for multiple PHP versions, PHP frameworks, and more.
Development Hosting plans use the same pricing structure as Cloud Shared Hosting and Opensource Hosting plans. The basic tier costs $2.99 per month, and the advanced plan costs $5.39 per month.
HostArmada offers various types of hosting services that can meet the demands of new website owners and well-established businesses with high-traffic websites. The company focuses on excellent customer support, high performance, and attractive features for all plans and services.
Be sure to take advantage of HostArmada's Summer Promo and get 75% off any Shared and WordPress hosting, 30% off dedicated CPU and VPS hosting, and 25% off Reseller hosting options.

Visit HostArmada