Disclosure: Aussie Hosting is community-run. We sometimes earn a commission when you buy hosting through our links. Learn more.
Key Features:
Wide variety of design options
30 day money back guarantee
Free templates
Pros
15 day free trial
Themes are responsive for use with mobile
SEO included
Cons
There are few third-party apps available
There are a limited number of staff users per plan
Advanced features are only available for an additional cost
Synopsis: 3DCart is a decent software that gives you the ability to get your e-commerce store running quickly. Its focus is customers who use mobile devices. It does not have some of the "wow" factors of other platforms, but it does what it does well.
3DCart Review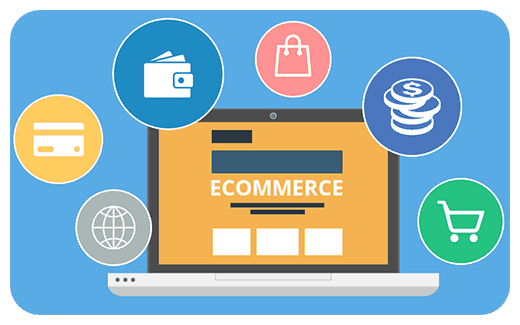 3DCart is an e-commerce platform that has two decades of experience behind it.
This software offers a number of features that come built in. This makes it easy for you to get your online store running in a quick and effort free way.
Currently, there are more than 17,000 merchants around the world who use 3DCart. Merchants are attracted to this platform because it offers a 24 hour a day, seven day a week, and 365 days a year support feature.
The software has everything needed for an e-commerce business to be successful and for you to make money online in this competitive market.
When the first version of this product was released, it was very popular. Since then 3DCart has been updated a number of times, adding on more features and depth to existing features that customers love.
3DCart includes hosting, so you do not have to install software or take care of server related issues. You are able to focus on running your store and adding new products for your customers to purchase.
---
What Type of E-Commerce Businesses Benefit the Most from 3DCart?
While we do not think that 3DCart is the best e-commerce platform out there, it does address the needs of a niche market. It is perfect for those who want to start a low-volume e-commerce store but do not have any development or site building skills.
At the same time, this software does provide you with a structure that has been optimized and is sufficiently advanced, allowing you to offer your clients hundreds of different products. We feel that this is a good product for small stores that are looking to grow fast. 3DCart is a product that can scale to meet customer's needs.
---
Features of 3DCart
3DCart has a number of features that make it easier for you to make the most of your e-commerce store. One feature that makes it great for beginners is that it is easy to customize. There is no steep learning curve with the software.
This platform allows you to keep more of your money in your pocket as it does not have transaction fees. Another feature that helps with your bottom line is the fact that their tech support is 24/7 and is also free. If there is an issue with your store, you get the help you need to get things up and running again.
A Wide Variety of Design Options
From a versatility standpoint, 3DCart offers more than 100 designs for you to choose from. The store design of your choice has been optimized to function equally well on desktops and mobile devices.
Add-ons and integrations are major features found in modern platforms. 3DCart is no exception. 3DCart works with over 350 app developers. These developers offer third-party integrations that work seamlessly with this software.
Regardless of the added functionality you want to include in your online store, you can be sure that there is a solution at the 3DCart's app store.
A few of these apps are free, but many of them are for sale. For example, for around $10 a month, you can add an address verification feature to your store that adds real-time verification during the checkout process. Other add-ons allow you to link your site to social media.
Some of these add-ons have a one time fee, and others offer a recurring subscription.
If you choose the Professional Plus plan, your e-commerce store will seamlessly integrate with QuickBooks, Amazon Order Sync, DOBA, and eBay at no extra cost.
One of the more popular add-ons is the Fraudwatch app. For around $10, this app will alert you to suspicious customer activity, which will protect you, your store, and your clients.
Made With Marketing and SEO in Mind
3DCart has been designed to be marketing and search engine optimization friendly. You are able to sell digital products and physical products. Features allow you to up sell and cross sell items, and they allow your customers to leave reviews on the products they have purchased.
If you purchase the top tier plan, you are able to easily handle returns, manage orders, and process requests quickly. Social media integration, an on page blog, and the ability to offer unlimited products have recently become options for all stores regardless of the subscription price.
---
Pricing Options for 3DCart
3DCart gives you a 15 day free trial to set your store up and run a test transaction before you decide to use the platform. Most platforms of this type offer some form of free trial. What sets 3DCart apart is that it offers an extra day more than most other trials.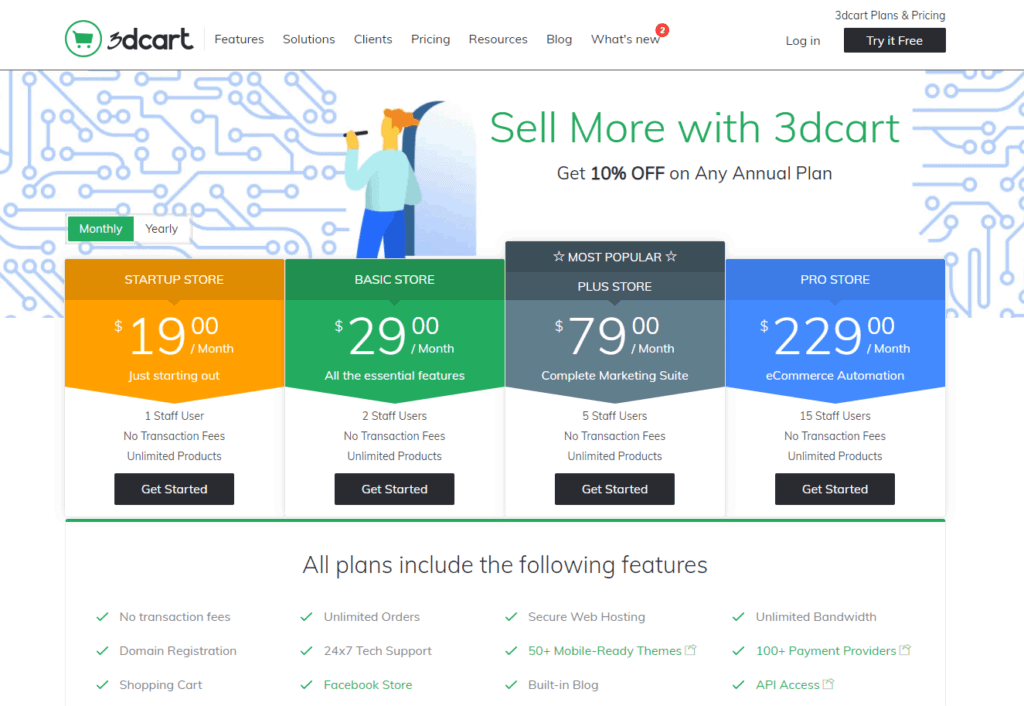 With this platform, you are able to register a domain name for free. This is great if you do not currently have a website. The downside is that if you choose to leave 3DCart, then your domain name disappears with you.
3DCart has divided the pricing into five pricing tiers. The first tier is $19.99 a month. This Startup plan allows for one administrator, no transaction fees, and unlimited products.
The second tier is $29 a month for a Basic Store. It allows two administrators to access the e-commerce store. There are no transaction fees, you can sell unlimited products, and you get 24 hour a day support with unlimited bandwidth.
At this price point, a blog, product reviews, Facebook, application programming interface access, and POS support are included.
The next step up is the $79.99 per month Plus Package. With this package, up to five administrators can have access to the site.
This comes equipped with a lead generation tool, the ability to form customer groups, tools for email marketing, the ability to create daily deals, and a whole host of other features tailored toward e-commerce.
At $229 a month, you have access to the Pro Store plan. Fifteen staff subscriptions are available, loyalty programs can be created, and your customers can set up recurring orders and pre-orders. At this price point, you have priority when it comes to customer service.
The highest priced plan is the Enterprise Level plan. The pricing for this plan is going to fluctuate based on the package you build. With this Enterprise Level plan, you have a technical account manager and the site is custom programmed for your needs.
30-Day Money-Back Guarantee
One feature that we really like about 3DCart and its way of doing business is that if you do not like the service, within the first 30 days, you get a money back guarantee.
You don't see this with shopping cart services. And you have the freedom to cancel your account at any time with no penalties. As we mentioned, you will lose the domain name that you have registered though.
3DCart runs promotions on their platform from time to time. For example, during Thanksgiving, they may have promotions where their packages are up to 50 percent off the normal price.
Additionally, you can choose to purchase year-long plans that come at a 10 percent discount. There are also discounts available for nonprofits and students.
Each pricing plan comes with an online sales per year cap. With the Startup plan, you can sell up to $50,000 a year. The Basic plan allows you to sell up to $100,000 a year. The Plus plan allows you to sell up to $200,000 a year, and the Pr plan allows you to sell up to $400,000 a year.
Once you start selling more than $400,000 a year, you get into the Enterprise E-commerce plans. The Enterprise I plan is going to run you $499 a month.
There is a $299 one-time setup fee. With this plan, you can sell up to $2 million a year. For $999 a month, you get the Enterprise-II plan, which allows you to sell up to $10 million a year. The Enterprise Custom plan is reserved for high-end customers looking to sell more than $10 million a year.
---
Creating an Online Store Using 3DCart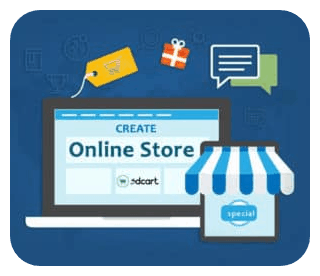 When you get started setting up your online store, you will see that there are scores of free templates to help get your store off the ground. The higher the pricing plan, the more premium templates are at your disposal.
Customization tools allow you to create a unique storefront. You will be able to edit the HTML and CSS with the quick bar editor, even after you have selected a template.
The platform works with a drop and drag editor feature. This makes it easy for you to move elements on and off the template. You can add projects, categories, blog posts, and pages with the click of a mouse.
There are a lot of automatic features included in the templates that reflect what your customers want when they shop online.
For example, once you have populated your story with content, you can use the 3-D zoom feature to let customers view enlarged versions of images when they place their mouse or their cursor over the product they are considering purchasing.
The built in search functionality makes it easier for your clients to find the products they are looking for. Results will start to populate the page as your visitor is typing in the name of a product in the search box.
You will need to familiarize yourself with how 3DCart works. Once you do this, you will be able to navigate the platform easily. On the front end side, your page is going to be clear and easy for your visitors to follow. It is going to present your items for sale in an easy to use way.
Any perceived complexity in adding new products to the site is the direct result of the impressive number of features 3DCart offers. But once you understand the logic behind how this platforms works, you will be adding, removing, and editing products with ease.
Another feature we really enjoy is how 3DCart makes it easy for you to accept literally every payment method out there. Whether your customers want to pay using Amazon Pay, Google Pay, Apple Pay, PayPal, credit cards, debit cards, etc.
3DCart is offered as a Software As a Service solution. It is cloud-based. You don't have to worry about managing servers or updating software. There are no hardware or software requirements. You just need a computer, an internet connection, and a web browser.
When you log into the software, you will see a set up page that has videos and tips that will walk you through the site building process. If you use the free trial, you have a trial coach who you can contact via email or by phone. Once you become a paying member, you will have access to a more comprehensive form of customer service.
---
Conclusion
We have enjoyed reviewing 3DCart. It is an e-commerce platform that has a number of features that can be easily customized. One of the biggest pluses for this software is that it can be integrated with hundreds of apps and tools, allowing you to make your e-commerce store uniquely yours.
Customer service reports are mixed. Some people have had stellar experiences with customer service, and others feel like 3DCart's customer service representatives treat them like they are a bother as opposed to customers.
With a 15 day trial, you have enough time to use the software yourself and make decisions. It only takes a few seconds to set up, and you are not required to commit to anything.
Have you tried 3DCart? If so, what was your experience with it? Let us know in the comments section below.
[single_user_reviews_form]