Disclosure: Aussie Hosting is community-run. We sometimes earn a commission when you buy hosting through our links. Learn more.
It's finally time to build your first website. You're not a programmer or a web designer, so you know that you need a website builder to do the heavy lifting.
The hardest part of the process may be choosing the best website builder to suit your needs, which is important just like choosing a web host.
Ucraft is a solid choice if you need to build a website that looks great and is heavy on imagery.
Unfortunately, Ucraft isn't perfect. There are more flexible options that boast more features and are equally easy to use.
In Ucraft's favor is their free package. If you're dipping your toe into being a webmaster, this is the perfect option. Ucraft also is easy to use. Even if you're not tech-savvy, you won't have too much trouble navigating the editor. Perhaps most importantly, Ucraft emphasizes images. Creative professionals may love this platform.
---
Ucraft: an Overview
Ucraft describes itself as a drag-and-drop website builder, but this isn't strictly true. It can more accurately be described as being block based.
This platform is almost as easy to use. However, it also is far less flexible. With your options limited, there's little chance that you'll be overwhelmed with choices. Instead, you may feel hemmed in by restrictions.
Nonetheless, Ucraft's templates look fantastic, and creating your website is relatively easy. You don't need any technical knowledge or skills to build a functional and attractive website. It's even possible to add a blog, e-commerce tools and more.
Pros
A free plan for the budget-minded
Security and analytics come with every package
Integration with Ecwid for e-commerce
Nice blog tools
Beautiful templates, especially for image-heavy websites
Cons
Customer support options are limited
Content blocks tend to look too much alike
Not quite as easy to use
Some users may want more control over the design of their pages
---
Ucraft's Templates
Ucraft provides over 60 templates from which to choose. When compared with other website builders that feature hundreds of options, this isn't a large field. Nonetheless, some people appreciate having fewer choices as it avoids getting overwhelmed with too many decisions.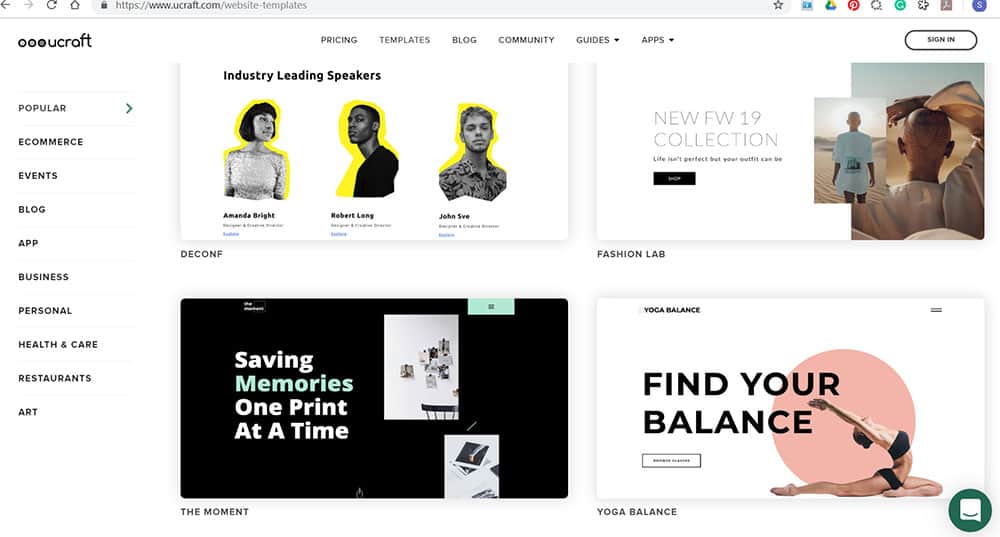 On the left side of the "Templates" screen, you'll see categories including Events, Blog, Business, Personal, Restaurants and more. This makes it easier to sift through the options.
Many of these templates are beautiful.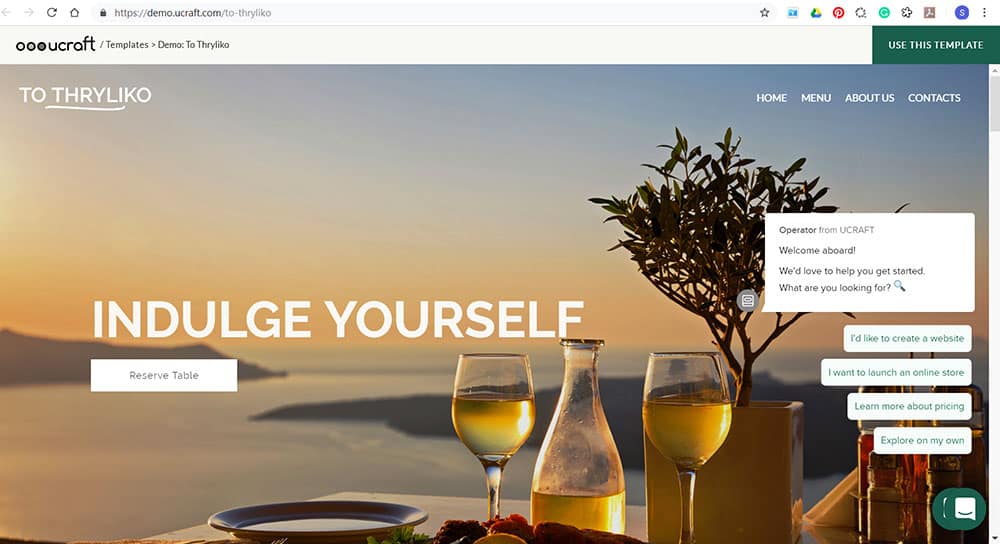 Browsing through them reveals how heavy the emphasis is on eye-catching imagery.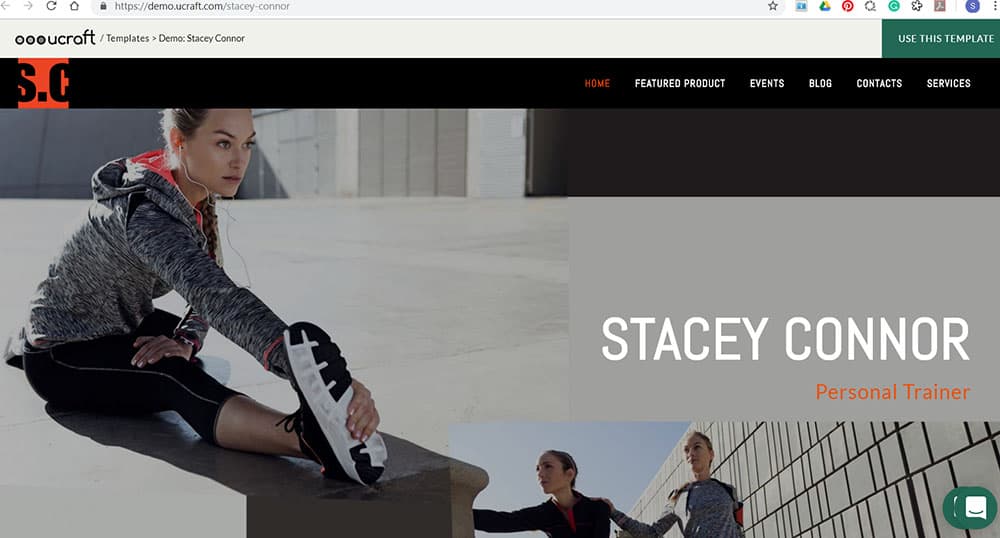 If you're an artist or photographer, chances are good that you'll find the perfect template for showcasing your work.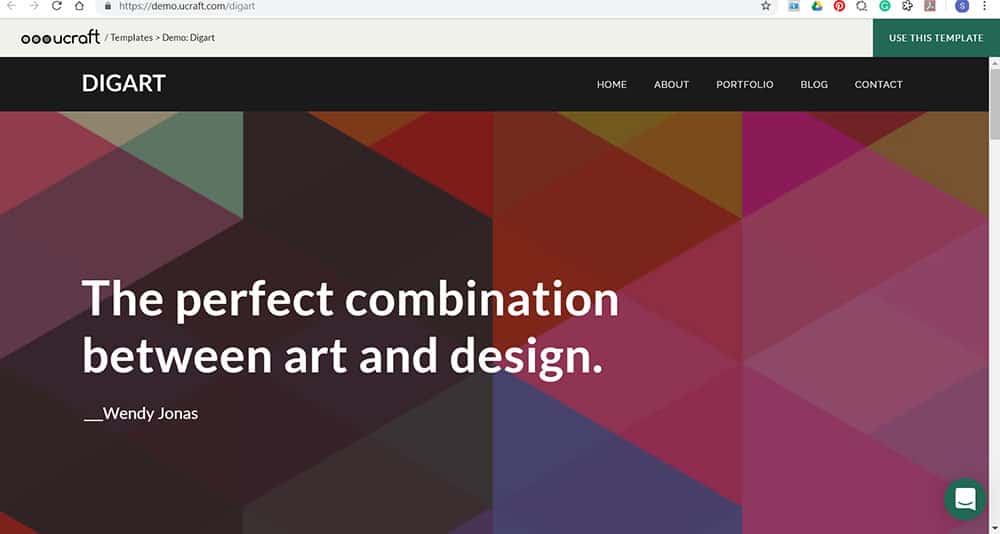 It's helpful that Ucraft makes it possible to preview each of their templates. This lets you click through to explore various options before making a selection. Actually, it's essential to be careful at this stage. Once you make a selection and start editing, you can't go back and switch templates.
---
Is Ucraft Easy to Use?
Things are straightforward with Ucraft, though it's not as easy to use as a true drag-and-drop website builder.
Getting started is a breeze. Just click on the "Start Crafting" button on the Ucraft homepage. You get a 14-day free trial, and you don't have to enter any credit card info.
You're directed to the page where you can choose your template. After selecting the right one, you choose your subdomain. This is a temporary URL that takes the form of "yoursitename.ucraft.net."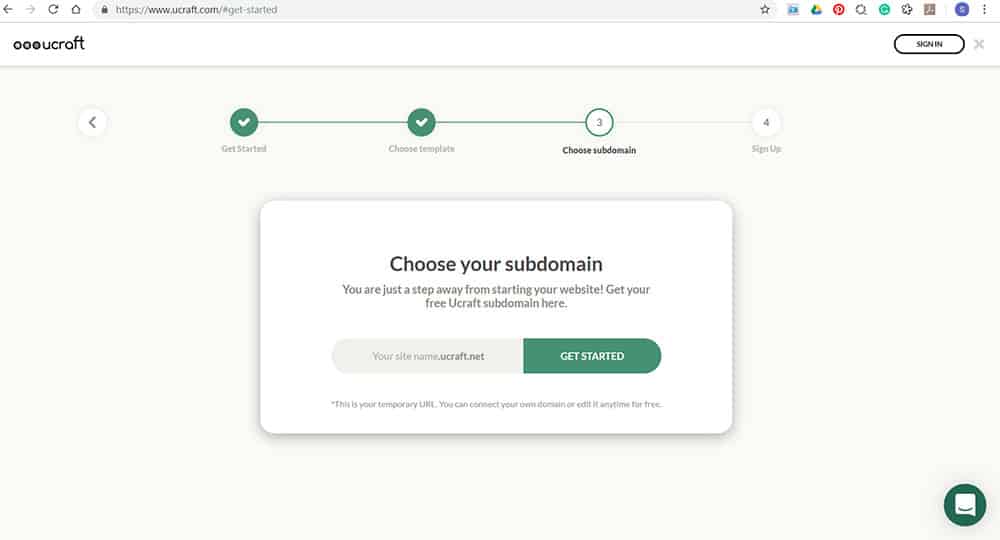 Ucraft lets you know that you can connect your own domain whenever it's convenient.
Next, you enter your name and email and choose a password. If you'd rather sign up through Facebook or Google, you can.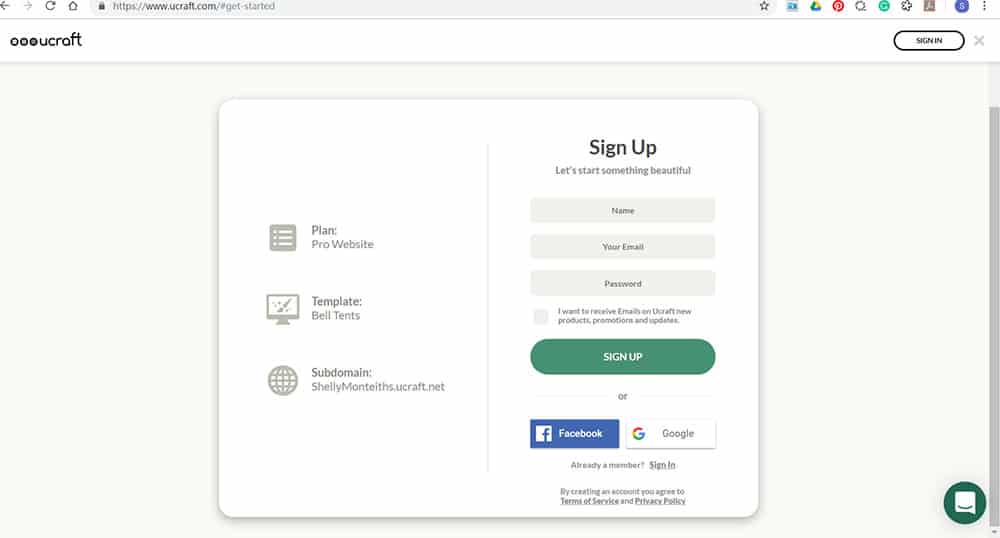 That's all you have to do. Now, you enter the editor. This is where you work on the "blocks" that will eventually become the components of your website.
The editor makes it possible to add elements like a blog, newsletter or contact form. Keep in mind that each element is contained in a block. Unfortunately, these cannot be moved anywhere like they can with other website builders.
You're pretty much locked into wherever the block is located on your page. Nonetheless, you can stack elements on top of each other to build a content-rich website.
The interface for the editor has a really bare-bones, stripped-down appearance. Without a lot of clutter on the screen, it's pretty easy to see what your options are. A left-hand sidebar contains all of the main editing functions with the rest of the screen being reserved for previewing your website.
When you click or double click on an object on your website, Ucraft makes it possible for you to edit that component. You can enter new text, change its formatting, replace images and even add some basic animation.
Predefined blocks may be dragged and dropped onto the page. Ucraft currently offers about 100 of these blocks, which contain titles, body layouts, blogs, headers, shopping carts and online stores. These blocks cover the basics, but there are not a lot of options from which to choose.
Moreover, many of the blocks look really similar to each other, which doesn't exactly lend itself to a high degree of customization. You may run into a roadblock when you try to change the font or play with the column size with Ucraft warning you to upgrade before you can accomplish these tasks.
This merely means installing a Designer Tools app that's free. Why it isn't enabled automatically is a mystery.
Overall, Ucraft is slightly more difficult to use than other website builders. Once the editor becomes more familiar, it's all pretty straightforward. As long as you don't expect a ton of options and customizations, you could be happy with this platform. Plus, it's a snap to build a great-looking website on this platform.
---
Ucraft's Features
Ucraft's basic features are fantastic. Each website has an SSL certificate to protect your data and to let your visitors know that your website is credible and reliable. You'll also find Search Engine Optimization, or SEO, tools that will ensure that your website gets noticed by all of the major search engines.
Ucraft does not have its own app for analytics. That's ok because you can integrate Google Analytics into your website, and that is great news for checking bounce rates, the number of visitors to your site and much more.
Social media integration similarly is a basic part of the package. If you're using Facebook, Instagram, Twitter, LinkedIn or other social media platforms, they can be tied into your website.
Also, because Ucraft places such a premium on high-quality imagery, it should come as no surprise that they provide comprehensive tools for editing images. You'll further find video backgrounds to give your website a more interactive feel.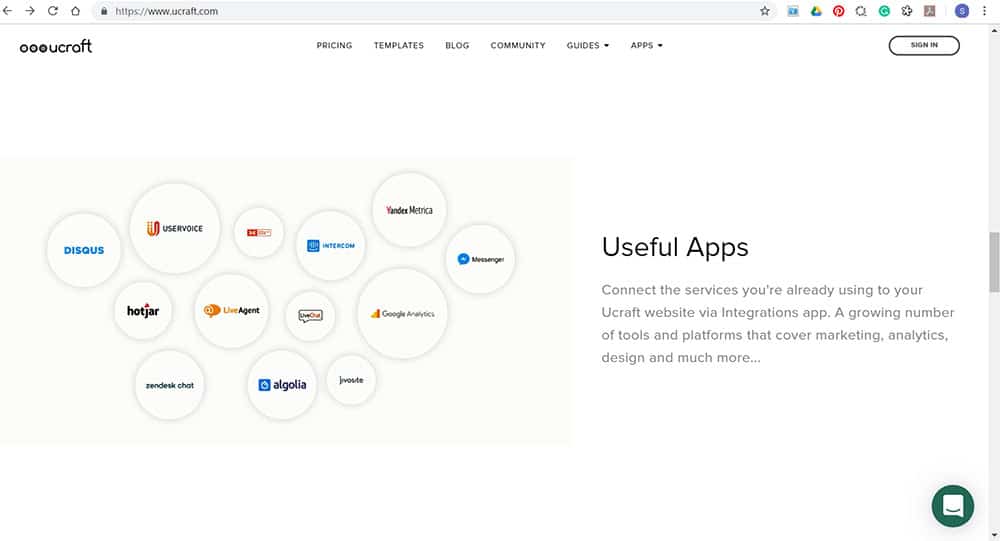 Each of Ucraft's templates is optimized for mobile viewing. This means that you won't need to build a second website or worry about visitors not having a good experience when browsing your website from a mobile device.
If you're starting a business and need a logo, you can ask Ucraft for help. They will design a logo for you after you answer just a few questions.
Several third-party integrations also are available with Ucraft websites. From Disqus to zendesk chat, you have many options for making your website more functional.
---
Ucraft's Pricing
Ucraft offers several pricing options. These include a free website, which is basically a landing page that includes an SEO app, Google Analytics, an SSL certificate and more.
The Pro Website package costs $10 per month when paid on an annual basis. If your online store sells as many as 50 products, this package may be perfect. You get several apps, a multilingual website, 24/7 support, Google Fonts, password-protected pages and more than 70 payment and shipping options.
The Pro Shop option may be for you if your online retail website carries more than 1,000 products. It costs $21 per month on an annual basis and contains everything in the Pro Website plan. Additionally, you get coupons, a store management app, the ability to edit invoices and more.
Ucraft's largest package is the BigCommerce plan at $39 per month when paying for one year in advance. Additional capabilities include selling on eBay, Amazon, Facebook and Yandex in addition to a Google shopping feed.
---
Ucraft Customer Support
It would be nice if customers could contact Ucraft via telephone or email, but you do get a live chat which should do the trick. Most people won't need to call in anyways.
Fortunately, they also have a blog and several online guides that cover most basic questions and issues if you don't feel like using the chat function. Ucraft's speed of answering requests from live chat was pretty quick from our tests if you do have an urgent need.
---
Is Ucraft Worth It?
If you're seeking a basic website that has a sufficient number of bells and whistles and looks fantastic, then Ucraft may be perfect for you. It has a straightforward interface and affordable pricing. With a 14-day free trial, you'll have time to test the service before you buy.