Disclosure: Aussie Hosting is community-run. We sometimes earn a commission when you buy hosting through our links. Learn more.
Panthur Web Hosting Review

Panthur is in Australia-based hosting company.
This company started out as a non-commercial organization.
As a result of the quality of the web hosting services they offered, their reputation grew throughout Australia and quickly gained more recognition.
This led to Panthur starting to create commercial hosting solutions. Since 2009, Panthur's reputation has grown to the point where a number of businesses in Australia are hosting with them.
Let's take a look at some of the plans Panthur offers, their features, and then wrap up with our overall assessment of this hosting company.
TLDR - Quick Takeaway
Panthur does a good job when compared to other hosting companies in Australia. Their prices are relatively competitive, and their performance is below average. However, when you compare them to more well-known hosting, options such as SiteGround, you see that they are seriously lacking.
For example, Panthur does not have global data centers. Nor do they have hosting plans that are optimized for WordPress. This is a big deal because more than a quarter of the Internet runs on WordPress.
In our review of them we have seen that Panthur is average, or a little bit below average. You can get better quality at a reasonable price elsewhere.

If you're looking for a higher end hosting solution, we recommend Kinsta as one of the top choices.
Panthur Pricing Explained
Panthur offers four types of hosting options. These include:
Economy Web Hosting
Business Web Hosting
Stealth Web Hosting
Reseller Hosting
Each type of hosting has tiers that have different price points and offer different services. Let's take a look at some of these.
Economy Web Hosting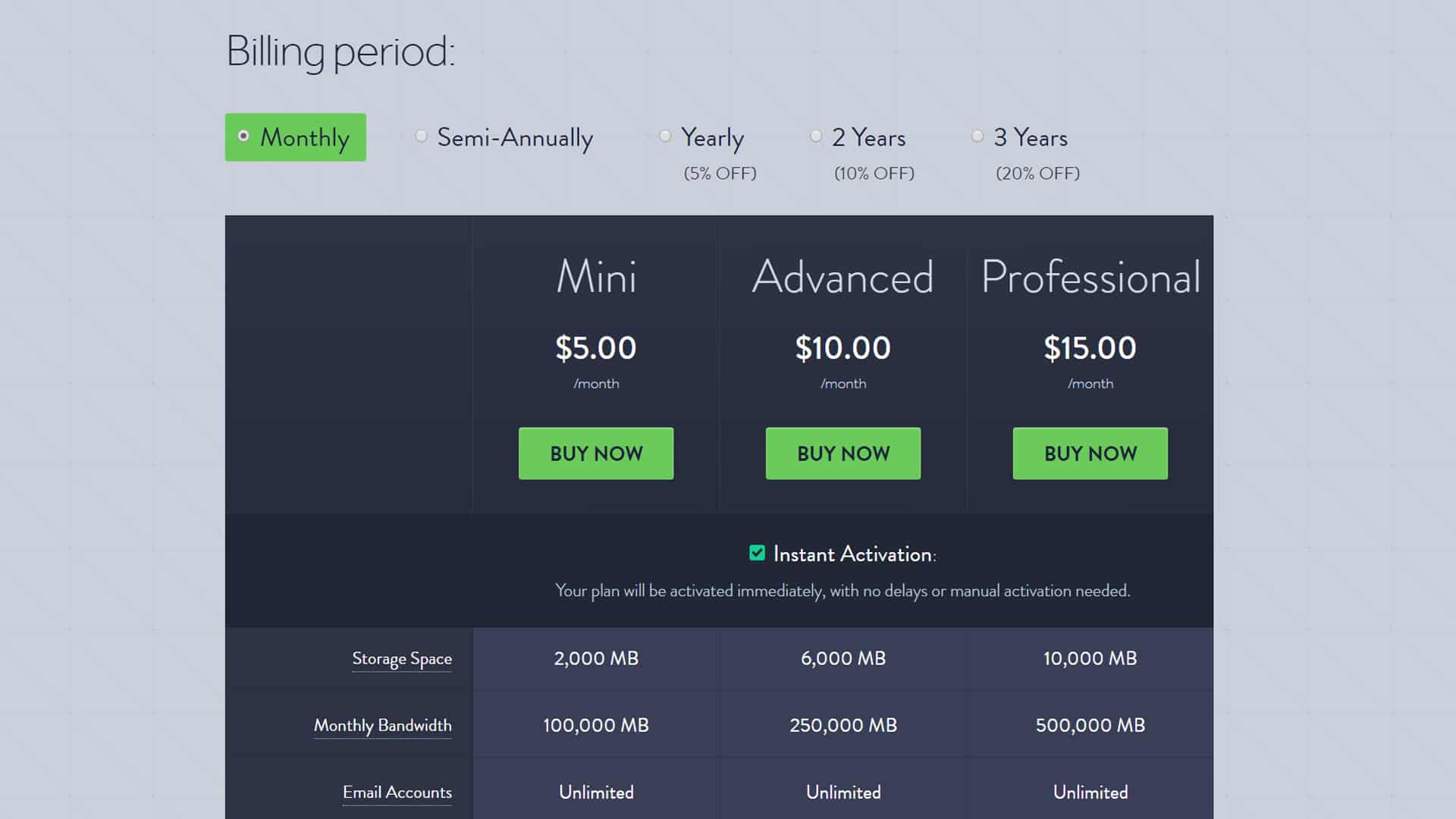 Mini Plan $5/Month
This is the least expensive plan in their shared hosting. At this price point, you are given:
20 GB of storage
100 GB monthly bandwidth
Unlimited email accounts
Unlimited SQL databases
Zero add-on domains
Advanced Plan $10/Month
This plan is a slight upgrade as it offers:
6 GB of storage space
250 GB of monthly bandwidth
Unlimited email accounts
Unlimited SQL databases
3 add-on domains
Professional Plan $15/Month
This is the highest tier plan that they offer for shared hosting. You are offered:
10 GB storage space
500 GB bandwidth every month
Unlimited email accounts
Unlimited SQL databases
5 add-on domains
As you can see, the primary difference between each one of these plans is an increase in storage and a slight increase in monthly bandwidth.
All of their hosting packages under their "Economy Hosting" plan come with:
100 percent CPU speed
1024 MB of memory
I/O speed of 2 MB/s
A maximum of 500 emails per hour
Backups every 30 days
Free SSL certificates
Website Builder Pro
Cloudflare Apperson railgun
30 day money back guarantee
99.9 percent uptime guarantee
Transferring from Another Provider
What if you are transferring your service from another provider? Panthur has you covered.
If you are transferring cPanel accounts to cPanel, then the transfer is free of charge. There is no limit to the number of accounts that you can transfer. You simply need to contact the representatives and set up the time and date that you would like the transfer to happen. Speak to their transfer specialist, so that the transfer can happen as smooth as possible and with the least amount of disruption to your service.
Business Hosting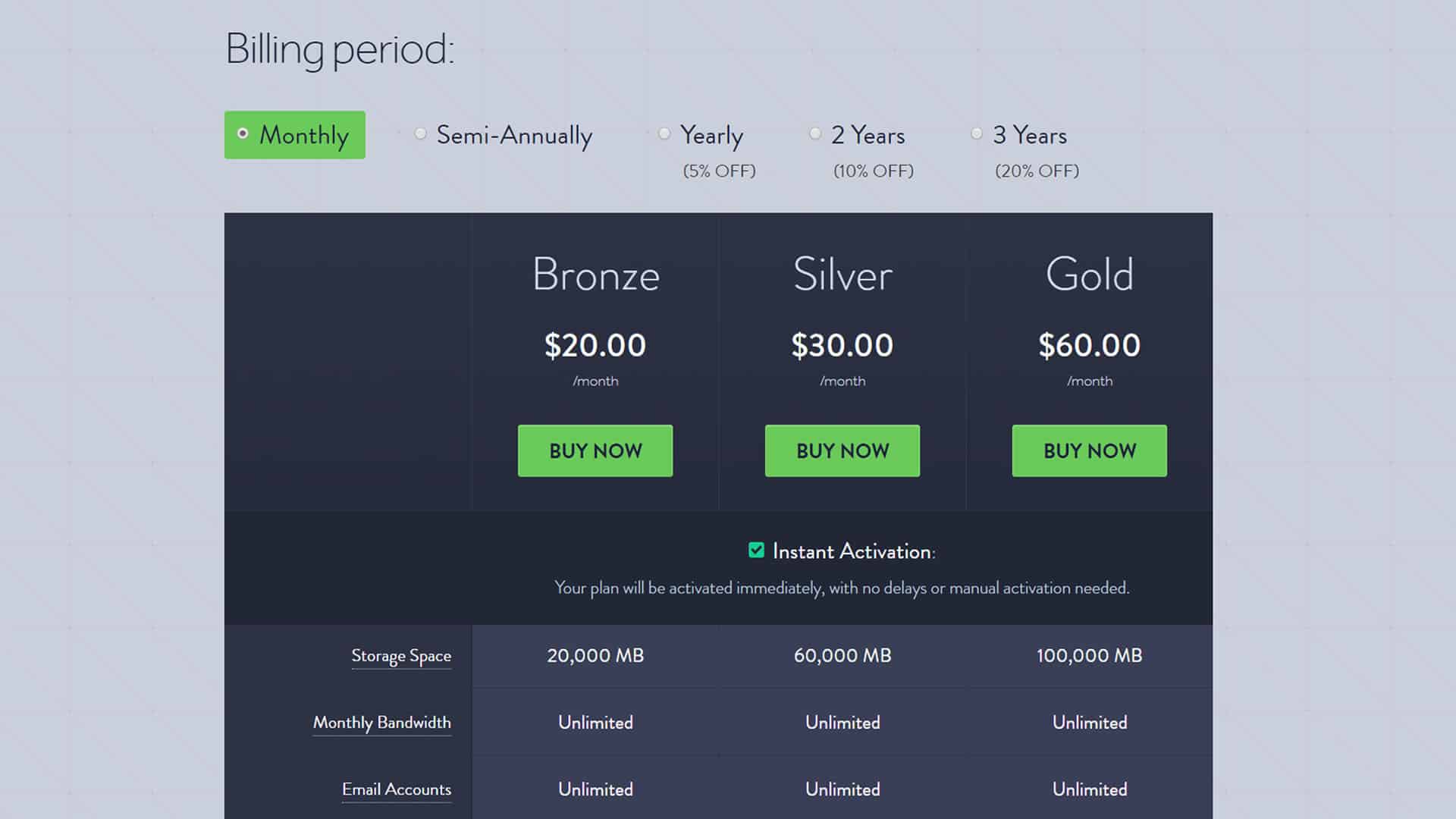 Bronze Plan $20 A Month
20 GB storage space
Unlimited bandwidth
Unlimited email accounts
Unlimited SQL databases
10 add-on domains
Silver Plan $30 a month
60 GB storage space
Unlimited bandwidth
Unlimited email accounts
Unlimited SQL databases
20 add-on domains
Gold Plan $60 a Month
100 GB storage space
Unlimited bandwidth
Unlimited email accounts
Unlimited SQL databases
Unlimited add-on domains
As you can see, the "Business Hosting" plans have been created for businesses that require a little bit higher CPU and memory needs. The additional features that they offer have also been increased. For example, with all of the above-mentioned plans, you get all of the additional features that are available with the "Economy" plan, plus these upgrades:
200 percent CPU speed
4 MB per sec. I/O speed
1000 emails per hour
2048 MB memory
The increased CPU memory and I/O speeds can be beneficial for businesses that are looking to run sites that are resource intensive. This would include businesses that have online stores or a lot of interactive activities.
For more info about business hosting read our guide to best small business hosts.
Stealth Hosting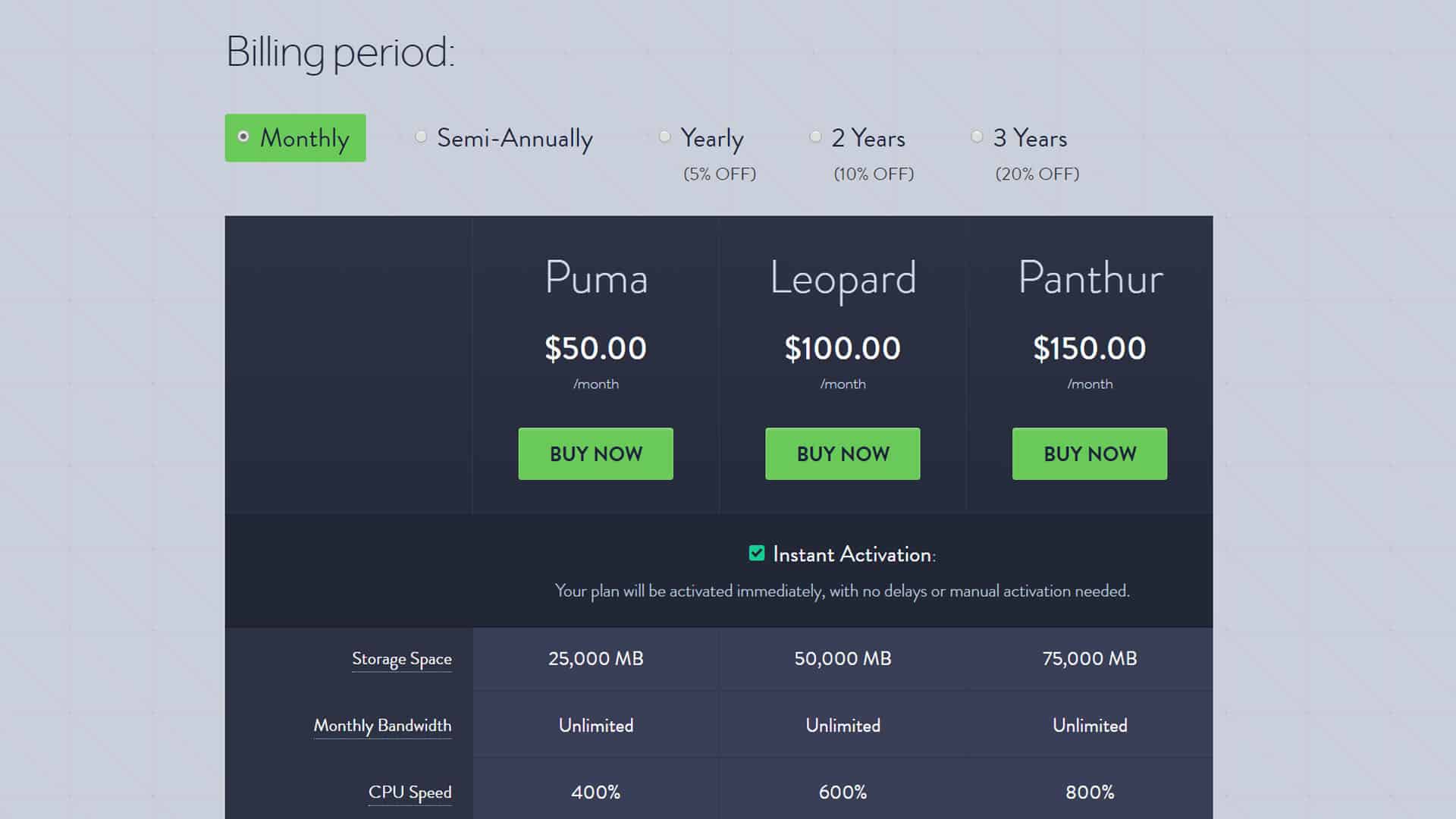 With the "Stealth" plan, you see a stark difference in the features that each price tier offers. You will notice that from a storage standpoint, what "Stealth" offers is not that different from what "Business" offers. You will see that the difference is in the performance.
Puma $50 a Month
This plan offers 25 GB of storage space with unlimited bandwidth and 400 percent CPU speed. Your allocation of RAM with this plan is 4096 MB. Your I/O speed is 6 MB per second. And you are able to do 30 processes per minute.
Leopard Plan $100 a month
With this plan, your storage space doubles and is up to 50 GB. Your bandwidth is unlimited, but your CPU speed jumps to 600 percent. Additionally, the RAM allocated to you increases to 6124 MB. Your I/O speed jumps to 8 MB sec. You are allowed 40 simultaneous processes.
Panthur Plan $150 a Month
With this plan, you see a substantial jump in the resources you are given. Here you get 75 GB of storage space, unlimited bandwidth, 800 percent CPU speed, 8192 MB of memory, and 10 MB per sec. I/O speed. You are also permitted 60 simultaneous processes.
In addition to the features mentioned for the "Economy" and the "Business" plans, all of the accounts in the "Stealth" plan come with unlimited email accounts, SQL databases, and add-on domains. They also come with 90 days click restore backups.
Another feature that is unique with the "Stealth" plan is priority ticket based support. What this means is that if you purchase a "Stealth" plan and you have an issue, you are put at the front of the line. You will be able to speak with an expert within just a couple of minutes to make sure that you are getting the priority treatment you are paying for.
Reseller Plans
Panthur offers Reseller plans ranging from $30 a month up to $100 a month. The storage space allocated for these plans start at 20 GB and go all the way up to 50 GB. Monthly bandwidth for the lowest tier starts at 250 GB and goes up to unlimited at the highest tier. The primary difference between this set of hosting packages and the ones you get with "Economy" is that you will be able to manage things as well as create new accounts using your cPanel.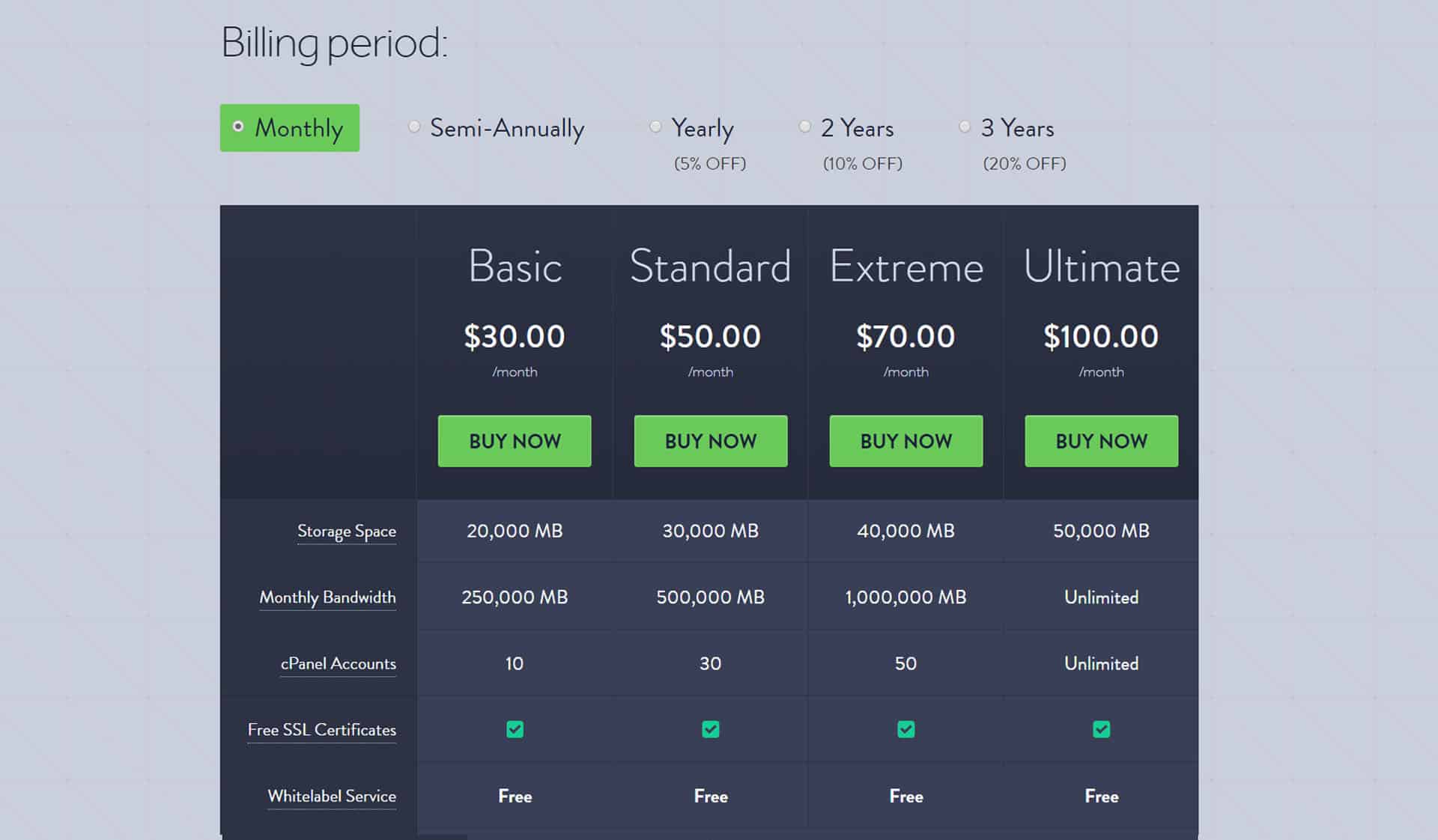 As you have noticed, Panthur is flexible when it comes to their pricing services. You can pay monthly, and this is going to give you the most expensive price. You can also pay every six months, every year, every two years, or every three years. If you subscribe for three years of service, you are eligible for discounts of up to 20 percent off.
For more comprehensive information, please read our breakdown of reseller hosts.
Pros and Cons of Panthur Hosting
What We Like
Not a Fly-By-Night Company
Panthur is an Australian-based company. It is locally owned and locally operated. This is beneficial for small businesses in Australia as a means improved service and improved speed. We like the fact that Panthur is not a fly-by-night business and has more than eight years of experience working in the web hosting industry. They operate tens of thousands of sites, primarily of small business owners in Australia.
Knowledgeable Staff
When you interact with the staff at Panthur, for the most part, you will interact with people who have both knowledge and experience in the industry. They are usually able to answer the questions that you have and assist you in resolving problems you may have with your server.
Free Website Migration
We were pleasantly surprised to see that Panthur offers free website migration. Some host companies that we have used offer it and others do not. Another interesting point is that as long as it is cPanel to cPanel, there is no limit on the number of websites you can transfer over for free. Panthur simply requests that you set things up with their transfer specialist with the goal of making things happen in the smoothest way possible.
Top-Notch Hardware
Panthur offers its clients state-of-the-art hardware. This includes the latest models of enterprise grade servers. They offer dual CPUs and 24+ cores. They offer RAID Intel solid-state drivers and redundant power supplies. Panthur guarantees DDoS protection and Cloudflare CDN for their clients.
Free SSL Certificates
You will not spend extra money on SSL certificates. Panthur gives all of their users on every tier of their accounts free SSL certificates.
What We Do Not Like
Acquired by Hostopia Australia
Hostopia Australia is a subsidiary of the US-based Deluxe Corporation. On the outside, this does not seem like a big deal because as Panthur stated in the email that they sent out explaining the acquisition, they were not planning on doing any migrating of accounts from servers in Australia to servers in the United States. So, in theory, customers were not going to experience any downtime, and their experience with Panthur was going to be the same that it was prior to the 2017.
The reality for many customers was quite different. There was a steady stream of complaints about a reduction in load speed as well as a reduction in uptime. One of the things that initially attracted people to Panthur was their customer support. Customers knew that they were paying more than average for the resources that they were given, but they were happy with it because Panthur had a reputation for replying to trouble calls almost immediately. Soon after the acquisition, that stellar customer service began to take a dip. To be fair, customer service is improving, and many customers who stuck with Panthur through the transition have commented on the improvement they are starting to see. But, still, it is nowhere where it was before the acquisition.
Thinking about the future. There is no guarantee that Deluxe Corporation will keep their servers in Australia. Everything is about the bottom line. If it becomes cheaper to host in the United States, then that is the way they are going to go.
Uptime 97.3 Percent .... Not Great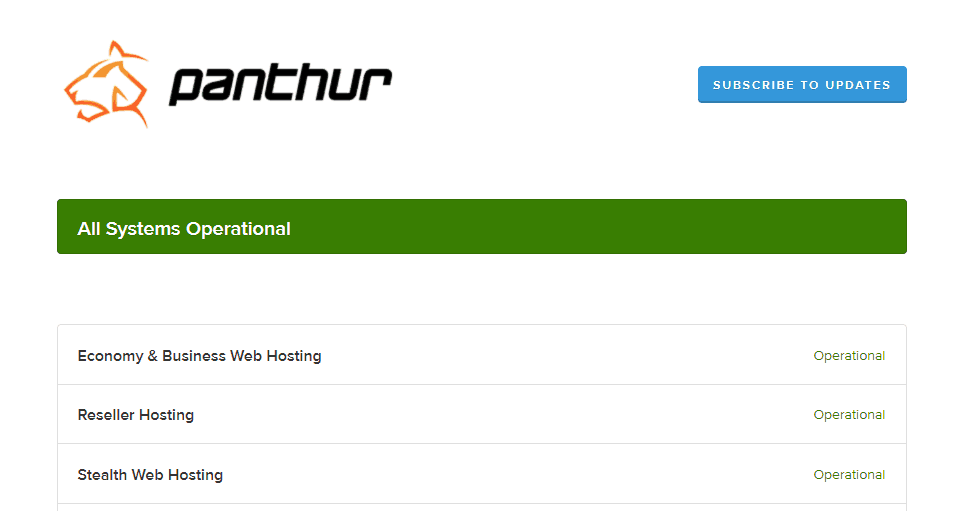 Something else that we did not love was their uptime. As we mentioned, after the acquisition by Hostopia Australia, there was a steady decline in uptime. Some people may argue that 97.3 percent seems pretty good. That is until you realize that Panthur promises a 99.9 percent uptime. With a 97.3 percent uptime, you are all but guaranteed that your website is going to be offline for a number of hours throughout the year. Just think about the potential customers you could be losing. When you couple that with the price that Panthur is charging for the services, it is understandable that people are not pleased.
On the upside, Panthur does offer a dashboard that allows you to see when their servers are operational, as well as see uptimes and downtimes.
Check our live tracking here.
No Overseas Servers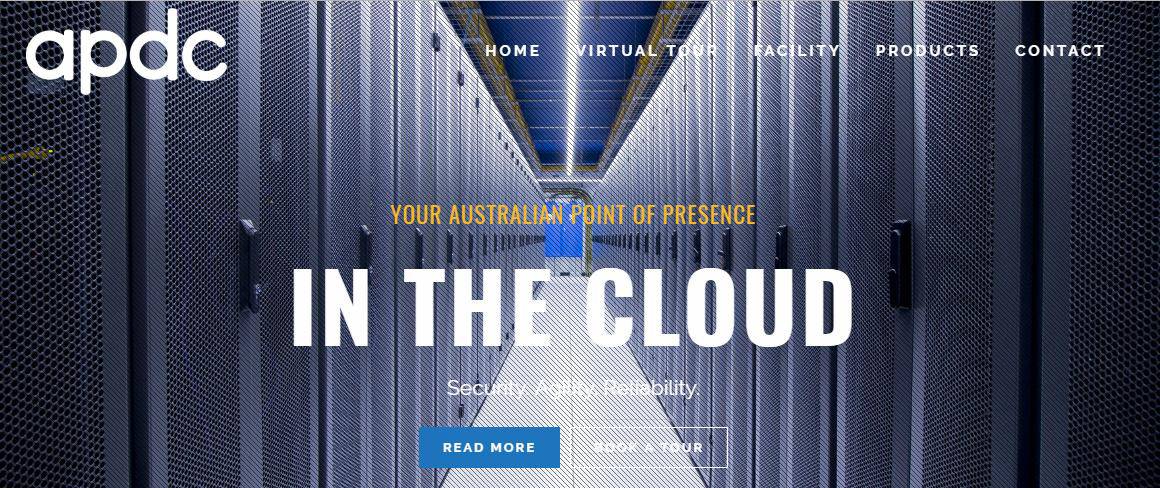 All of Panthur's servers are located at the APData Center in Sydney, Australia. This is fine if your small business is only looking to reach customers in Australia or New Zealand. But what if you have customers in the United States, the UK, China, or other parts of the world? Loading times are going to be slower, and the customer's experience is going to suffer. This brings us to another point that we don't like.
They Do Not Own Their Own Servers
Panthur does not own their own data center. So they are renting servers and then reselling what they are renting to others. On the surface, that might not seem like the biggest deal in the world as long as the end product works. However, there are a number of problems with this model.
First, you are getting overcharged. Reseller accounts are not expensive, so Panthur is making a lot of money, especially when you consider the resources that they are giving. A number of the products they are offering as upgrades, Panthur is actually receiving for free. Since the servers they are using are not theirs, they do not have the same level of control over them, which means that the servers are a lot more vulnerable.
We would strongly recommend avoiding any hosting company that is reselling 3rd party services. 
Panthur Support

As we mentioned, Panthur used to be renowned for the customer support that they offered. For many people, this was the reason why they chose Panthur over SiteGround or another better-known web hosting company. Unfortunately, in recent years, their support and customer service has taken a hit.
One thing you are going to notice right away when you visit their site is that they do not have the ability to chat using live tech support. When you need help with your site, you should be able to get it immediately. Sure, they do offer video tutorials, an ample knowledge base, as well as 24/7 ticket support and 24 /7 phone support, but it's not the same.
Panthur Hosting Features
Register/Transfer Domains
Panthur allows you to transfer domains and register domains, ranging from from traditional extensions all the way to more obscure ones, including .club and .coach.
Email Accounts
All of the plans come with unlimited email accounts. These are supported by their proprietary mail filtering security. These filters prevent potentially dangerous emails from entering or leaving their network. The goal is to keep your mail service running smoothly.
Domain WHOIS protection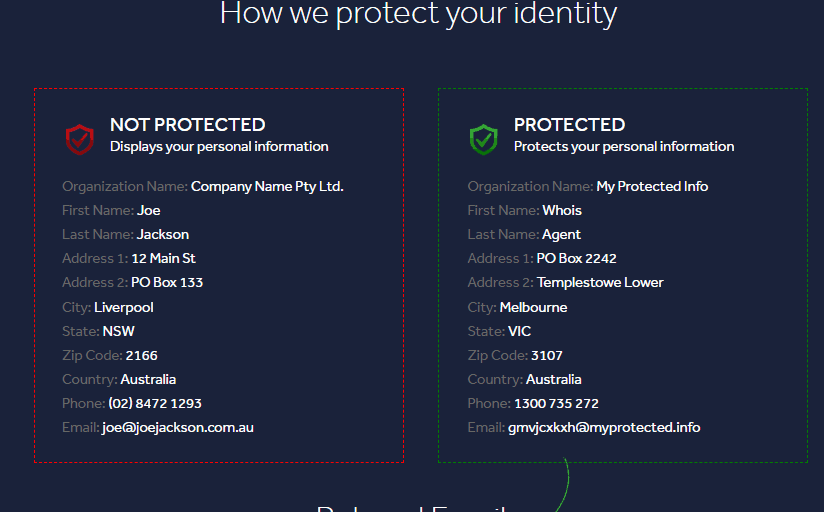 WHOIS protection keeps your private contact information from being exposed. The goal is to protect you from spammers as well as identity theft.
Conclusion - There Are Better Choices
After all is said and done, you are probably wondering whether or not we recommend Panthur. We feel that Panthur is offering Australian customers a service that is average, or little bit below average, at a premium price. One of their main selling points is the fact that they are Australian owned. But this is not 100 percent true because the parent company behind them is US-based. Sure, their servers are in Australia, but they don't own them. There's no guarantee that the servers are going to stay in Australia indefinitely.
The price that they are offering their service for, in our opinion, is ridiculous, especially when you look at other hosting companies that charge the same or less and are offering a lot more. We are not against paying a little bit extra if it means that you get something worthwhile. But we don't feel like you do with Panthur.
If you're looking for a superior alternative we recommend SiteGround or Hostgator. For higher end hosting performance geared towards small businesses check out Kinsta.  See more on our main guide to the best Australian hosts.
Their customer service used to be renowned, and that has also dipped to the point where it is average or below average. We don't enjoy interacting with a hosting company that does not have a live chat because waiting on a phone when you are having a problem with your server is one of the most frustrating things that a person can go through.
We recommend that you do a little research and find a cheap hosting plan that offers you more and has servers located around the globe.
What do you think? Have you used Panthur hosting in the past? Would you recommend it to others? Let us know your thoughts and comments in the comments section below.