Disclosure: Aussie Hosting is community-run. We sometimes earn a commission when you buy hosting through our links. Learn more.
Key Features:
Versatile Marketing Tools
Extensive Integrations
Analytics Dashboard
Website Builder
Email Marketing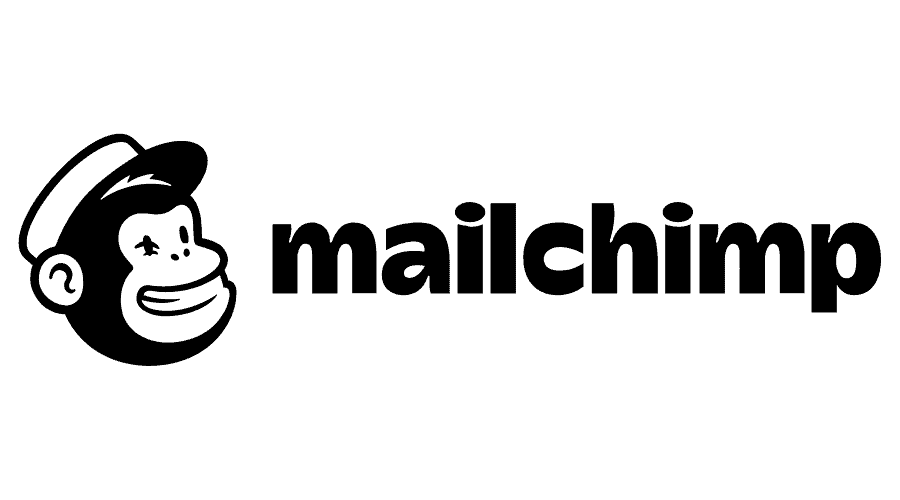 Visit Mailchimp.com
Pros
Variety of marketing tools
Extensive integrations
User-friendly website builder
Cons
Limited options for affiliate marketing
Automation limitations
Mailchimp Review
Mailchimp, a well-known player in the world of digital marketing, is more than just an automated email service. Since being acquired by Intuit in 2021, Mailchimp has expanded its offerings to help businesses with various aspects beyond emails. Mailchimp can seamlessly connect with over 300 other services, including big names like Salesforce, Shopify, Canva, QuickBooks, WooCommerce, and Google Analytics. These connections enable users to streamline their marketing efforts and customize strategies.
 In this overview, we'll explore Mailchimp's main features, from its versatile marketing tools and analytics dashboard to its website builder, postcards service, and integration with WordPress. We'll take a closer look at how Mailchimp transforms marketing for businesses and individuals.
---
Overview of Mailchimp
Mailchimp is well-known for handling automated email campaigns, but the company has grown to provide so much more. It now goes beyond just emails and helps businesses with creating websites, designing ads, and running social media campaigns. It's not just for big companies – it supports everyone, from new businesses to those already established online.
Some of the features that Mailchimp offers include automated email campaigns to landing page development, digital ad creation, and social media campaigns. What sets it apart is its extensive integration capabilities, linking seamlessly with over 300 services including Shopify, Canva, QuickBooks, WooCommerce, and Google Analytics. One of our favorites is the Salesforce integration which provides a comprehensive view of campaigns, contacts, and subscriber activities all in one place. These integrations empower users to create powerful workflows and customize their marketing strategies for optimal results.
For businesses, entrepreneurs, and any kind of website, Mailchimp can be a great addition to your marketing team. It's used by millions for organizing lists, sending emails automatically, and keeping an eye on how well everything is going. So, whether you're just starting a business, growing one, or running an organization, Mailchimp can be a really handy tool.
---
Features of Mailchimp
Email Marketing: Mailchimp provides a simple yet powerful email template builder. Users can customize templates with HTML and choose from a variety of styles, including basic emails, image-based emails, surveys, and more. The platform also offers a Creative Assistant, an AI-powered tool to generate campaign-specific templates.
Versatile Marketing Tools: Beyond email campaigns, Mailchimp equips users with tools for landing page development, digital ad creation, and social media campaigns. This versatility allows businesses to create a cohesive marketing strategy across multiple channels.
Integrations: With over 300 integrations, Mailchimp connects seamlessly with various services such as Shopify, Canva, QuickBooks, WooCommerce, and Google Analytics. Notably, the integration with Salesforce provides a comprehensive view of campaigns, contacts, and subscriber activity in one place.
Analytics Dashboard: Mailchimp's analytics dashboard offers advanced metrics for in-depth campaign analysis. Users can track the performance of campaigns, contacts, and subscriber activity, gaining valuable insights to refine marketing strategies.
Website Builder: While primarily designed for basic website creation, Mailchimp's website builder allows users to quickly set up an eCommerce store or a simple website with a few pages. It may not meet industry standards for complex websites but serves well for those looking to establish an online presence.
Postcards Service: Mailchimp introduces a postcards service for businesses wanting to connect with customers on a more personal level. While more expensive than email campaigns, postcards can be effective for announcements, promotions, rewards, or thank-you cards.
WordPress Integration: Mailchimp seamlessly integrates with WordPress through plugins, enabling users to create forms for website visitors to sign up or unsubscribe from Mailchimp lists. The WooCommerce integration adds personalized features such as syncing customers' orders, order history, and more.
---
Building a Website with MailChimp
Creating a user-friendly website doesn't have to be a headache, especially with Mailchimp's website builder. Mailchimp has combined its experience with email marketing with beautifully designed website templates. Whether you're looking to grow your audience, showcase your brand, or boost your marketing strategy, Mailchimp's website and landing page tools have you covered. The platform seamlessly integrates with various e-commerce websites, allowing you to design custom landing pages to highlight products or promote special offers.
Mailchimp has used its experience to create built-in marketing tools for its websites. Users can include sign-up forms and surveys to gain audience insights, and allow users to tailor specific campaigns to users. Need some extra assistance? Mailchimp offers access to a global community of trusted experts for everything from quick template designs to full-service campaign management.
Users can build a professional-looking, SEO-optimized, and mobile-friendly site with Mailchimp's website builder. You don't need any coding or design experience—just a domain name, and Mailchimp guides you thorugh the rest. The builder's ease of use offers pre-designed color palettes and themes, making it easy to curate the look and feel of your site with just a few clicks. You can also change the color format of your website to match your brand.
---
Pricing Options for Mailchimp
Mailchimp offers 4 plans for users: Free, Standard, Essentials, and Premium.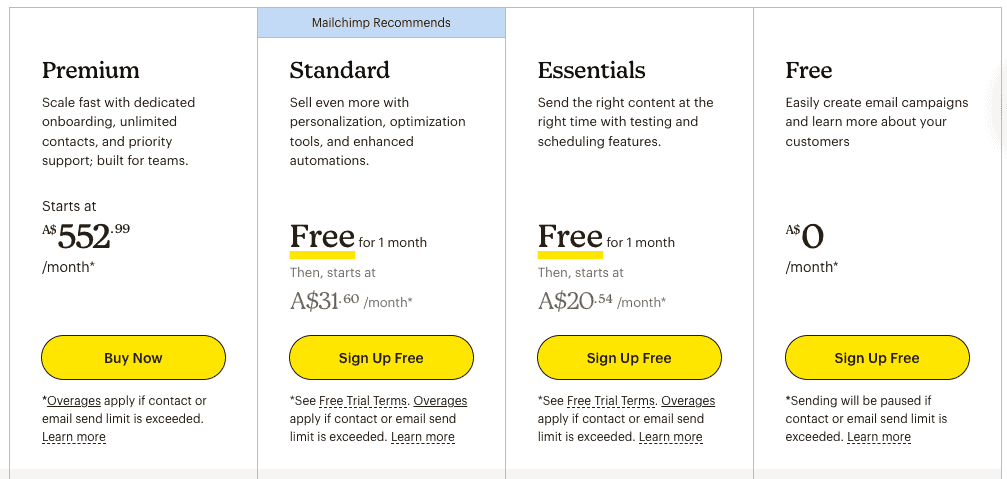 Free Plan:
Who's it for: If you're just starting out or on a tight budget.
What you Get: It's a basic plan with essential tools for building your business. Keep in mind that it comes with a few limitations, and you won't have customer support.
Essentials Plan:
Who's it for: Perfect for those who mainly use email and want support all the time.
What you Get: This plan is all about data-driven tools that automate and optimize. It's great for businesses that are growing and need more features and support than the free plan.
Standard Plan:
Who's it for: Businesses aiming to grow faster and need advanced tools.
What you get: With data-driven tools for automation and optimization, this plan is for businesses looking to scale up. It offers even more features than the Essentials plan.
Premium Plan:
Who's it for: Tailored for serious businesses with dedicated teams and big growth goals.
What you get: This plan is all about speedy growth. You get dedicated onboarding, can handle unlimited contacts, and get priority support. It's the top-tier plan for businesses with ambitious marketing goals and a team to handle it.
Mailchimp Recommends the Standard Plan as a well-rounded choice, especially if you're aiming for faster growth. It's like a step up from the Essentials plan, giving you more advanced features without making things too complicated. Users can also use the tryout both the Essentials and Standard plan for free for a month.
---
Conclusion
We have enjoyed reviewing 3DCart. It is an e-commerce platform that has a number of features that can be easily customized. One of the biggest pluses for this software is that it can be integrated with hundreds of apps and tools, allowing you to make your e-commerce store uniquely yours.
Customer service reports are mixed. Some people have had stellar experiences with customer service, and others feel like 3DCart's customer service representatives treat them like they are a bother as opposed to customers.
With a 15 day trial, you have enough time to use the software yourself and make decisions. It only takes a few seconds to set up, and you are not required to commit to anything.
Have you tried 3DCart? If so, what was your experience with it? Let us know in the comments section below.
[single_user_reviews_form]