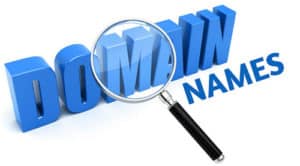 "What's in a name?" Contrary to what Romeo and Juliet were said to believe, the answer is quite a bit different when talking about your online presence. Your domain name is how your customers will identify you. Some domain names have become ubiquitous in the online world. Just think of names like Google.com, Amazon.com, eBay.com, etc. If you are building a site starting a blog or engaging in e-commerce, you already know just how important having a good domain name is.
When searching for a domain name, it can seem like all of the good are names are taken. There are billions of registered domain names, so you are going to need more than keywords and a good dictionary to find the domain name that adequately describes your business and transmits the feel that you want it to. Once you find the domain name that's right for you, you want to look for the best domain registrars to get your domain name up and going.
Thankfully, there are a number of domain name generators that can help you. We are going to share with you our list of some of the best domain name generators that are currently available.
1. Namestall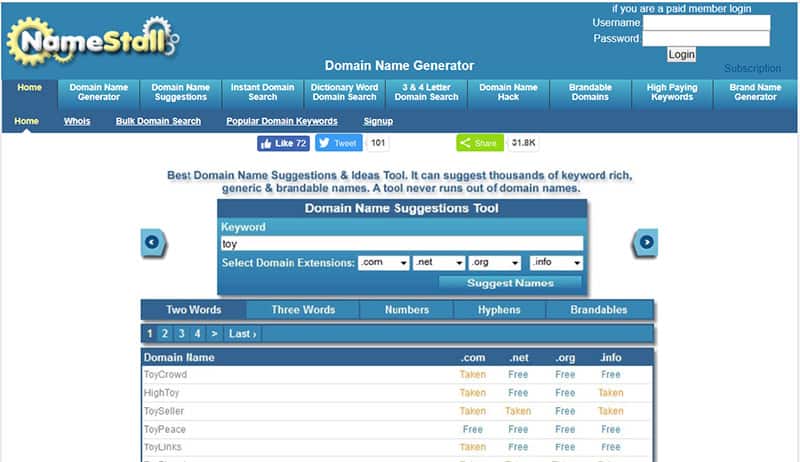 If one domain name generator is good, a whole suite of them is better. NAMESTALL offers a number of domain name generators combined in one. There is a three word domain name generator, the primary domain name generator, and a rhyming domain name generator.
How to Get Started
First, select the seed keyword you are going to use. Then, determine if you want the keywords to be at the beginning or the end of your domain name. Go through and select other options, such as whether you want-'s enabled or disabled and a word group that can complete your domain name. You can then choose to have the domain name generators cycle through popular first words, popular numbers, popular two letter words, and a number of other possibilities, allowing you to customize your search.
What We like
It is easy to customize your domain name
You can choose where your keyword appears in the domain name
You have the ability to check a number of TLD's and then register directly
What We Do Not like
You can only do five searches and then you have to purchase a subscription
2. Namelix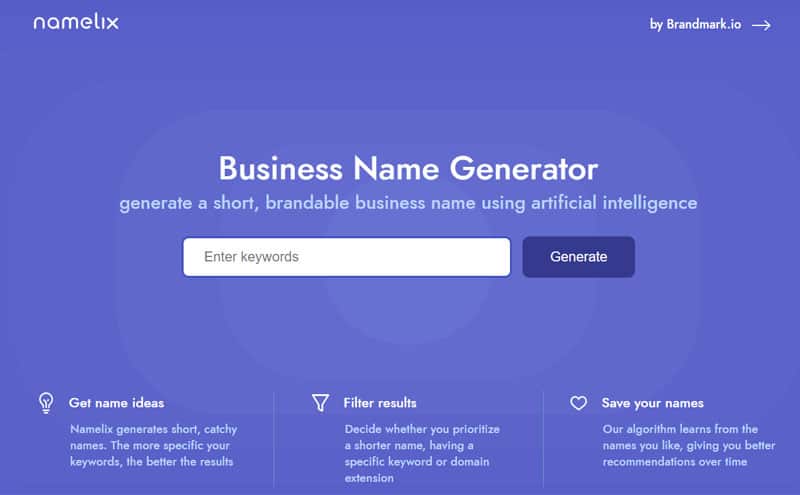 This is a seriously powerful domain name generator. It allows you to create short and catchy names. It's designed to target specific keywords with the goal of producing the best results. The filter feature allows you to prioritize whether you want to have a specific keyword, a specific domain extension, or a short and concise domain name. This is a domain name generator that learns with you. It uses an algorithm to give you better recommendations the longer you use the software. Once you have your unique name, all that's left is to find the best web hosting for your new domain and then start offering your product or service to the world.
What We like
You can use a number of keywords
You can decide what keywords you wish to exclude
The user interface is intuitive
What We Do Not like
The names generated are of a higher quality for premium users
The website is slow
The business has no social media exposure
3. LeanDomainSearch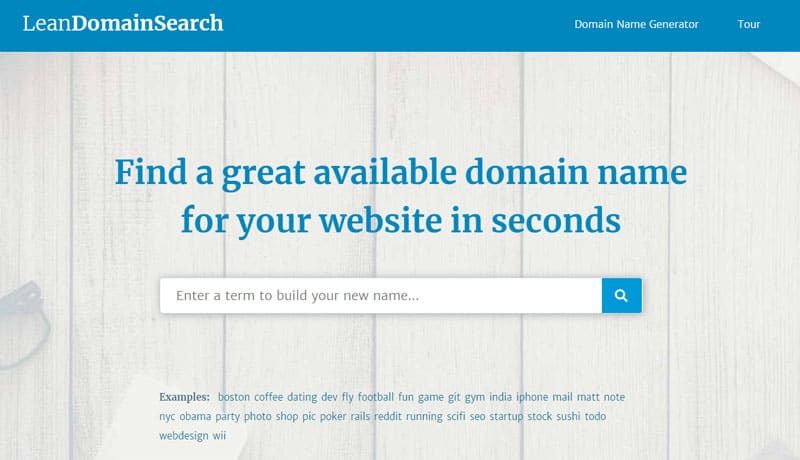 This tool was created by the team responsible for the core of WordPress. So, obviously, they know a lot about domain names and websites. It is designed to allow you to find great domain names for your website in just a few seconds.
How the Tool Is Used
This tool has been designed to be easy to use. You need to find the seed keyword, preferably something that meets the niche market you are searching for. Then, let the domain name generator do its thing. Depending on the keyword, you may be given up to 100 or more domain name ideas. The focus is on giving you domain name ideas that can be registered as a.com. This site is perfect for people who want to create a domain name but have no idea where to start.
What We like
You are able to identify the domain names you like, add them to your favorites, and then review them later
You have the ability to register domain names directly from the tool
It allows you to check available Twitter usernames
You are able to examine your search history
What We Do Not like
You can only see available.com domain names. You cannot choose from other TLDs
4. NameMesh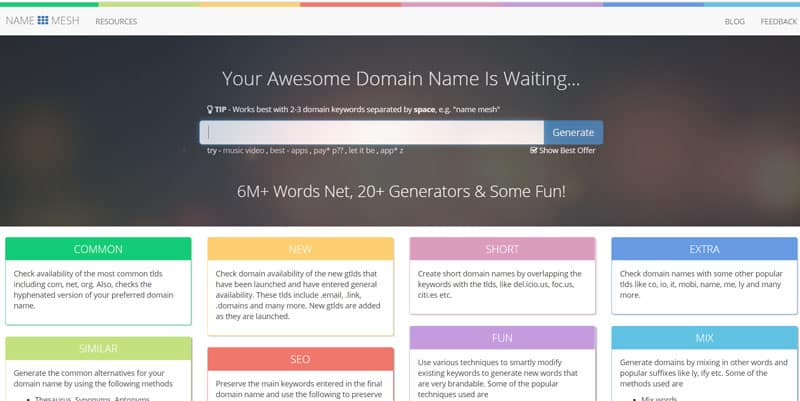 This site focuses on taking something mundane like selecting a domain name and making it fun. It offers the ability to search for common domain names, domain names that are optimized for search engines, domain names that are available in uncommon TLD's, and the ability to modify keywords in a way that brandable or just fun.
How to Use This Tool
It all starts with the keyword. You can choose one keyword or a number of keywords. Then you are going to selective the TLD's you are interested in using. From there, you will be offered a host of domain names, and you also be shown what domain names are currently available. To make it easier on yourself, we recommend clicking the "hide registered" option. That way, before looking for the best discount hosting picks, you know that the domain name you want is really available.
What We like
We like how this program creates a large number of domain names
It is fun creating domain names using the fun category
What We Do Not like
Some of the domain names that were labeled available really were not
5. Domain Wheel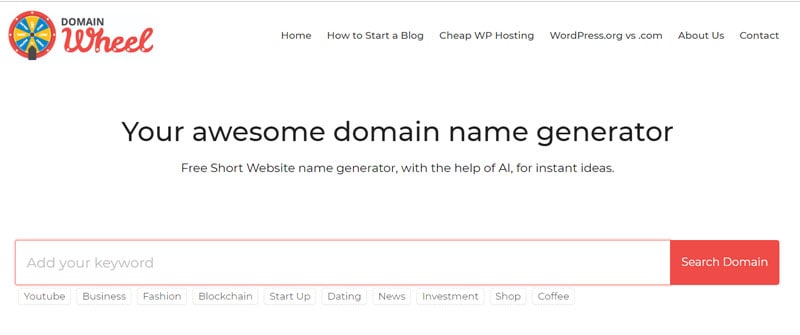 We placed this domain name generator in our top five because we feel it has some amazing features you do not want to miss. It's very simple to use. You start by adding one keyword or multiple keywords into the search box. From there, you pick the domain name from the ones that are generated. Finally, you register the domain. This is a simple, quick, and effective service.
What We like
We love the algorithm that picks domain names based on topics related to the service you offer
The sounds like, rhymes with, and random suggestions are creative
The domain generator works quickly, returning results in just a few seconds
The only results returned are those for domains that you can actually purchase
What We Do Not like
The random suggestions are sometimes a little far out for our taste
We would like to see the filter offer more options
It can be a challenge to check for social media availability.
6. Shopify Domain Generator

Simply enter the word or phrase that you want your domain to include and this intuitive domain name generator gets straight to work. The great thing about Shopify is that it is a one-stop shop. After you purchase the domain name that you want and once you have uploaded your product, you are able to start selling immediately.
What We like
We like the fact that we did not feel overwhelmed because we were only presented with 10 options at a time
We felt that the structure with which the names were presented was organized. We started out with the most popular names. Then other extensions and alternatives were made available
What We Do Not like
Domain names seemed a little expensive
There were no filtering options available
Sometimes, the 10 displayed results were of unavailable domains
7. Panabee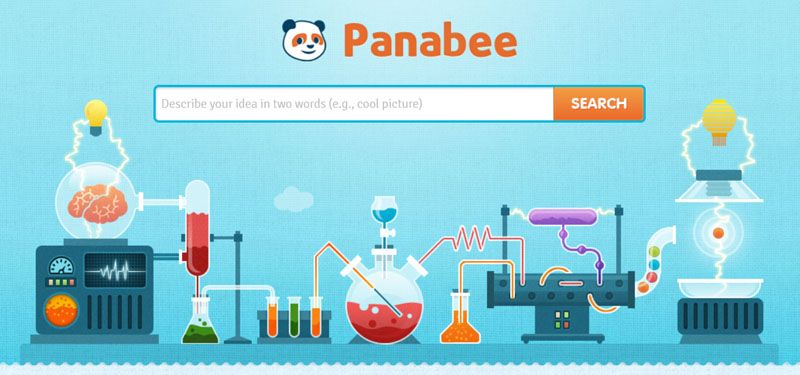 This domain name generator is a simple way to find a name not only for your domain but also for your company, your app, and a host of other things. If the domain name that you want is taken, you can look for suffixes, prefixes, syllables, phonemes, and more to find alternatives that are right for you. Since a good portion of this site's users are outside of the United States, they support international domains like:. in., uk., .co, and comAU. The site will also help you improve your social media presence by helping you find the social media name that's right for you.
What We like
A number of rules for manipulating keywords
The ability to check for social media availability
If the option you want is unavailable, you are given options on how you might be able to purchase it
What We Do Not like
You can only use two keywords simultaneously
Not a lot of filters to play with
8. Domain Typer

If you are starting from scratch and you don't know what you are looking for in a domain name, this is not the site for you because it really is not a domain name generator. But it is an excellent tool for fine-tuning your domain name and checking the ability of TLD's.
How Does the Tool Work?
Start out by typing your domain name. In real-time you will start to get feedback. You have the ability to add or remove TLD's and even check how your domain name will play out in social media. This is the tool for you if you are almost certain that you have found the right domain name, but you just want to play around with it a little bit to see if you can tweak it and make it better.
What We like
We like how the program works in real-time
You can see all of the available TLDs at once
You can check for social media usernames
What We Do Not like
It is not a traditional domain name generator
9. Nameboy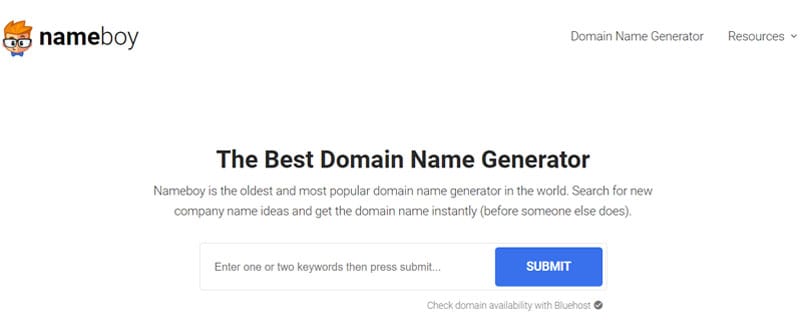 This domain name generator does a really good job at creating domain names especially for people who are looking to register TLD's that are more than just the standard.com. This domain name generator works better if you already have an idea in mind of what you want your domain name to be.
How to Get the Most Out Of This Product
To get the most out of this tool, you want to have your primary seed keyword and a secondary keyword. You can choose to allow hyphens or decide to create a domain name that rhymes. People who get the most out of this product are those who know where they want to go with their domain name but just want to see if there are some other options available or if there are other TLD's that are better suited for them.
What We like
You are able to see the availability of a number of TLD's at a glance
You are able to see the domain names that are up for sale
What We Do Not like
If you trying to purchase a domain name directly from the site, Google labels the process as safe. Not quite sure why.
What Makes A Good Domain Name?
There is no question that some domain names have an attractive quality to them. While none of the following are hard and fast rules that cannot be broken, many of the suggestions we are going to mention can be found when you look at popular domain names such as "Microsoft", "Facebook" and "Google".
A good domain name should be short. The optimum number of letters in a domain name is eight. There is a little bit of room to tweak the domain name as there are a number of good domain names that only have six letters as well as many that have up to 14.
A good domain name is going to be easy to pronounce and easy to spell. How sad it would be if a potential customer mis-typed your domain name and was driven to your competition.
A good domain name is unique, brandable, and attractive to your niche market.
A good domain name is going to be easy to remember. It should not have numbers or hyphens. Numbers or hyphens are often linked to spam domains.
Creating the perfect domain name takes a little bit of work. It starts with you finding the best keywords for your domain name. This is a lot easier than you might think. Start with some basic keywords that you have researched for in the market that you are in. Then you can start to build off of these. We encourage you to play around with a number of domain name generators with the goal of finding the name that's right for you.
If you already have a domain name for your website, how did you go about selecting it? Did you use a domain name generator? If so, tell us about it in the comments section below.